Updated Jul 24, 2019 -

World
The 9 big moments from Robert Mueller's House testimony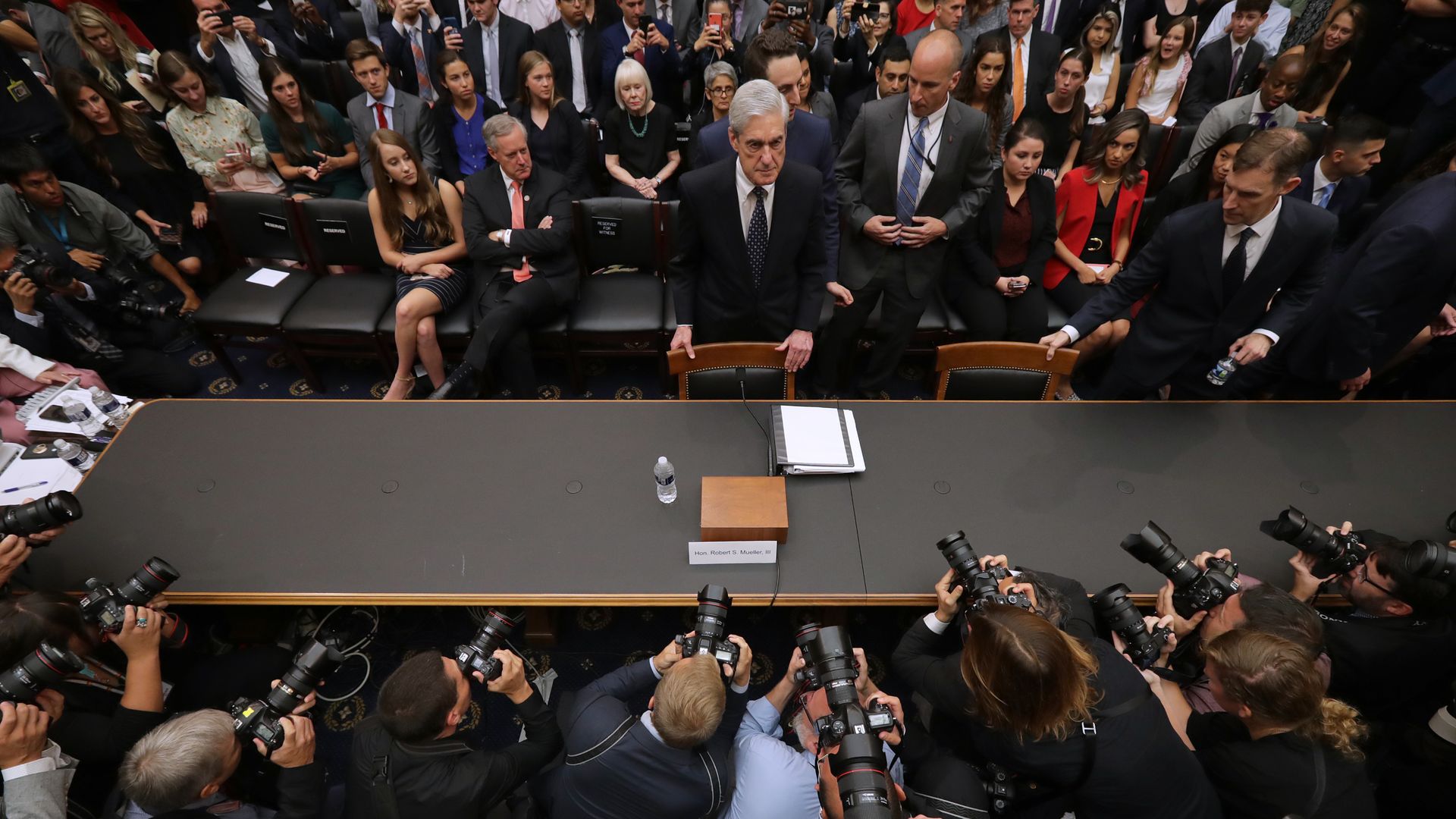 Former special counsel Robert Mueller testified Wednesday in back-to-back sessions before the House Judiciary and Intelligence Committees.
The big picture: Mueller — who refused to read directly from the report during his appearances, denied Democrats some of the cinematic wins they'd hoped for — was generally concise with his responses, often asking members to repeat their questions and directing them to refer to the wording in his report.
Mueller had said in his May 29 press statement that any testimony on Capitol Hill would not go beyond the contents of his 448-page report, which he submitted to both committees as his official statement.
House Judiciary Highlights
Asked by House Judiciary Chair Jerry Nadler (D-N.Y.) if his report exonerates President Trump — as Trump has frequently and falsely claimed — Mueller responded: "No." He said that it is unconstitutional to indict a sitting president, but told Rep. Ken Buck (R-Colo.) that prosecution could in theory occur after Trump leaves office.
Rep. Ted Lieu (D-Calif.) asked Mueller if the reason that he did not indict Trump is because of the Justice Department's Office of Legal Counsel opinion that a sitting president cannot be indicted. Mueller responded: "That is correct." [Note: In his second hearing before the House Intelligence Committee, Mueller attempted to clarify his answer: "As we say in the report, we did not reach a determination as to whether the president committed a crime."
Mueller told Rep. Val Demings (D-Fla.) that he would "generally agree" that lies by Trump campaign and administration officials who were interviewed "impeded" the investigation.
Mueller told Rep. Hank Johnson (D-Ga.) that Justice Department ethics officials concluded that he had no conflicts of interest that prevented him from serving as special counsel. He also denied, for the first time, Trump's claim that his application for FBI director was rejected. He said he discussed the FBI job with Trump, but "not as a candidate."
House Intelligence Highlights
In his opening statement, Mueller corrected an exchange he had with Rep. Ted Lieu (D-Calif.) in the first hearing: "You did not charge the president because of the OLC opinion. That's not the correct way to say it. As we say in the report and I said at the opening, we did not reach a determination as to whether the president committed a crime."
Mueller told Rep. Sean Maloney (D-N.Y.) that he didn't subpoena President Trump for an interview "because of the necessity of expediting" the investigation. "If we did subpoena the president, he would fight the subpoena and we would be in the midst of the investigation for a substantial period of time."
Mueller called Trump and Donald Trump Jr.'s repeated praise of stolen WikiLeaks material "disturbing and also subject to investigation." He added: "Problematic is an understatement in terms of giving some hope or boost to what is or should be illegal activity."
Responding to questions by Rep. Will Hurd (R-Texas) about future election interference, Mueller said: "Many more countries are developing capabilities to replicate what the Russians have done ... They are doing it as we sit here and they expect to do it during the next campaign."
Mueller told Rep. Val Demings (D-Fla.) that it is "generally" fair to say that many of Trump's written interview answers were not only incomplete, but also showed he wasn't always being truthful. Mueller would not answer whether he found Trump to be credible.
What Trump's saying: President Trump started the morning with a tweet storm raging against the alleged bias of Mueller and his investigators, accusing the special counsel of seeking revenge after being turned down in his job application for director of the FBI.
At the hearing's halfway point, Trump — who told reporters earlier this week that he probably would not watch the testimony — tweeted a quote from Fox news' Chris Wallace: 'This has been a disaster for the Democrats and a disaster for the reputation of Robert Mueller."
Go deeper:
Go deeper