Deadly heat wave grips much of the U.S.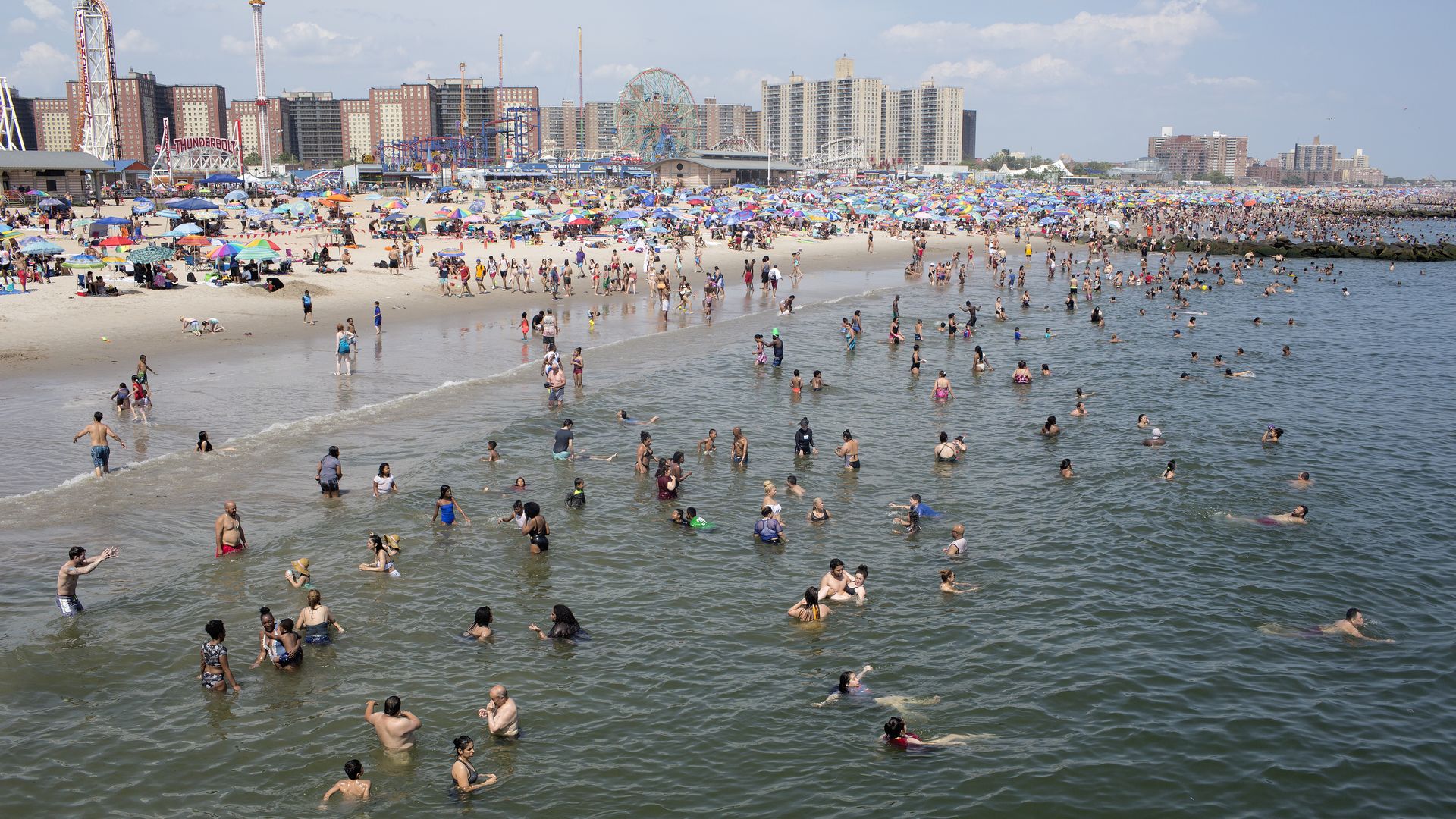 An "oppressive and dangerous" heat wave that's gripping much of the U.S. has left at least 3 people dead and caused the cancellation of several public events, NBC News reports.
Why it matters: The National Weather Service said the heat was affecting much of the Midwest to the eastern U.S. this weekend. 147 million people in the Central and Eastern U.S. were under a heat advisory or excessive heat warning. "Very warm overnight temperatures limit recovery from daytime heat," the NWS said.
The state of play: The NWS said the greatest threat Sunday would be from the Carolinas to Maine, where daytime highs in the mid to upper 90s combined with high dewpoints will make it feel like its near 100 to 110 for many."
A cold front hitting the Plains Saturday was forecast bring showers and thunderstorms to parts of the Central Plains and Midwest by Sunday.
"Some storms could be severe, with the best chance for this across the Upper Midwest and Upper Great Lakes tonight. Locally heavy rainfall could lead to flash flooding as well in these regions."
The big picture: The mayors of Boston, New York City, Philadelphia and Washington, D.C., declared heat emergencies. New York City and Baltimore issued Code Red Extreme Heat Alerts.
In Arkansas, former New York Giants offensive lineman Mitch Petrus died on Thursday night after being struck by heat stroke, according to Kark-TV.
In Maryland, health officials attributed the deaths of a Prince George's County man and a Worcester County woman to the heat, per NBC News.
Baltimore logged a heat index of 122 degrees on Saturday evening. It's one of several locations experiencing a heat index in the triple digits, CBS News notes.
In Michigan, more than 200,000 properties were without electricity after storms, Michigan Live reports.
In New York, more than 9,000 customers lost power earlier Saturday in Far Rockaway, Queens and on Long Island, PSEG Long Island said. The outage disrupted some train services, said Mayor Bill de Blasio, who noted power was restored to most customers.
New York City authorities canceled a Times Square commemoration of the 1969 Moon landing and an outdoor festival at which soccer star Megan Rapinoe, musician John Legend and "The Daily Show" host Trevor Noah were due to appear, per AP.
In Chicago, several outdoor events were canceled, but the Pitchfork Music Festival went ahead with 3 air-conditioned "cooling buses" for festival-goers, the Chicago Sun-Times reports.
What's next?: The NWS predicts the cold front should progress slowly south and eastward, reaching the East Coast by Monday, "finally bringing a much needed relief to the relentless heat."
Showers and thunderstorms would accompany this front, with heavy rainfall possible across parts of the Tennessee, lower Ohio and into the Mid-Atlantic states Monday, the NWS said. There's a "slight risk of flash flooding" in this region.
Go deeper:
This article has been updated with more details on the latest weather conditions throughout.
Go deeper