Puerto Rico Gov. Rosselló's scandals threaten recovery from Hurricane Maria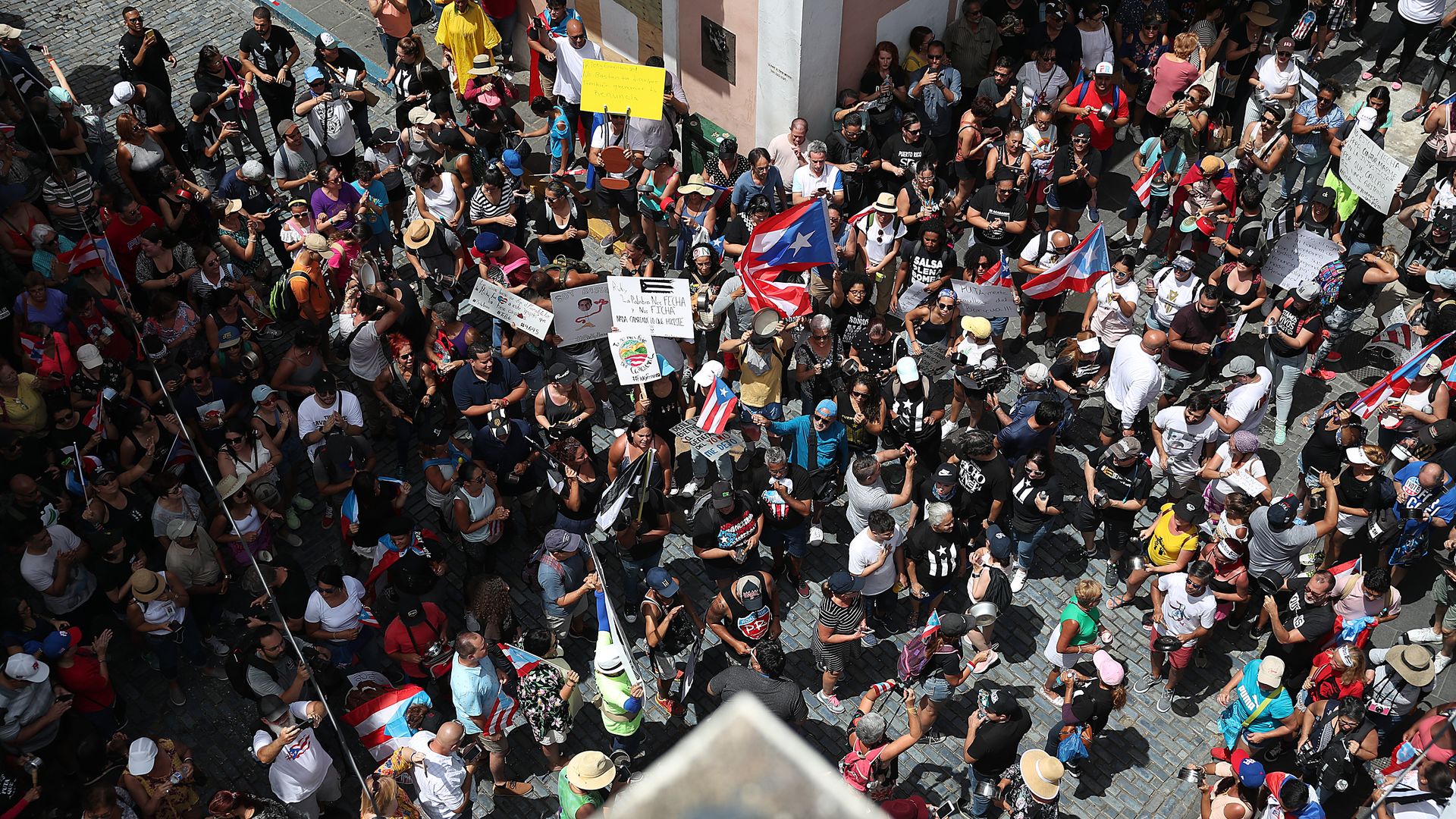 2020 candidates Sen. Elizabeth Warren, Rep. Tulsi Gabbard and former HUD secretary Julián Castro called for Puerto Rican Gov. Ricardo Rosselló to resign on Friday, while Rep. Alexandria Ocasio-Cortez echoed the call on Saturday.
Why it matters: Puerto Rico, which declared bankruptcy in 2017 amid "the biggest government financial collapse in United States history," is still struggling to recover from Hurricane Maria. Rosselló has said he won't resign, but his political power has already diminished — putting the island's long-term recovery in further jeopardy as his scandals outweigh efforts to rebuild.
What's happening: Leaked Telegram chats from the past year show that Rosselló made misogynistic and homophobic jokes with other officials, mocked Hurricane Maria victims, and joked about shooting San Juan Mayor Carmen Yulín Cruz. The chats also included "sensitive government issues" with people in the private sector who no longer work in Rosselló's administration, CNN reports.
Between the lines: Puerto Rico has been an early campaign hotspot for 2020 candidates like Warren and Castro, despite the fact that Puerto Ricans cannot ultimately vote for the next U.S. president. Candidates are eager to contrast their rhetoric around Puerto Rico against Trump's. Gabbard flew to Puerto Rico on Saturday to join protests against Rosselló.
The bottom line, per the NYT: Rosselló and the 11 other men involved in the leaked chat "have been ordered to turn over their cellphones to Puerto Rico's Department of Justice. The governor has maintained that there was no illegal activity taking place in the chat."
Go deeper: Puerto Rican protestors met with tear gas in mass rallies against Gov. Rosselló
Go deeper