Mark Zuckerberg tries offense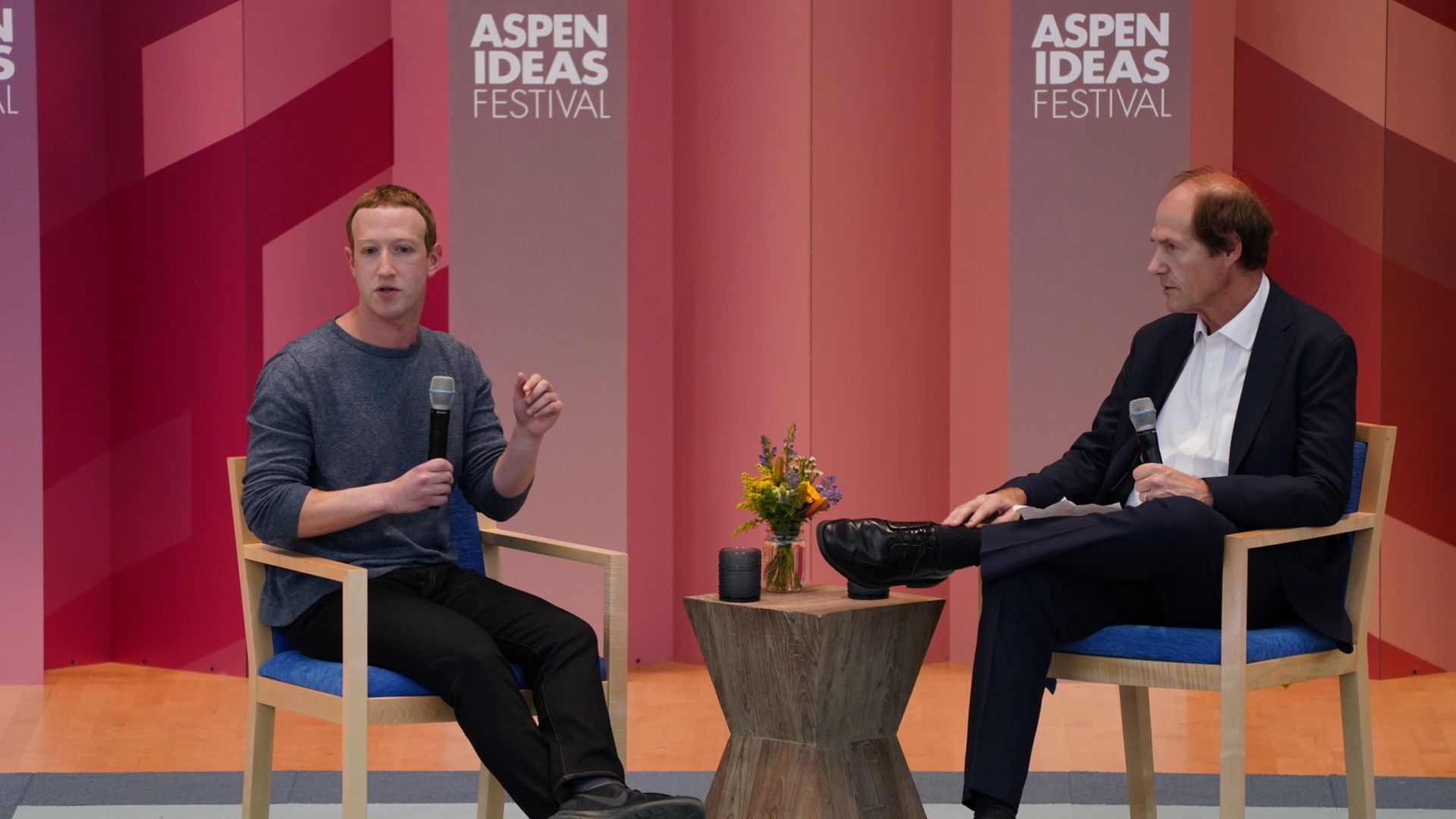 Facebook CEO Mark Zuckerberg, whose public posture since the 2016 election has been defensive, is making a deliberate effort to show more of himself, and to be proactive about calling for Congress to regulate privacy and data.
Why it matters: With the techlash gaining momentum around the world, and 2020 Democrats targeting Big Tech, Zuckerberg is trying to get out in front of the inevitable by calling for regulation that Facebook can live with.
Zuckerberg faced 40 minutes of onstage questions yesterday at the Aspen Ideas Festival in Colorado, in a detailed conversation with Harvard's Cass Sunstein, who noted he has twice been a Facebook consultant.
Zuckerberg tried to show a human side to the influential, elite audience — with a lack of defensiveness and a dash of humor. He still struck some as robotic, but that wouldn't surprise him. 
Zuckerberg has been getting clobbered by politicians and the media for two years for everything from election manipulation to fake news unfolding on his platform. He knows the pummeling may only intensify with 2020 heating up.
Zuckerberg also said Facebook is rethinking its handling of deepfake videos, and said it might make sense to treat them differently from other "false news," as Facebook calls fake news. (AP)
Zuckerberg said it's worth asking whether deepfakes are a "completely different category," and said developing a policy on these videos is "really important" as AI grows more sophisticated.
Our thought bubble from Axios chief tech correspondent Ina Fried in San Francisco: Now is the time to establish a clear policy against altered video. It's not going to get easier.
Highlights:
On government regulation: Zuckerberg continues to ask Congress for regulation. He praised-the Senate's Honest Ads Act as a "good floor for what should be passed."
On self=regulation: "We're past the point where it makes sense for Facebook to unilaterally make decisions." Zuckerberg cited an appeal process they're building for those who disagree with Facebook's decision in removing content.
On election security: He praised Facebook's handling of elections around the world, such as in Ireland and the European Parliament election.
On breaking up Facebook: "Breaking up these companies wouldn't make any of these companies better. ... You would have those issues, you'd just be much less equipped to deal with them."
On Libra cryptocurrency: "We helped and played a role in helping to stand this up. We'll be just one of the voices. We need to help stand up more independent processes."
Go deeper: Calls to break up Facebook get louder
Go deeper