Heat wave could torch June records across Western Europe this week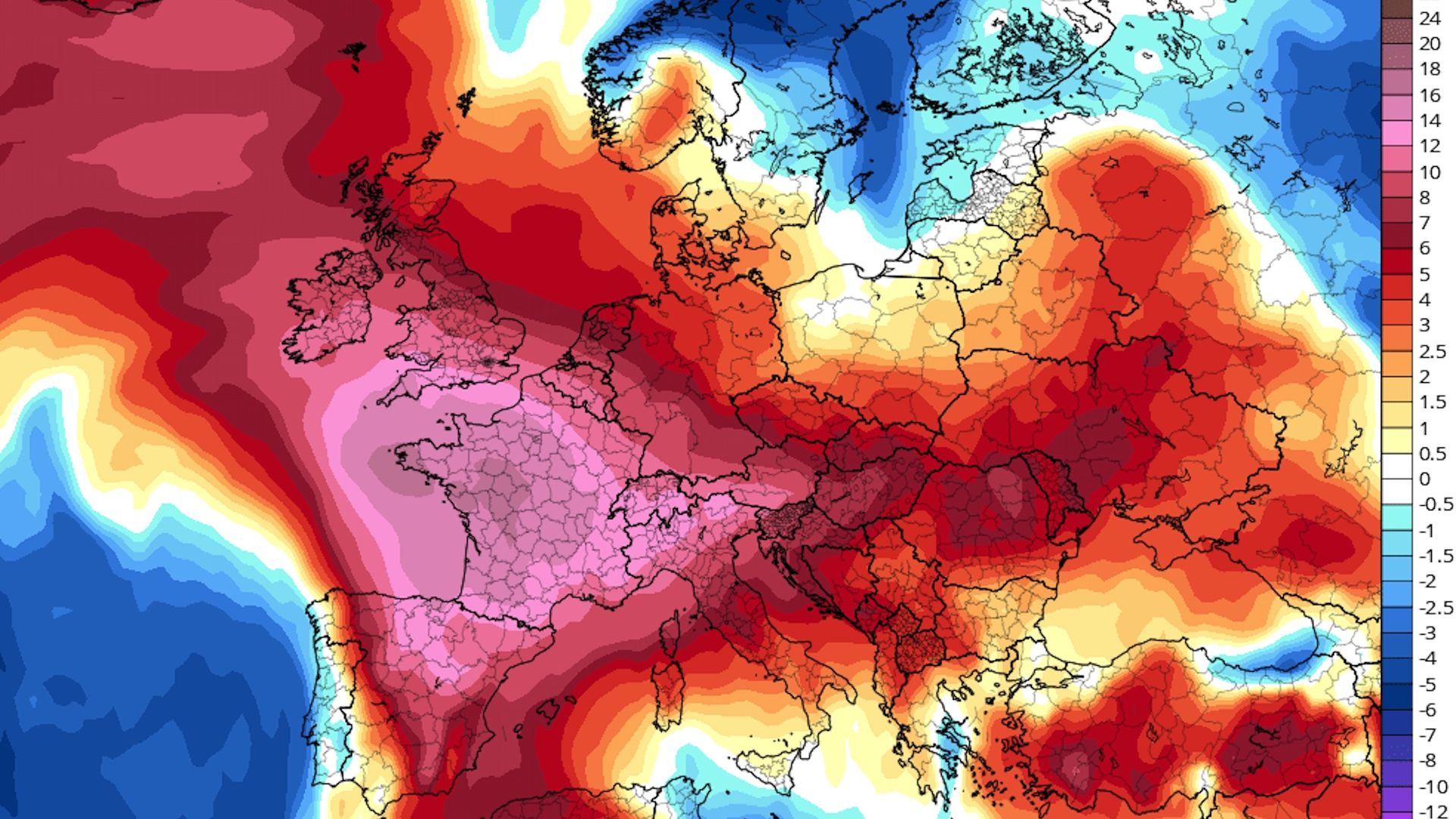 Air imported directly from the Sahara Desert into Western Europe will result in a record-shattering heat wave this week that could break all-time monthly temperature records in some locations, including Spain, France, Belgium, Germany, Poland and Denmark.
Why it matters: An extended heat wave at the start of summer is a threat to public health, since people are not yet accustomed to such high temperatures, making them more susceptible to heat-related illnesses. Europe has a history of deadly heat events in recent years. In 2003, for example, an August heat wave contributed to as many as 70,000 excess deaths, primarily in France, and became the first extreme weather event to be conclusively tied to human-caused global warming.
Details: Temperatures will climb into the mid-to-upper 30s°C, or upper 90s°F, across Spain, Portugal and France by Tuesday, and could exceed 40°C, or 104°F, by mid-to-late week in a wide swath of Western Europe. Weather agencies have hoisted warnings in multiple countries, and public officials are taking steps to open cooling centers in cities such as Paris to ensure residents have access to air conditioning.
Popular tourist destinations such as Madrid, Barcelona, Paris, London, Rome, Berlin, Brussels and Amsterdam will be affected by this heat wave, which is likely to peak late in the week but may continue through the weekend.
The heat in Paris could affect the Women's World Cup, which runs through early July.
Accompanying the hot weather will be a chance for severe thunderstorms.
Stalled and unusually strong areas of high pressure — known as "blocking highs" — over Greenland and Europe will act to prevent weather systems from moving cooler air into Europe until at least early next week.
Climate change may be increasing the odds of such blocking patterns.
Between the lines: Heat waves of exceptional magnitude and duration are one of the clearest manifestations of human-caused global warming. Numerous scientific studies have tied increases in heat wave frequency, severity and duration to emissions of greenhouse gases from the burning of fossil fuels.
By raising background average temperatures, climate change is dramatically increasing the risk of extremely warm temperatures.
A study published this month in the journal Earth's Future found that multiple heat waves around the Northern Hemisphere during the summer of 2018 "would not have occurred without human-induced climate change." Some spots that were hit last year could be affected by the latest event.
Climate scientists warn that heat waves will dramatically worsen if countries do not slash greenhouse gas emissions in the near future.
The new study, for example, projects summer heat waves of a magnitude and scope similar to 2018 will occur every year if climate change reaches 2°C, or 3.6°F, above preindustrial levels by the year 2100.
Currently, temperatures are on course to rise more than 3°C, or 5.4°F, by 2100 based on recent emissions trends.
Go deeper:
Go deeper