John Bolton says military action against Iran is still on the table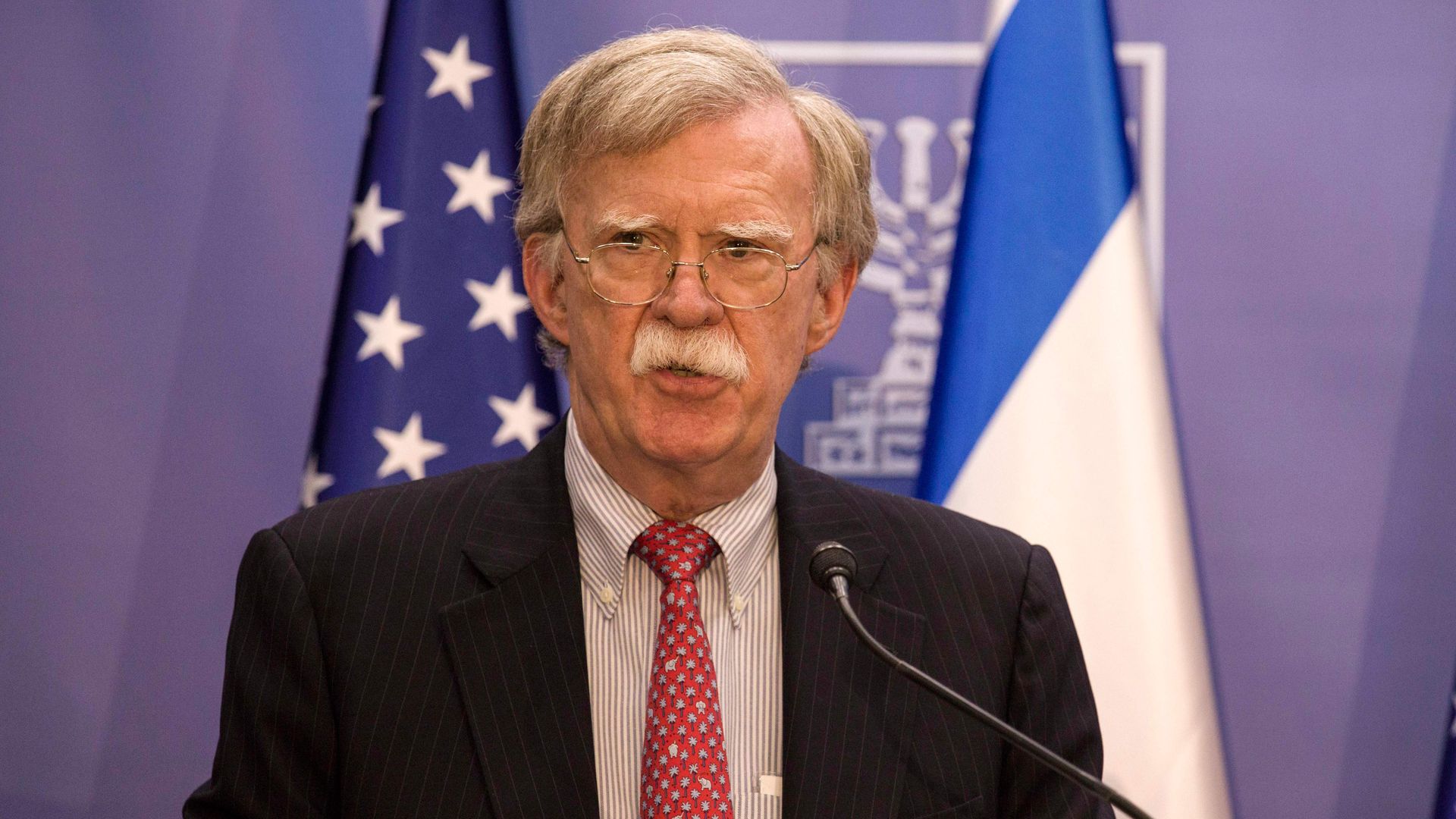 White House national security adviser John Bolton told Israeli Prime Minister Benjamin Netanyahu in a meeting today that President Trump may still order a military strike against Iran. "The president said he just stopped the strike from going forward at this time," Bolton said in a joint press availability with Netanyahu at the top of their meeting.
Why it matters: Israeli officials are concerned with the U.S. response to the latest Iranian actions in the region. Israeli security and intelligence officials think that in order to force Iran to stop its provocations, the U.S. response needs to be stronger. Despite this assessment, Netanyahu refrained from publicly criticizing Trump's decision not to order a military strike and didn't say a word about it in his press remarks with Bolton.
Instead, Netanyahu defended Trump's Iran policy and the U.S.' "maximum pressure" campaign. He said that people who criticize Trump and claim "he opened a hornet's nest don't live on this planet." Netanyahu claimed that latest Iranian aggression is a result of the nuclear deal the Obama administration brokered with Iran.
Bolton added during the press availability with Netanyahu that Iran shouldn't mistake U.S. actions up until now as a sign of weakness. "No one has granted them a hunting license in the Middle East," he stressed. "Sanctions are biting and more will be added — Iran can never have nuclear weapons."
The big picture: Bolton arrived in Jerusalem Saturday to participate in an unprecedented trilateral summit with his Israeli and Russian counterparts — initially set up to discuss Iran's actions in Syria. He told Netanyahu in their meeting that the Trump administration fully supports Israel's actions aimed at pushing Iranian and pro-Iranian forces out of the country.
National Security Council spokesman Garrett Marquis said in a statement: "The Trump Administration unequivocally supports Israel's efforts to ensure its self-defense and to roll back the Iranian regime's and its proxy forces' influence in the region."
Marquis added: "The meeting with Netanyahu re-affirmed the shared United States-Israel priority of confronting Iranian aggression throughout the region by continuing maximum economic pressure and increasing the cost of Iran's malign activity."
Bolton will have a bilateral meeting with his Russian counterpart tomorrow in Jerusalem. He said he will use his talks with Putin's national security adviser to lay the groundwork for the meeting between Trump and the Russian president during the G20 summit in Japan later this week. On Tuesday, Bolton will participate in the US-Russia-Israel trilateral meetings.
Go deeper