Chennai water crisis leaves millions in India struggling for access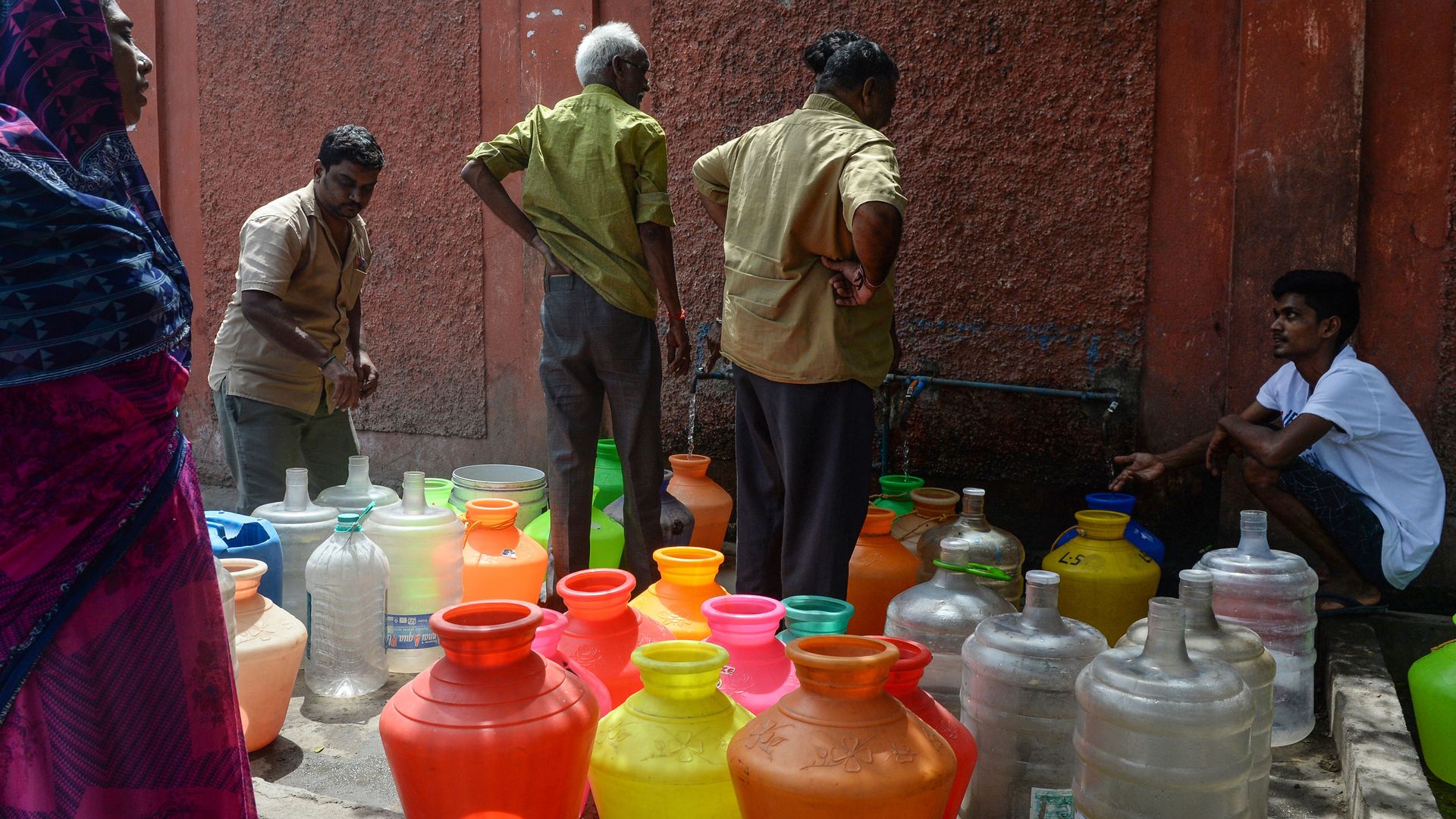 A delayed monsoon season has left millions of people struggling to access clean water in Chennai, India, while alternative sources and methods prove costly and ineffective, CBS reports.
What's happening: All four of the primary reservoirs the city depends on are virtually dry, resulting in approximately 4 million people becoming dependent on makeshift wells that produce largely non-potable water. Environmentalists are also concerned that thousands of newly dug wells could dangerously disrupt the region's water table.
Areas without wells are mostly reliant on trucked-in water instead. While government trucks are covering some of the effected area, they are inundated with long lines and limited supplies. Private producers are seeking to respond to the rest of the demand, but vendors are drastically hiking prices in the face of consumers' desperation. In April, delivery for a private truck of 3,200 gallons would have gone for roughly $22, but now goes for around $85.
Why now: An analysis of 200 years' worth of monsoon data revealed that over the past 9 years, Chennai has experienced more days with heavy downpours and less consistent rainfall, leading to faster runoff and a less manageable flow into reservoirs, CBS reports.
A report from last year conducted by the Indian government's research institute NITI Aayog cautioned that 21 Indian cities, including Chennai and New Delhi are expected to run out of groundwater by 2020.
What to watch: Protests are ramping up on the issue, with more than 500 people arrested on Wednesday for confronting the Indian government over what they've characterized as mismanagement, CNN reports.
K. Palaniswami, chief minister of Tamil Nadu state where Chennai is located, acknowledged on Tuesday that the crisis could persist for another 5 months, per CBS.
However, reports of rain on Thursday in India's 6th largest city were greeted with delight — the first rainfall in about 190 days, the New Indian Express reports.
Go deeper