Mayor Pete as commander-in-chief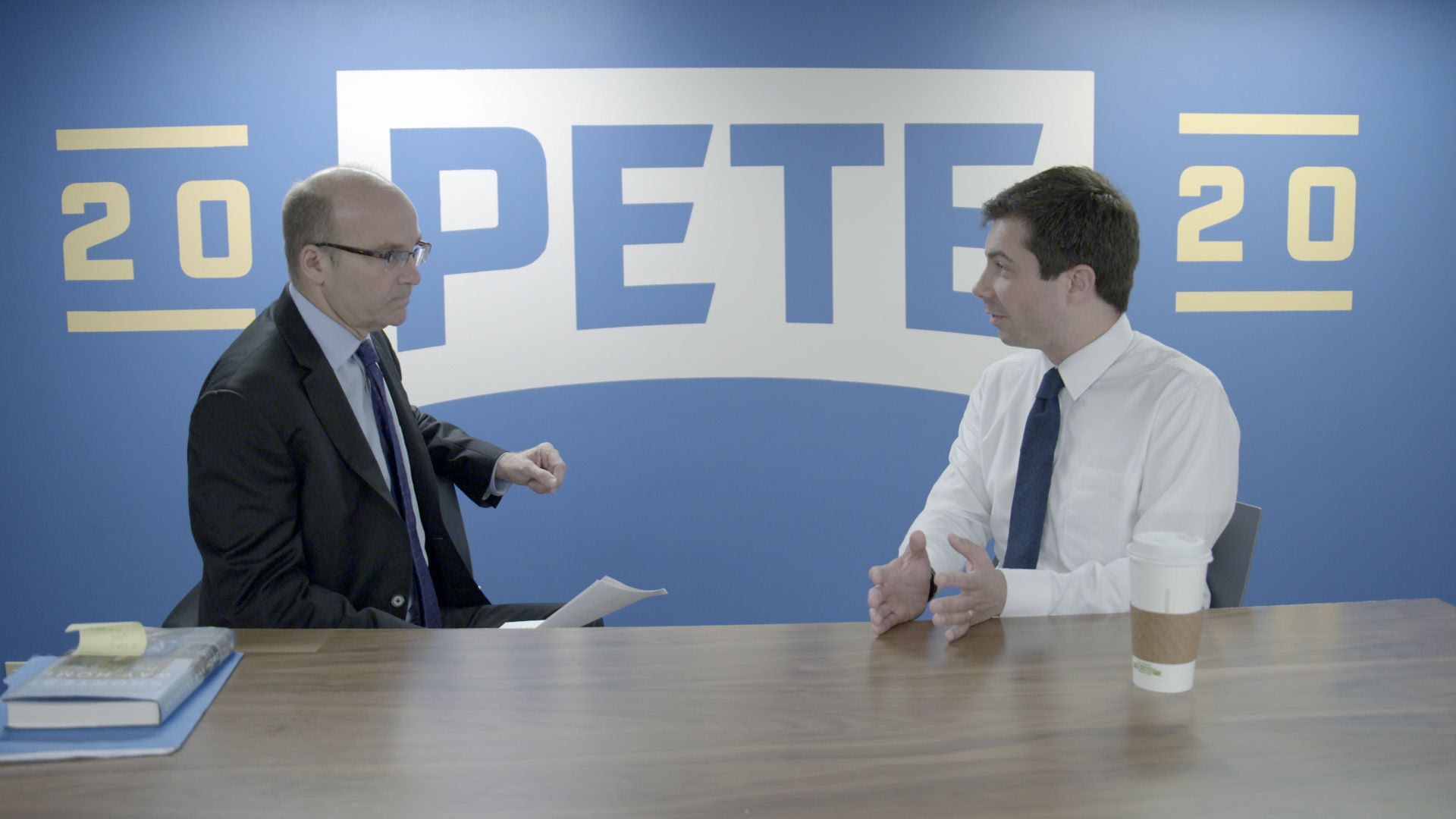 Chatting confidently about what he'd do as commander-in-chief, Pete Buttigieg told me for "Axios on HBO" that he "wouldn't put it past" President Trump to allow the border "to become worse in order to have it be a more divisive issue, so that he could benefit politically."
What he's saying: "The president needs this crisis to get worse, even though it makes a liar out of him," Buttigieg said at his campaign HQ in South Bend, Ind. "I don't think he's worried about that. ... I don't think he cares if it gets better. But he certainly doesn't benefit from comprehensively fixing the problem."
Mayor Pete is surfing the unique euphoria of a surging presidential campaign:
So on the cusp of the first debate 10 days from now, the idea of this intellectual 37-year-old as commander-in-chief is no longer as far-fetched.
Last week, when he outlined his foreign policy vision ("America and the World in 2054: Reimagining National Security for a New Era"), he spoke in front of a pointedly presidential eight American flags.
Here's more of what he told "Axios on HBO"...
Buttigieg suffered depression after deployment:
Mayor Pete says that although he wasn't diagnosed with PTSD after returning from Afghanistan after a seven-month deployment in 2014, "there's a level of depression ... that I went through when I came back."
It lasted about a year. "Of course, it's the effect of having been exposed to danger," he said. "I think, also, some moral pressure ... Any time, in any way, you are even remotely involved in killing, it takes something out of you, and it takes a lot of work to process that."
Buttigieg "almost certain" we've had gay presidents:
Asked about likely attacks from Republicans, the mayor said that "we've probably had excellent presidents who were gay — we just didn't know which ones. ... I mean, statistically it's almost certain."
So, who? "My gaydar doesn't even work that well in the present, let alone retroactively."
Buttigieg wouldn't move the U.S. embassy in Israel:
Asked if he'd move the the embassy back to Tel Aviv from Jerusalem, the mayor replied: "I think what's done is done. ... Look, we need a big-picture strategy on the Middle East. I don't know that we'd gain much by moving it to Tel Aviv."
So Trump did the right thing by moving the embassy? "I didn't say that," Buttigieg shot back.
"Here's the problem with what he did. ... [Y]ou don't do that without getting some kind of concession. Instead, we've seen the Israeli government continue to act in ways that are detrimental to peace."
Go deeper