Elizabeth Warren, Pete Buttigieg surge in South Carolina poll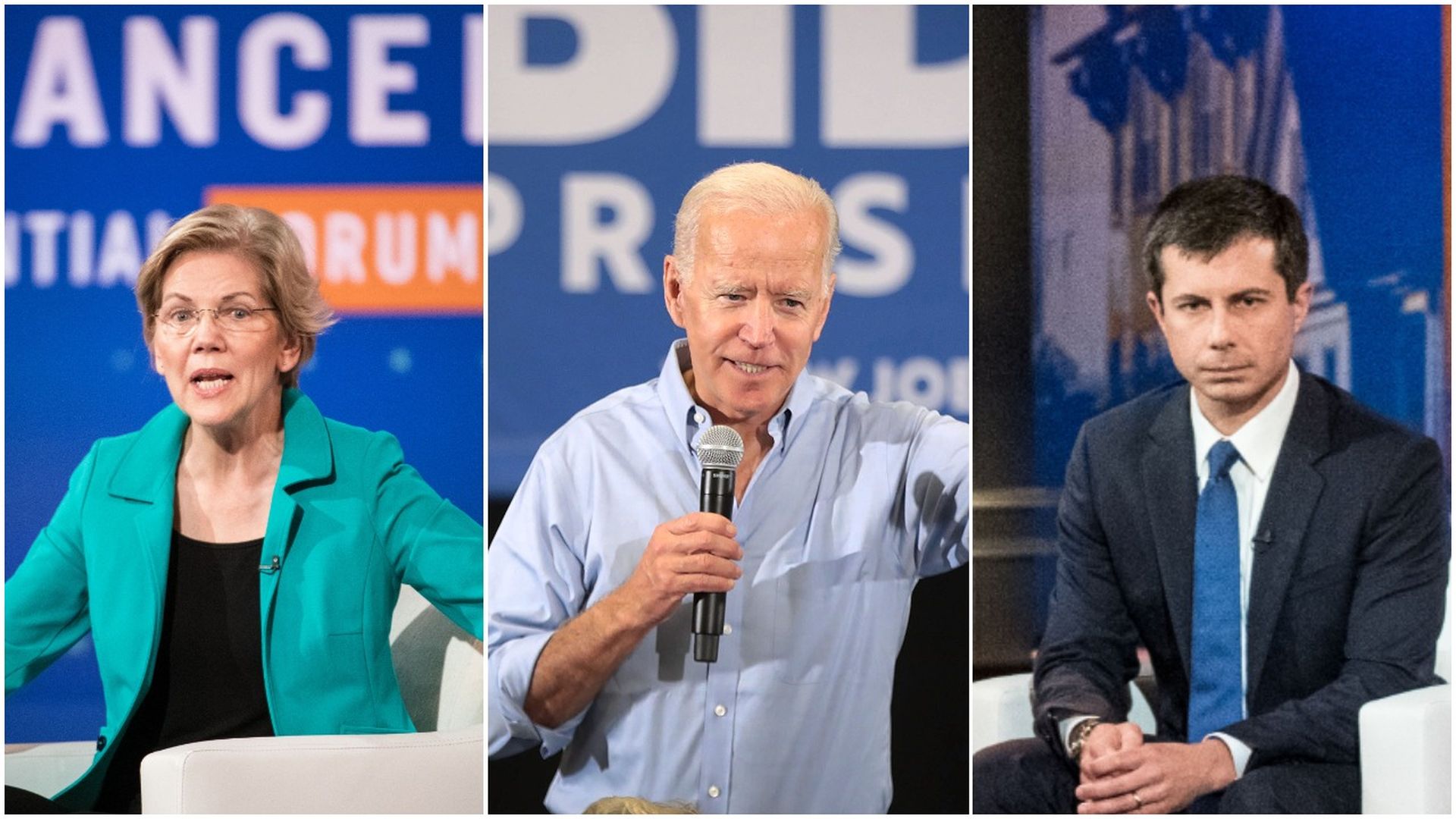 Former Vice President Joe Biden's commanding lead has taken a hit in South Carolina, dropping from 46% to 37% as Sen. Elizabeth Warren (17%) and Mayor Pete Buttigieg (11%) surged to the No. 2 and No. 3. spots, according to the latest Post and Courier-Change research poll of 2,312 South Carolina voters.
Why it matters: South Carolina is a key early primary state in which black voters play an especially important role. The state will host its Democratic convention on June 21, an event expected to be attended by almost every candidate.
By the numbers:
Joe Biden: 37% (-9)
Elizabeth Warren: 17% (+9)
Pete Buttigieg: 11% (+3)
Kamala Harris: 9% (-1)
Bernie Sanders: 9% (-6)
Cory Booker: 5% (+1)
Beto O'Rourke: 4% (+2)
Andrew Yang: 3% (+1)
All other candidates poll at 1% or less
Other highlights:
Biden leads in all age groups except for voters aged 18-to-34.
Biden has a strong lead among black voters at 52%.
The race is closer between the candidates among white voters. Biden is still first at 28%, but Warren is only 8 points behind.
Go deeper: Poll suggests 6 2020 Democrats would beat Trump in head-to-head matchup
Methodology: Change Research surveyed 2,312 registered voters in South Carolina (933 likely 2020 Democratic primary voters and 1,183 likely 2020 Republican primary voters) from June 11-14, 2019. The survey was conducted online, using Change Research's Bias Correct Engine. Change Research reaches voters via targeted online ads that point people to an online survey instrument. The margin of error for the full sample, as traditionally calculated, is ± 2.0%.
Go deeper