Why Trump is a Florida Man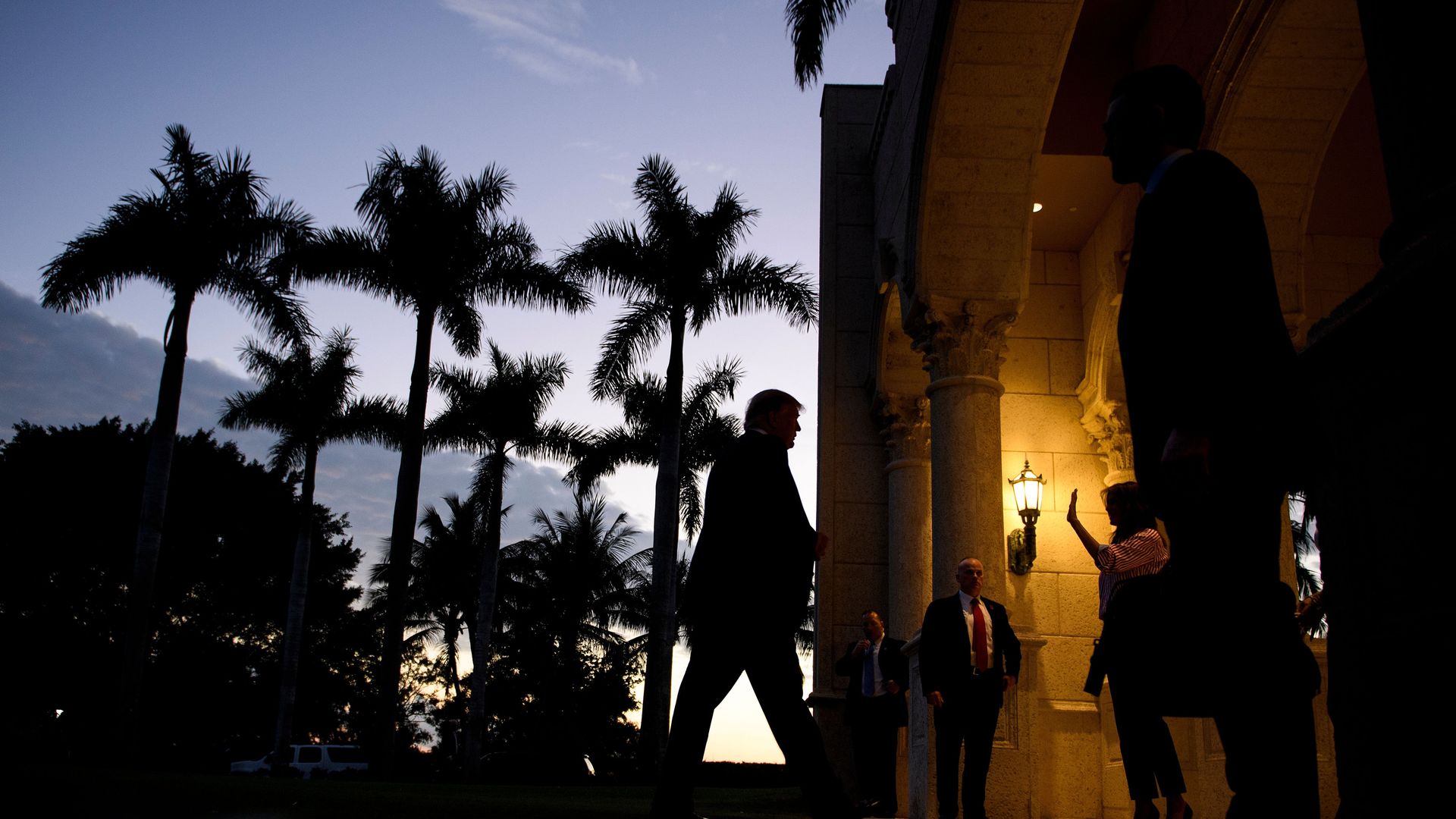 We always think of Trump as a New York guy, or the president in the White House. But at heart, he's a Florida Man with a Trumpian Florida life: big mansions and big money.
Why it matters: At Mar-a-Lago, we're seeing a whole new form of lobbying. People pay dues to the private club of the president of the United States, then try to influence him in person on government policy — all outside the normal watchdogs and strictures and surveillance of Washington. It's a stunning situation.
The big picture: "In the popular conception, he's a Manhattan real estate builder. But in some ways that's not really his world. Certainly not anymore. His world is Palm Beach," Axios' Jonathan Swan noted on "Axios on HBO."
"If you drew a circle around Mar-a-Lago, his private club, there is no more concentrated an area of political influence outside Washington, D.C."
Commerce Secretary Wilbur Ross owns a 16,000 square foot home in Palm Beach, according to South Florida Business Journal.
Labor Secretary Alex Acosta is from the area.
HUD Secretary Ben Carson has a home in Palm Beach Gardens.
Between the lines: Trump is "in his happy place at his club or at the golf course. He is completely relaxed. And that's when he's most receptive to ideas," Swan noted.
"It's this weird world where you've got him at the dining table people come up and talk to him and you get an invaluable piece of time with the most powerful person on earth."
As of mid-April, Trump had spent 99 days at Mar-a-Lago while president, NBC News reports.
Mar-a-Lago's initiation fee doubled in 2017, shortly after he was elected president, to $200,000 a year.
Trump routinely uses his own club to host foreign leaders, including Japanese PM Shinzo Abe and Chinese leader Xi Jinping.
He's also notably showed up at events taking place at his club, including crashing a wedding at Mar-a-Lago on the same night North Korea conducted a missile test in 2017.
The bottom line: The club has "all the accoutrement that make people sometimes describe Trump as a poor person's idea of a rich person," Axios' Mike Allen said.
"Gold ceilings, and gold lamps and gold floors and fringe. He gets to think of himself as the literal monarch. Everyone is there to pay obeisance to him. And he really doesn't have to accommodate the press."
Go deeper