Apple debuts new Mac Pro, previews iOS, macOS updates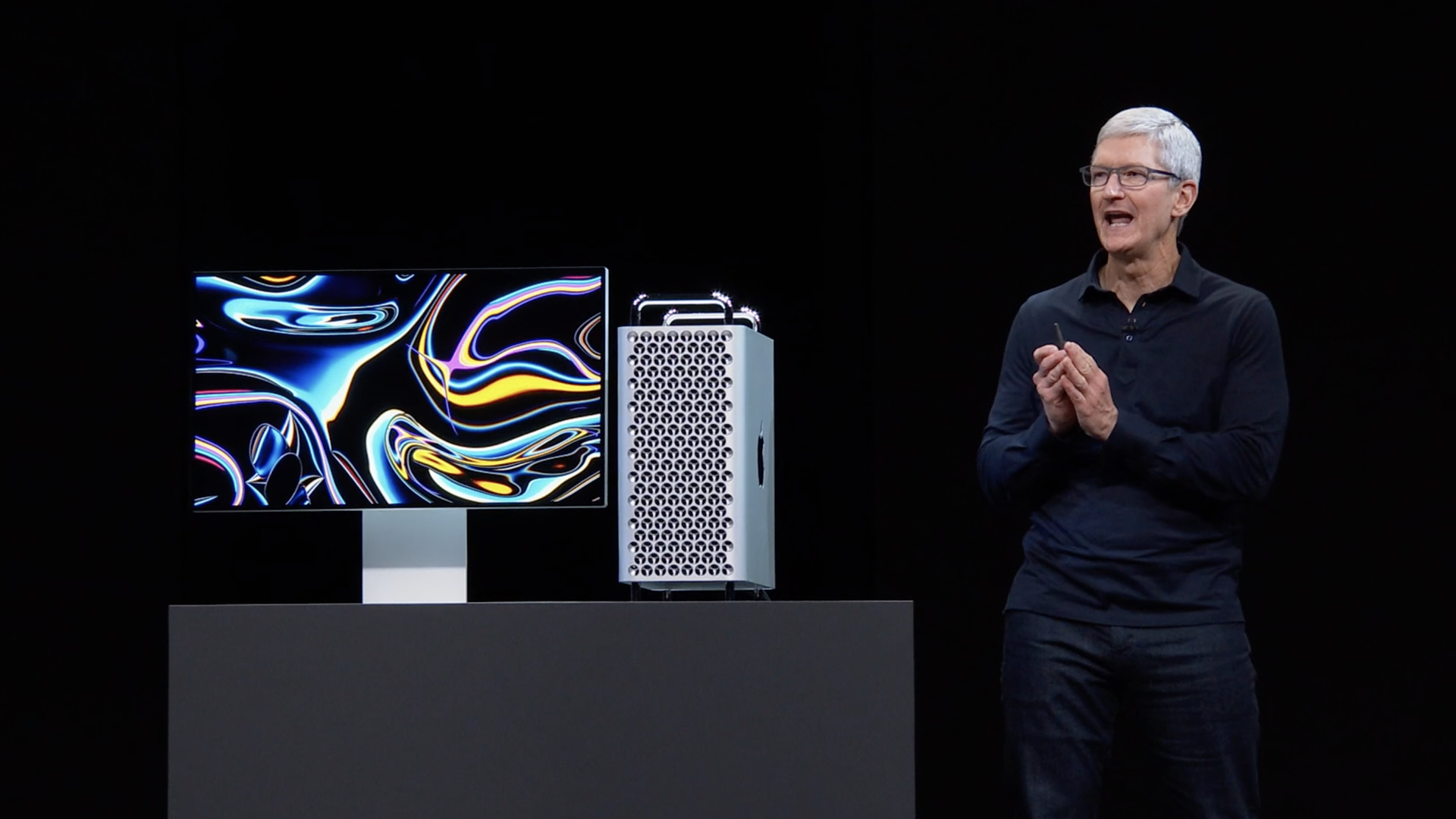 Apple used its annual Worldwide Developer Conference to unveil a redesigned Mac Pro for professional users and debut iOS 13 — the next version of its iPhone operating system. It also previewed updates coming to its iPad, Mac, Apple TV and Apple Watch operating systems.
Why it matters: The announcements come as Apple has seen growth in the iPhone slow even as the device has become ever more central to its business. Apple's summer software moves typically lay the groundwork for new hardware in the fall.
Mac Pro
Two years in the making, Apple has a new Mac Pro, with a design reminiscent of Apple pro desktops from the past. It supports up to a 28-core Intel Xeon processor, up to 1.5 terabytes of memory and 300 watts of power. You can even add wheels!
It will be available this fall, starting at $5,999 for a model with an 8-core Xeon processor, 32GB of memory and a 256-gigabyte solid-state drive.
Apple is also doing a new $4,999 32-inch, 6K display to accompany the computer. (It's the first new monitor from Apple in a while, which had been reselling LG monitors in recent years.) Even the stand will cost an extra $999.
Read here for more on the new Mac Pro.
MacOS Catalina
Sidecar feature lets people use their iPad as either a drawing tablet or second display.
Apple is splitting iTunes into three apps, one each for music, podcasts and TV.
The anti-theft "Activation Lock" feature is coming to all Macs with a T2 chip and works to discourage theft by rendering a stolen or lost Mac unusable.
As expected, Project Catalyst lets users create apps for the Mac based on existing iPad apps. Catalyst will be available to developers immediately as part of the new Mac operating system.
A new "Find My" app for iOS and MacOS combines Find My Friends and Find My iPhone and allows devices to be found even when they are offline.
Voice control allows those with motor-control issues (and anyone else) manage their Mac via speech.
iOS
Nope, unlike some elevators, Apple isn't skipping 13. iOS 13 features performance updates including 30% faster FaceID unlocking and apps launch up to twice as fast.
It's available to developers now in preview form, coming to customers as a public beta in June or July and in final form this fall. It will require an iPhone 6S or later.
A widely rumored "Dark Mode" with black backgrounds.
Updates to reminders app, Safari browser and Apple Maps, where Apple expects it will have remapped the entire U.S. by the end of 2019.
New image editing abilities, portrait lighting controls and the ability to more deeply edit videos (even rotating them).
Siri will be able to read your incoming messages (Apple and third-party messaging apps) to your AirPods.
Two AirPods users will also be able to share audio coming from a single device.
In CarPlay-equipped cars, Siri will work with third-party apps, including Pandora and Waze.
On the augmented reality front, Apple is making it easier for developers to capture motion and create scenes in which people move in front of or behind virtual objects. Microsoft's Mojang unit was on hand to do a first-ever demo of Minecraft Earth, an AR version of Minecraft.
iPad
iPad is getting its own flavor of iOS — iPadOS — recognizing its difference from the phone version of the operating system.
iPad apps will be able to have more than one window, allowing, for example, two Notes or two Word documents to be open at once.
New controls make it easier to switch between apps when multitasking.
Support for getting data from thumb drives, SD cards and cameras.
Desktop-class browsing in Safari, including a download manager.
Apple Watch
Apple is bringing the App Store to the watch; previously apps had to be installed using an iPhone.
Apps can run independently on the watch, no longer requiring a companion app on the phone.
More Apple apps coming, including voice memo, calculator and audiobooks.
New health features, including tracking menstrual cycles (also coming to iPhone) and monitoring environmental noise levels.
TV
Apple showed a preview of "For All Mankind," one of the original shows coming to its Apple TV+ video service later this year. It's from Ron Moore, the executive producer of "Battlestar Galactica" and "Star Trek."
Apple is adding Multiuser support in tvOS, so everyone in the home can get their own recommendations.
Apple TV will support the Arcade subscription gaming service and gain support for Microsoft Xbox and Sony PlayStation game controllers.
Privacy
Location tracking can be very useful, but "we don't expect to have that privilege used to track us," iOS chief Craig Federighi said. New options include the ability to share location just once with an app, requiring it to ask again when it wants the info.
Apple is adding its own sign-in technology to compete against social media sign-ins from Facebook, Google and others that typically come with strings attached. Apple's sign in will simply authenticate users, Federighi said. If apps want an e-mail address, users will be able to either share theirs or Apple will create a random relay address for each app. Apple sign-in will work on all of Apple's devices and the Web.
Apple is bringing HomeKit to routers, so if one device gets compromised it won't have access to other devices. Linksys, Eero and ISPs like Charter's spectrum plan to support it.
Go deeper