Kirsten Gillibrand shares her agenda for LGBTQ rights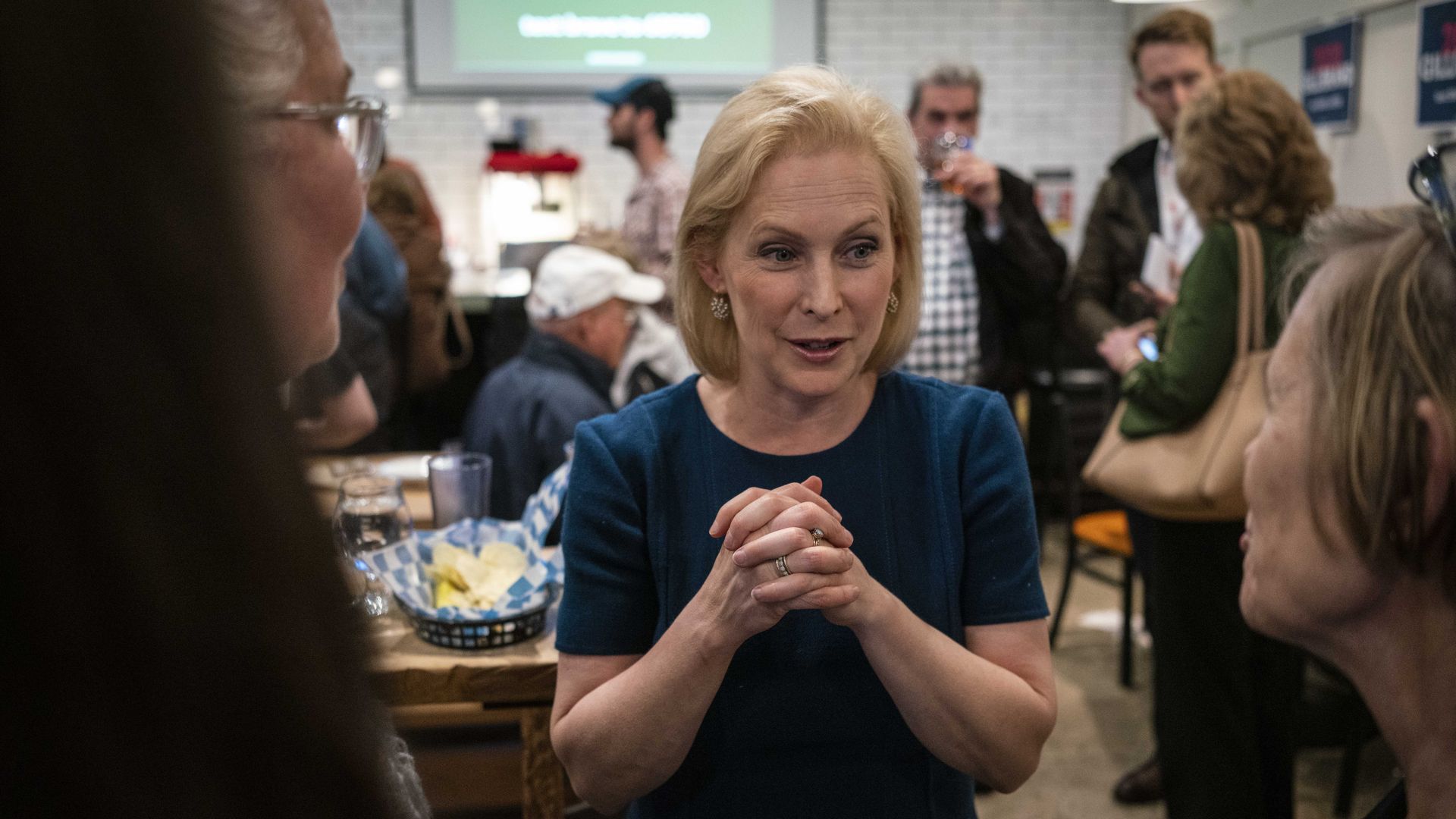 On the first day of LGBTQ Pride month commemorating the Stonewall Riots, 2020 presidential hopeful Sen. Kirsten Gillibrand (D-N.Y.) released her LGBTQ rights agenda.
Why it matters: Gillibrand used the policy outline to juxtapose herself against President Trump and his administration when it comes to LGBTQ rights.
Equal Rights:
Vowed to sign the Equality Act if elected.
Plans to ask the Department of Justice to consider gender identity and sexual orientation as a protected class.
Remove Trump's ban on transgender people serving in the military and work to end discrimination against service members with HIV.
Federally recognize third gender in identification documents: "X."
Families and kids:
Codify marriage equality, ensuring that Obergefell v. Hodges cannot be overturned.
Per the Every Child Deserves a Family Act, she wants to make sure taxpayer-funded adoption and child welfare agencies cannot discriminate against foster or adoptive families. Gillibrand also wants to eradicate discrimination against LGBTQ children in the foster care system.
Require insurance companies to cover fertility treatments for LGBTQ couples. Hospitals would also offer gender neutral parental forms in every state.
Address and increase funding for mental health and suicide among LGBTQ kids, and have the Department of Education issue anti-bullying guidelines.
Expand protection for LGBTQ students under Title IX.
A nationwide ban on "conversion therapy."
Allow students to use bathrooms and lockers that match their gender identity.
Health care:
Ensure funding for Planned Parenthood and Title X. Eliminate Trump's gag rule on Title IX.
Require insurance companies to cover hormone therapy for transgender patients.
Encourage the Food and Drug Administration to repeal a blood donation ban against LGBTQ Americans.
Propose an increase in funding for HIV/AIDs research and treatment.
Safety:
Task the DOJ with prosecuting hate crimes against LGTBQ people and people of color.
Fully fund the programs under the Matthew Shepard and James Byrd Jr. Hate Crimes Prevention Act.
Speak about LGBTQ rights internationally and take the matter up with nations who are persecuting people.
Focus on homelessness among LGBTQ people.
Go deeper: Kirsten Gillibrand on the issues, in under 500 words
Go deeper