Updated May 27, 2019 -

World
Trump publicly intervenes in Israeli crisis to help Netanyahu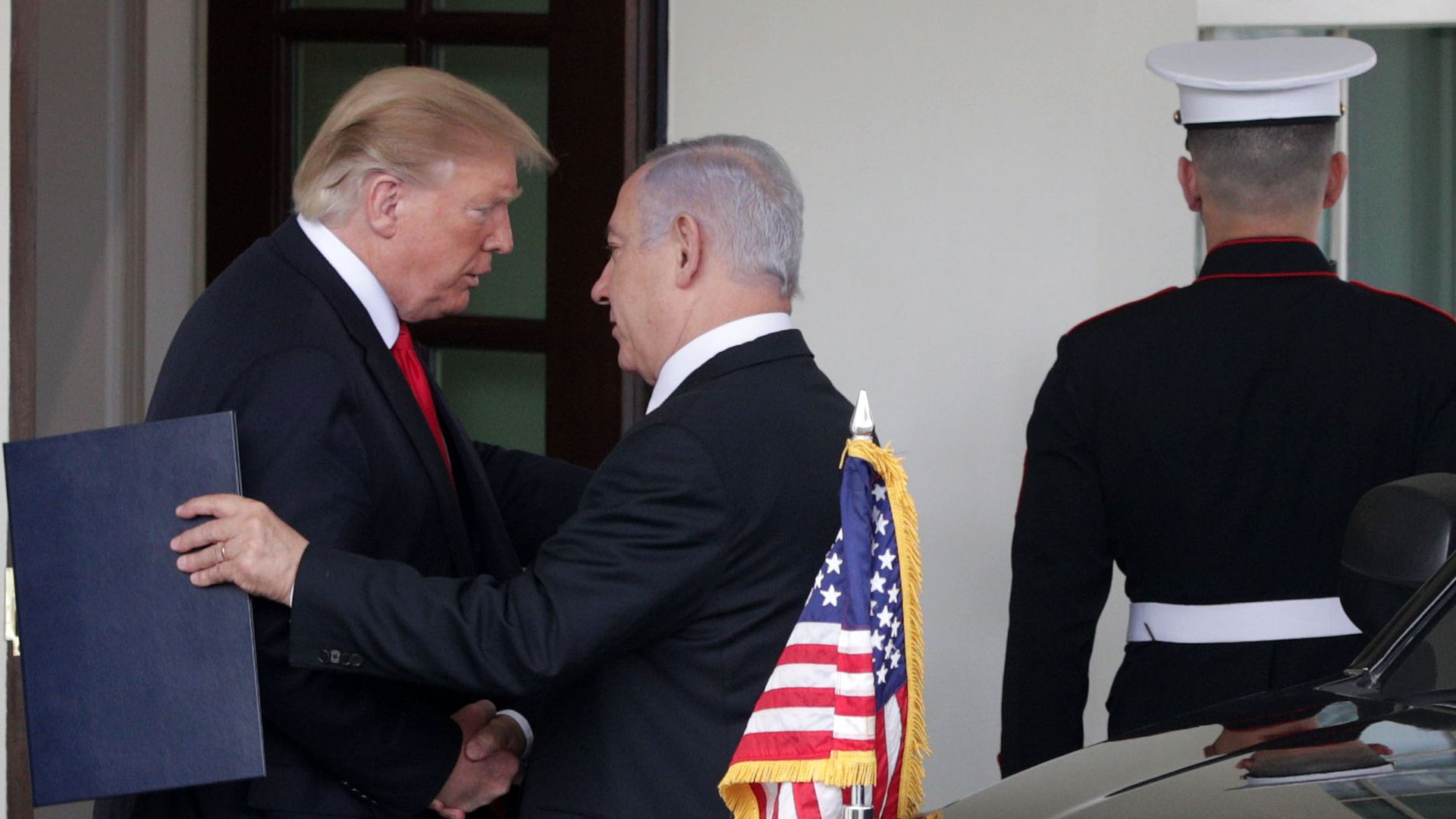 In an unprecedented move, President Trump publicly intervened in the domestic political crisis in Israel and backed Prime Minister Netanyahu's efforts to form a coalition 48 hours before the deadline for putting together a new government.
Why it matters: Trump's move is unprecedented because it is an intervention in coalition negotiations in a different country in order to help one the political players, and more so because it is done publicly.
Trump launched his call to solve the coalition crisis in a tweet.
"Hoping things will work out with Israel's coalition formation and Bibi and I can continue to make the alliance between America and Israel stronger than ever. A lot more to do!"
What they're saying: A senior official in Israel's main opposition party "Blue & White" criticized Trump's tweet and told me: "We are shocked by President Trump's intervention in Israeli domestic politics."
Flashback: Netanyahu is one of Trump's main allies around the world. During the last election in Israel, Trump intervened in favor of Netanyahu and Netanyahu used Trump in his TV ads and on billboards around Israel.
Two weeks before the election, Trump recognized the Golan Heights as part of Israel. This decision was a huge win for Netanyahu and had an influence on Israeli public opinion.
The bottom line: Netanyahu, who is facing indictments for bribes, breach of trust and fraud, is facing a big political crisis these days.
Regardless of his big election achievement, he is unsuccessful so far in forming a coalition. Netanyahu has until Wednesday night to form a coalition or Israel could go back for new snap elections.
Update (1:30pm EST): Netanyahu referred to Trump's tweet in a statement that was broadcasted live on all the television channels.
Netanyahu thanked Trump for his tweet and said: "Trump is right – we still have a lot of work to do."
Netanyahu's comments made the impression he asked Trump to tweet in order to use it in his domestic political crisis.
Netanyahu said he will still try to prevent elections in the next 48 hours and blamed the former minister of defense Avigdor Lieberman for driving the country to new elections less than 2 months after the last elections because he doesn't want to join the coalition.
Go deeper