Ambulance startup Ambulnz looking to raise $90 million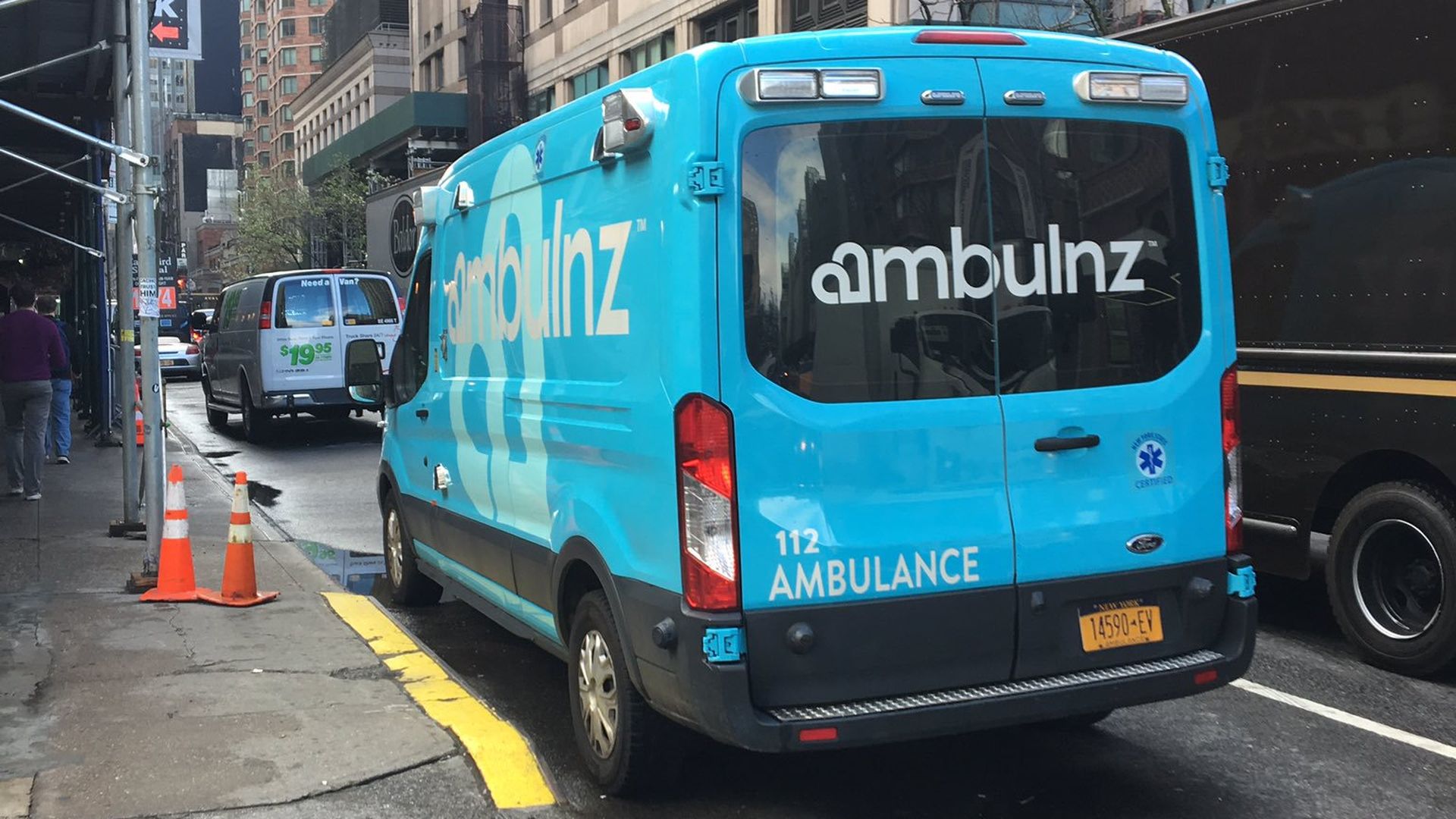 Ambulnz, a startup that dispatches non-emergency ambulances, has filed paperwork with the Securities and Exchange Commission to raise $90 million in outside funding. The company did not respond to multiple attempts for comment.
The bottom line: Ambulnz is seeking a lot of cash, but it's unclear how the company operates.
What they're not saying: The Ambulnz website is sparse on details, and there's no explanation of how it earns money or how it works with health insurers.
Several company phone extensions led to busy signals or voicemails. Calls to Ambulnz CFO Andre Oberholzer were not returned. LinkedIn messages to Oberholzer and CEO Stan Vashovsky were not returned. Emails to [email protected], which is referenced on the company's terms of service and privacy policy, generated bounceback messages.
What we know: Ambulnz says it offers "non-emergency patient transportation services," such as moving patients between hospitals and nursing homes or getting people to their doctor appointments. Uber and Lyft do this as well.
That means Ambulnz isn't providing rides for people who get shot, have heart attacks or encounter other emergencies. Those still require a 911 call.
One EMT for Ambulnz explained in a video the company pays based on how many rides they complete — "the more calls you run, the more money you make."
The services are expensive.
An Ambulnz representative said its standard rides were $350 plus $10 per mile. If a nurse is needed on board, it goes to $850 plus the mileage. The representative said the company "expects payment upfront," but rates could depend on insurance.
Ambulnz's rates are well above the $225 Medicare pays for basic non-emergency ambulance transports. And even higher above what an Uber or Lyft ride would likely cost (remember: this isn't for emergencies).
The company's fees are tied to a "local market rate card" and "available upon request." Axios has requested them, but has not received a copy yet.
The big picture: Like other premium health care services, we don't know how big the market and demand for this particular service is, given the high cost, narrow purpose and cheaper alternatives.
Go deeper