Where Joe Biden stands on climate change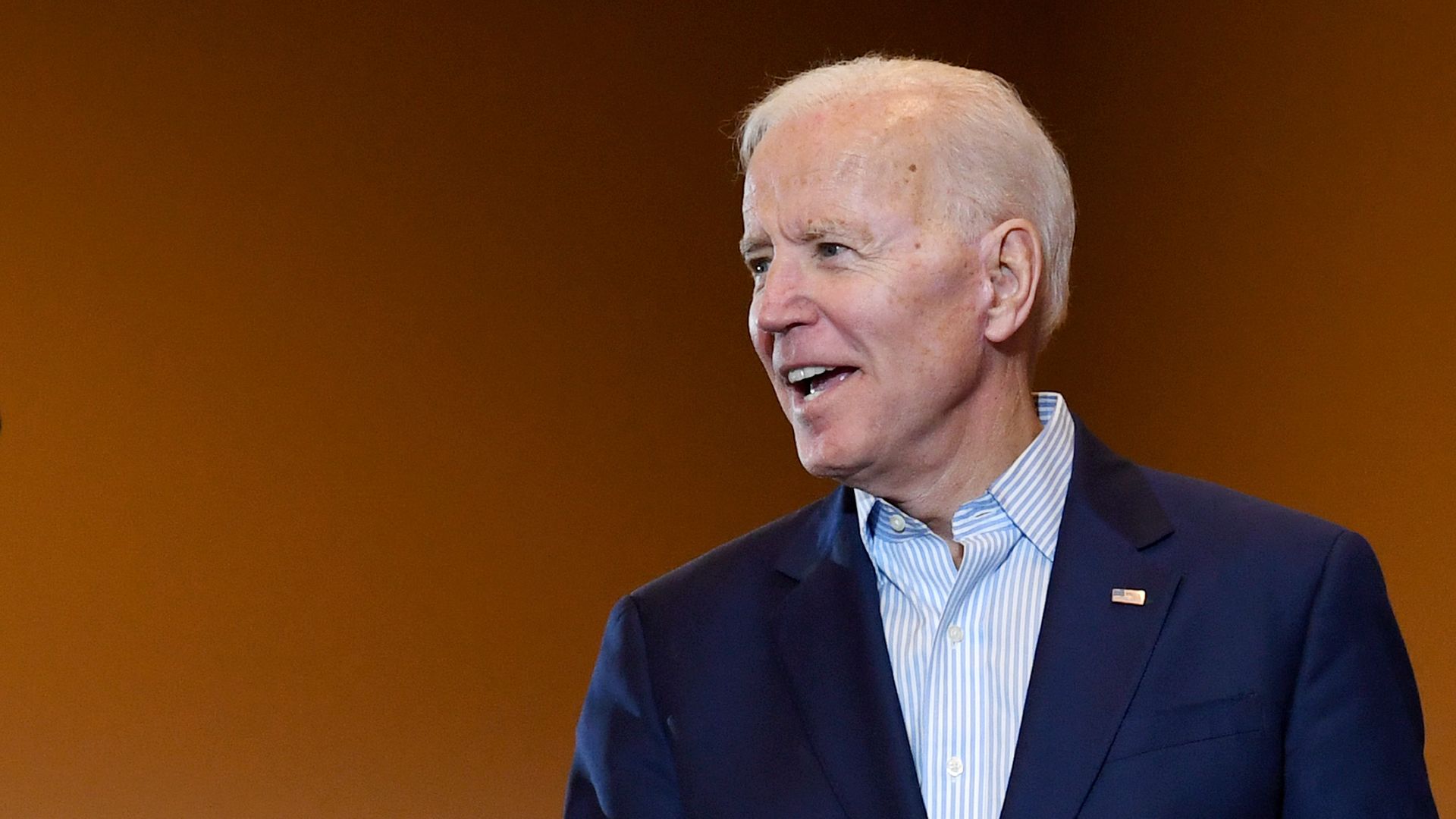 Former Vice President Joe Biden has released a climate and energy plan with the goal of achieving net-zero U.S. greenhouse gas emissions no later than 2050.
Why it matters: As the race for 2020 heats up, climate change has emerged as a key issue for primary voters — with many of Biden's competitors putting climate policy front and center. In a CNN poll released in April, 96% of Democrats and Democratic-leaning independents said it's very or somewhat important for a presidential candidate to promise aggressive action on climate change.
Driving the news: Biden released his climate and energy plan on Tuesday outlining the legislative, executive and international actions he seeks to enact, if elected.
Key details of Biden's climate plan
Legislative goals: A bill that requires emissions cuts with an "enforcement mechanism" to reach his 2050 goal.

Big spending increases on low-carbon energy and "resilient infrastructure" funded by reversing Trump's 2017 corporate tax cuts.
A suite of tax code changes.

Executive actions: Include methane limits for oil and gas, new fuel economy standards, tougher appliance and building efficiency standards.

His plan also outlines social justice and equity provisions and steps to help fossil fuel workers.

International: Biden wants to go further than just rejoining the Paris Climate Deal.

This includes pushing other countries to increase their emissions-cutting ambitions through diplomacy, new policies to incorporate climate into trade policy, and potential fees or quotas on "carbon-intensive goods" from countries that aren't meeting their climate obligations.

Green New Deal: Biden's platform praises the Green New Deal, calling it a "crucial framework for meeting the climate challenges we face."
Personnel: Biden is seeking a pragmatic path on climate policy and brought on Heather Zichal, a former top Obama aide, as an informal adviser, according to a Reuters report.
Fossil fuel money: Biden plans to sign the "no fossil fuel money" pledge on contributions.
EV: Wants to deploy 500,000 charging stations by 2030. His vehicle standards are aimed at ultimately ensuring 100% of light- and medium-duty sales are EVs, although no date is provided.
Yes, but: Several key portions would require legislation, Axios' Ben Geman notes. That's a big lift unless Democrats regain the Senate and ease filibuster rules or use special budget-related legislation that could allow provisions to pass with a simple majority.
In early May, before releasing his plan, a Biden adviser said he would take a "middle ground" approach to his climate policy. That comment sparked attacks from the left, but the plan Biden announced Tuesday has tempered that criticism.
Context: Biden does have a 30-plus-year history of policy positions based on his time as a senator and as vice president.
In 1986, he introduced the Senate's first climate bill, per the New York Times.
He co-sponsored a "Sense of the Senate" resolution in 2005, which called for the U.S. to participate in U.N. climate negotiations. Two years later he co-sponsored the Global Warming Pollution Reduction Act of 2007, which amended the Clean Air Act to reduce carbon dioxide emissions.

The League of Conservation Voters has awarded Biden an 83% lifetime score on his record of voting for pro-environment causes while in the Senate.

As a senator, he supported tax credits for renewable energy, and as vice president, he supported a series of emissions reduction regulations established by President Obama, per the NYT.
He has likened denying climate change to "almost like denying gravity."
Go deeper: Joe Biden on the issues, in under 500 words
Go deeper