National leaders and politicians react to "extreme" Alabama abortion ban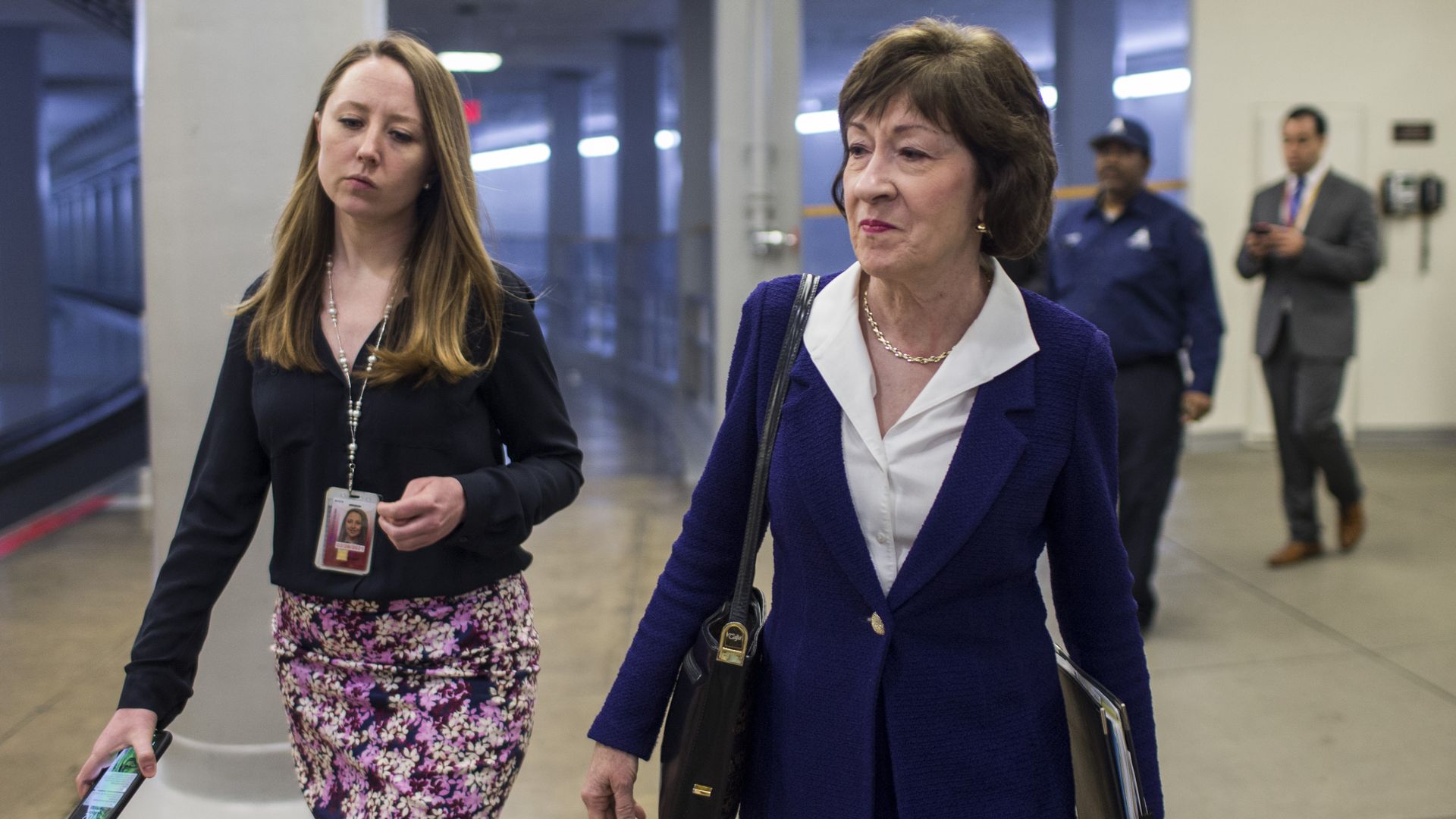 Political and national leaders quickly criticized Alabama's newly passed abortion ban after it passed on Wednesday, including 2020 presidential candidates and Sen. Susan Collins (R-Maine), who said the legislation is "so extreme" that she can't foresee the courts upholding it.
What's new: RNC Chairwoman Ronna McDaniel said she "personally opposes" the new law on Friday, Politico reports. She emphasized that she would preserve exemptions to allow abortion in cases of incest and rape, which the new law does not.
The big picture: Collins isn't the only Republican criticizing Alabama's ban. Televangelist Pat Robertson also called the new law "extreme," adding that the Alabama legislators clearly want to challenge Roe v. Wade, but this isn't the case to take to the Supreme Court since he expects it would lose, reports the Washington Post.
What else they're saying:
In response to the new law, Sen. Cory Booker (D-N.J.) said as president he would codify abortion rights into law and appoint Supreme Court justices who want to protect Roe v. Wade.
Sen. Kamala Harris (D-Calif.) sent a campaign email urging her supporters to donate to pro-abortion organizations and took to Twitter, writing: "Georgia, Kentucky, Mississippi, Ohio & now Alabama - these anti-abortion bills aren't a coincidence, it's a concerted effort by the GOP to overturn Roe v. Wade. I'm sick and tired of this outright assault on women's bodily autonomy - we will fight this with everything we've got."
Sen. Bernie Sanders tweeted: "Abortion is a constitutional right," and said his Medicare for All plan would help cover the procedure.
Sen. Amy Klobuchar (D-Minn.) tweeted: "The Georgia and Alabama abortion bans are wrong. They are dangerous. They are unconstitutional. And they are out of step with the majority of Americans."
Sen. Elizabeth Warren (D-Mass.) tweeted: "When I was growing up, people got abortions. Desperate women turned to back alley butchers or even tried the procedure on their own. Some were lucky, but others weren't. They all went through hell. Access to safe, legal abortion is a constitutional RIGHT. Full stop."
Sen. Kirsten Gillibrand (D-N.Y.) has been campaigning against the recent abortion bans in Georgia and Alabama, calling them "outrageous" and saying she'd only appoint judges who supported Roe v. Wade.
The general public has responded to the new Alabama abortion ban by sending thousands of dollars in donations to numerous organizations around the country, and specifically in Alabama.
California Rep. Kevin McCarthy — the House minority leader — told reporters that Alabama'a new law "goes further than I believe," adding he think exceptions should be made for "rape, incest and life of the mother," per the AP.
Go deeper: Where abortion restriction stands: The states that have passed laws
Go deeper