Biden plots an early kill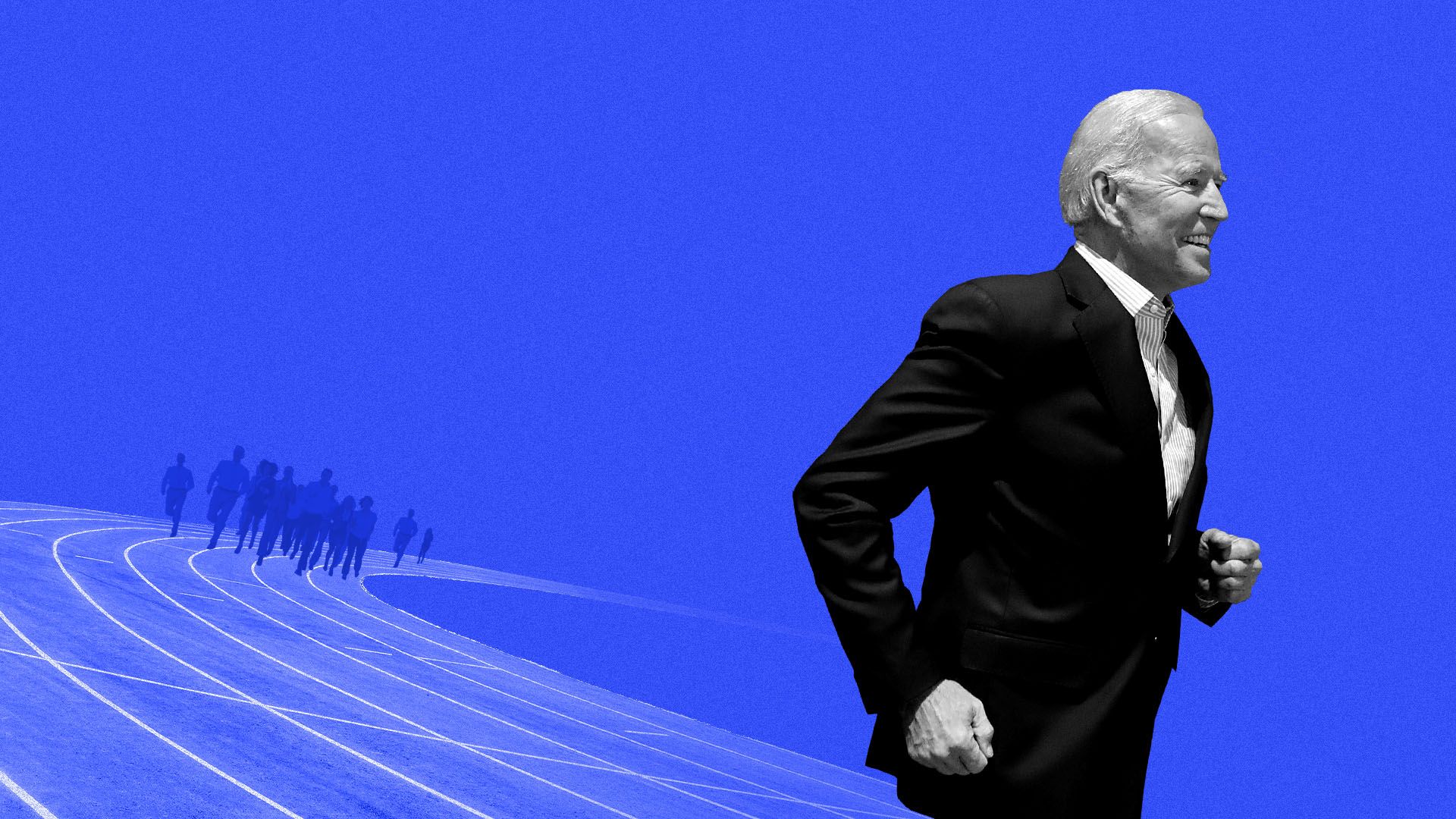 Joe Biden is trying to snuff out his Democratic competitors before the race really gets going. 
Why it matters: By all accounts, Biden's strategy is working — even though his campaign isn't even a month old. And others are noticing and feeling threatened.
He's running like it's a general election, cresting the aura of inevitability and readiness to stare down Trump. 
He's effectively dancing around topics like the Green New Deal, which could be a killer in the general election, and instead telling voters about the climate proposal he'll unveil as early as the end of this month.
He's promised to never attack a fellow Democrat. As the frontrunner, he's the one who benefits from a primary with minimal infighting. 
Early momentum begets money, so his campaign is racing to vacuum up front-runner coin. 
Just look at the way President Trump can't stop talking about Biden. Or Rep. Alexandria Ocasio-Cortez and activists like the Justice Democrats, who are relishing the opportunity to attack Biden whenever possible — particularly on climate change and his policy record.
The Progressive Change Campaign Committee said Biden is "our worst foot forward in the general election," slamming him for a comment he made on the trail about how his "Republican friends" might have an "epiphany" and start working with Democrats when Trump isn't president anymore.
"Just like his support of NAFTA and a middle ground on the existential climate crisis, this ... is the latest example of Biden operating in an insider world of yesteryear," the group said in a statement.
The focus on his record is important here. While most 2020 Democrats haven't started throwing punches at Biden, some Democrats say that could change next month.
"The debates will be the time everyone tries to take a shot at Biden," said one Democratic operative who asked to remain anonymous because they consult with various campaigns. "There's no way campaigns aren't looking to talk about his record at the debates."
Expect Biden to stand up for himself and defend his record, but he's not going after other Democrats any time soon.
Between the lines: Campaign aides wouldn't talk about it openly, but privately, several tell me there's not a real incentive to attack one another just yet — and it would be especially unwise if they tried to go after Biden now.
He's been the frontrunner in polls since before he announced his bid for the White House, and he has solidified his lead since he got into the race.
His proximity to Barack Obama puts 2020 Democrats in an awkward position because they don't want to be viewed as anti-Obama if they come out against his right-hand man.
If anything, campaign aides said they'll point out policy differences with Biden, just not in a way that's negative.
What they're saying: "Let the oppo research come from the Democratic opposition, which is Trump — not from other Democrats," said Democratic strategist Alaina Beverly, who worries that it'll be hard to unify the party around the eventual nominee if the attacks get more personal and less policy oriented.
Neera Tanden, president of the Center for American Progress, told Axios that "the stakes are even higher" now that Trump is president. "Democrats are desperate to have a nominee that's strong," she said — not someone who's been damaged by other Dems.
The bottom line: It's all working for now, but keep your eye on the debates.
Go deeper: Joe Biden is running like he won the Democratic primaries
Go deeper