NFL jersey ads feel inevitable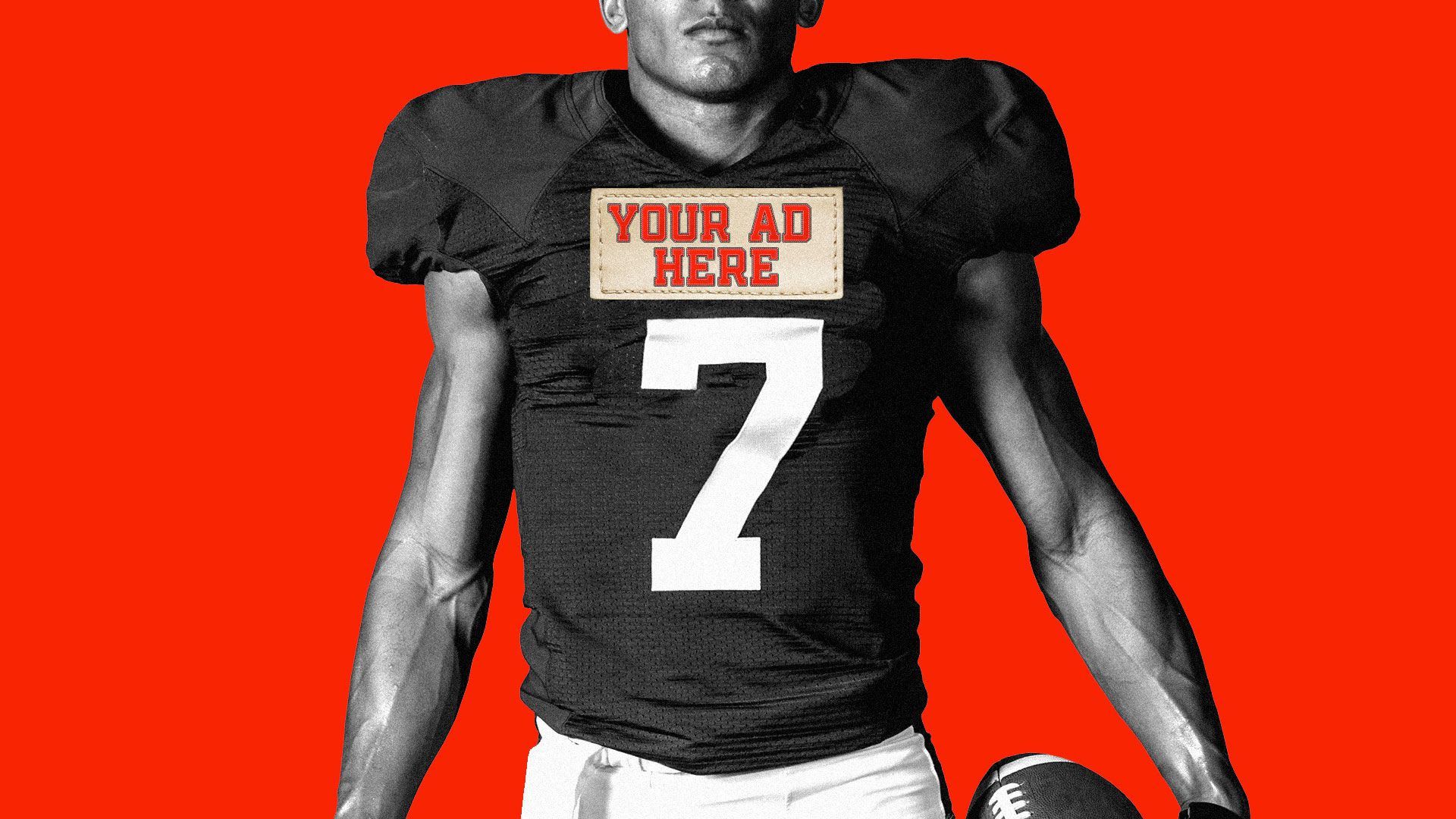 Like most professional sports leagues, the NFL focuses a ton of effort on finding and developing new revenue streams. But there's one resource that the league has yet to tap: jersey advertisements.
Why it matters: If every NFL team had a sponsorship patch like the ones you see in the NBA, it could net the league at least $220 million annually in added revenue — and that's an extremely conservative estimate.
That money would then theoretically be split between the owners (~$52%) and the players (~48%) to spend how they best see fit. Stadium upgrades, salary-cap pool, pension plans, etc.
The backdrop: 10 years ago, the NFL began adding sponsorship patches to practice jerseys, but that's as far as they got.
Meanwhile, MLS and international soccer got even deeper into the jersey sponsorship game, golfers continued to be walking billboards and then, in 2017, the NBA took the plunge.
Since then, all 30 NBA franchises have teamed up with a sponsor, and the results of the pilot program have been so positive that the league has already extended it indefinitely.
"We have entrenched, iconic brands looking to get younger ... upstart brands looking to build their image ... global brands looking to connect with the NBA. That's been really exciting because there are different ways we can deliver value," said Amy Brooks, the league's president of team marketing.
How it would work: If the NFL went this route, it would almost certainly follow the NBA's lead in allowing teams to negotiate their own sponsorship deals. As for the actual placement of the ads, here's SI's Jonathan Jones:
"The most obvious [option] would be on the left or right on the chest, just like on practice jerseys. Other patches would have to be considered, like how the sponsored patch interacts with a captain's patch [or] a Walter Payton Man of the Year patch."
"The other option would be on either sleeve. But that's also where Nike's Swoosh exists, and some teams also have their logo on their sleeve. It's important real estate that wouldn't be given up easily, and that's before considering some players (hello, Michael Bennett) like to roll their sleeves up into their pads."
The bottom line: With the NBA's patch program exceeding all expectations and causing seemingly no reciprocal harm, it raises a pressing question: How much longer will the NFL continue to leave money on the table?
Go deeper: The push to get sports leagues to cut out junk food sponsors
Go deeper