NATO interests and democratic values at stake in Trump-Orbán meeting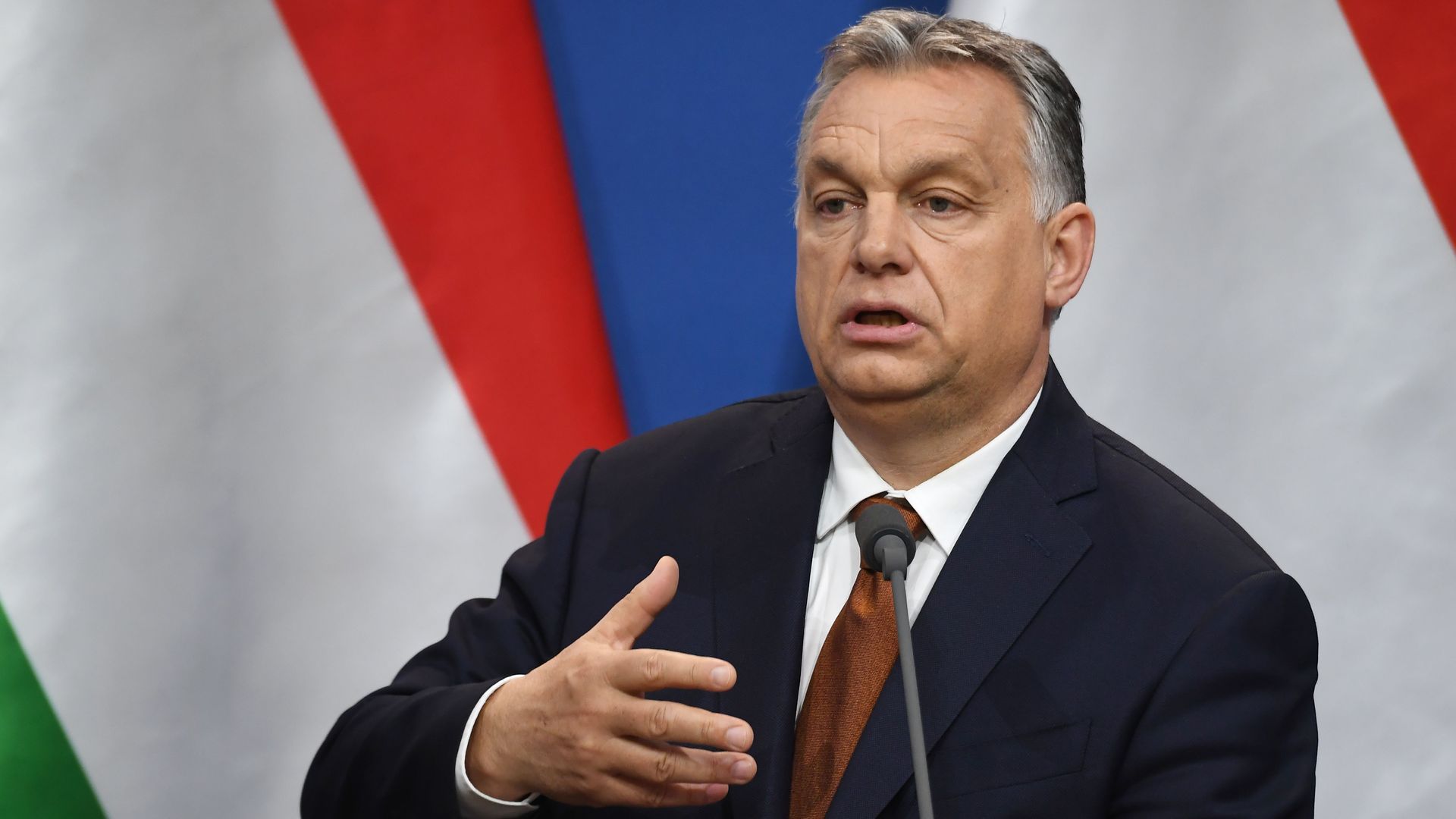 Monday's White House visit by Hungarian Prime Minister Viktor Orbán — billed as an opportunity to cooperate on energy, trade and security issues — has left Washington divided.
The big picture: Hungary is a NATO member and potential partner in countering threats from Russia and China. Yet under Orbán, the country has witnessed democratic backsliding that presents its own threats to transatlantic security. The meeting with President Trump could undermine U.S. leadership on democratic values and human rights.
Where it stands: Holding the upper hand in Central Europe would better position the Trump administration to prevent Russian efforts to divide NATO. The alliance would be endangered if Hungary became a Moscow proxy.
President Trump can lean on ideological affinities with Orbán, who supported his campaign and shares his strident views on immigration. Hungarians hope Trump will join an anti-immigration alliance and bolster opposition to the UN's global migration pact.
The meeting is also a chance to push back on Hungary's deepening ties to China, including its embrace of Huawei — an issue Secretary of State Mike Pompeo raised in Budapest in February with Orbán and top officials.
Yes, but: Orbán's politics skew authoritarian: He has repressed civil society and the media while fueling corruption, xenophobia and anti-Semitism. Trump's meeting with him lends legitimacy to his illiberal agenda.
Between the lines: The meeting takes place as Budapest clashes with the EU over Orbán's agenda — a fight that has reached the U.S. as well.
The European Parliament voted in September to trigger potentially punitive proceedings against Hungary, in response to policies of Orbán's seen as contrary to EU values.
Orbán's political party, Fidesz, was suspended in March by the European People's Party (EPP) for being undemocratic and undercutting the rule of law, in addition to having mounted an anti–EU campaign that targeted EU Commission President Jean-Claude Juncker, a senior member of the EPP and George Soros.
U.S. lawmakers introduced a resolution in January condemning Orbán for "efforts to undermine democracy and violate human rights" that has support in the Senate Foreign Relations Committee.
The bottom line: Trump's meeting with Orbán is raising concerns in Washington and the capitals of U.S. allies across Europe. It may ultimately do little to halt Budapest's growing ties with Moscow and Beijing, given the extents to which Orbán aligns with Vladimir Putin and Xi Jinping and has alienated European leaders.
Jonathan Katz is a senior fellow with the German Marshall Fund of the United States.
Go deeper