Louisiana hit by heavy rain: NWS warns of life-threatening flood risk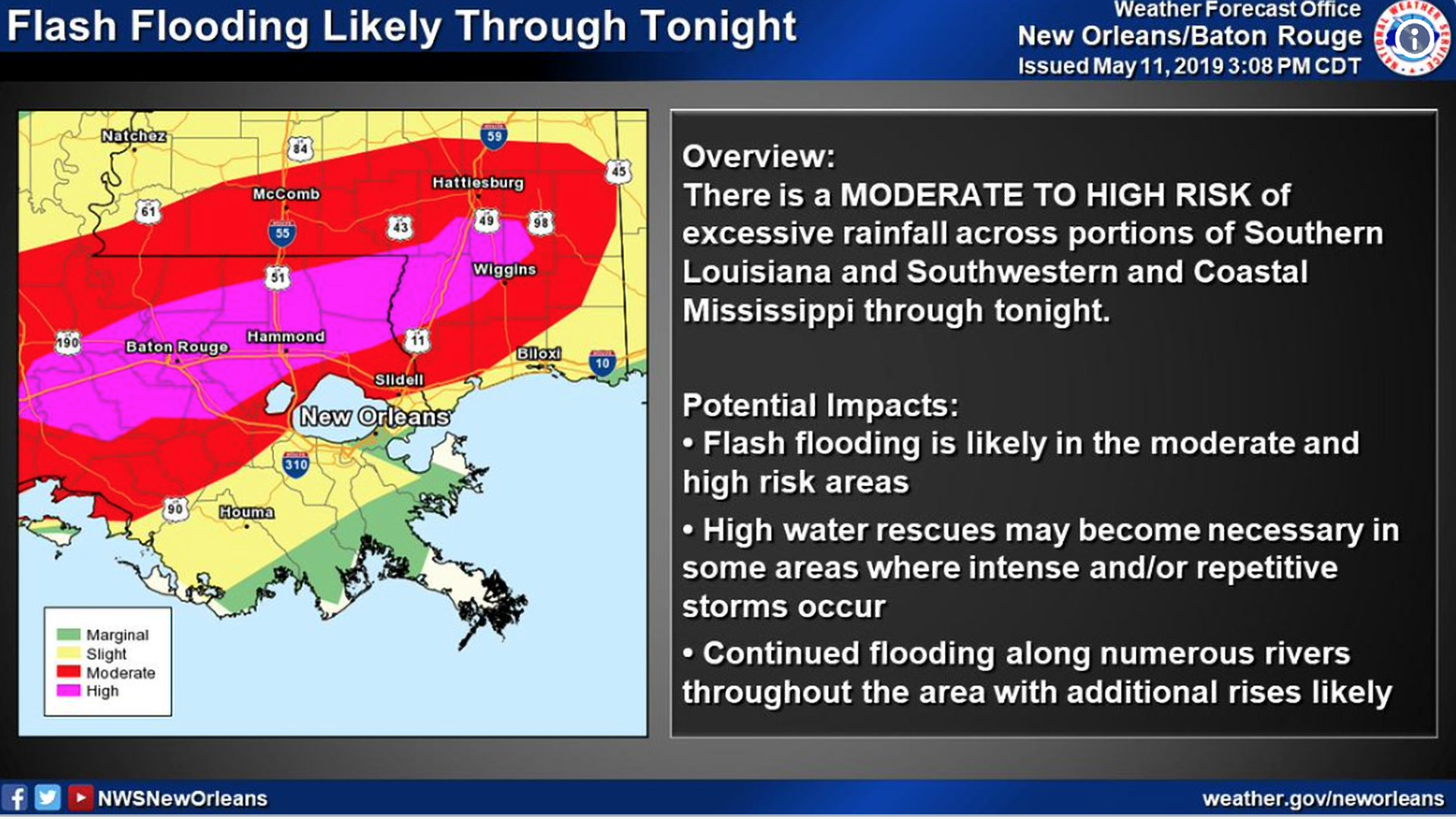 The National Weather Service in New Orleans warned of "life threatening" flash flooding in the region on Saturday night and Sunday morning, as roads were closed and thousands were left without power amid heavy rain in southeast Louisiana, Mississippi and Texas.
Details: The NWS said there's a moderate risk of excessive rainfall on Sunday from southeastern Louisiana, including New Orleans, eastward to southern Georgia. In Mississippi, a train derailed north of Poplarville because of high water levels, WJTV reports. Flash flood warnings were also issued in southeastern Texas as the storm moved out of that waterlogged region.
Why it matters: It is rare that a "high risk" warning for heavy rain is issued, the NWS noted. The moderate risk for Sunday is a category lower, but heavy rains falling on already saturated ground are quickly causing flash flooding.
The big picture: Storms moving eastward across southeast Louisiana left more than 3,000 residents without power, WAFB9 reported. By 6 pm, about 1,200 customers were still without power, according to Entergy.
A flash flood warning was issued for New Orleans on Sunday morning, with numerous street closures reported.
The same storm system affecting the Gulf Coast has already resulted in severe flooding in Texas.
In Houston and Austin — where upward of 6 inches of rain fell late Thursday and early Friday after golf ball-sized hail pelted the region — areas were still experiencing high water conditions on Sunday.
The Neches River in east Texas was overflowing, according to the Houston Chronicle.
Roads were closed throughout Brazoria County, Texas, which is included in the Houston-The Woodlands-Sugar Land metropolitan statistical area.
The past 12 months have been the wettest such period on record in the Lower 48 states.
In general, extreme precipitation events such as heavy rainstorms are becoming more frequent and intense as the climate warms in response to human activities, according to Axios science editor Andrew Freedman.
Go deeper: NOAA warns of "unprecedented flood season" across U.S.
Go deeper