On the scene: The Pentagon commits to the border crisis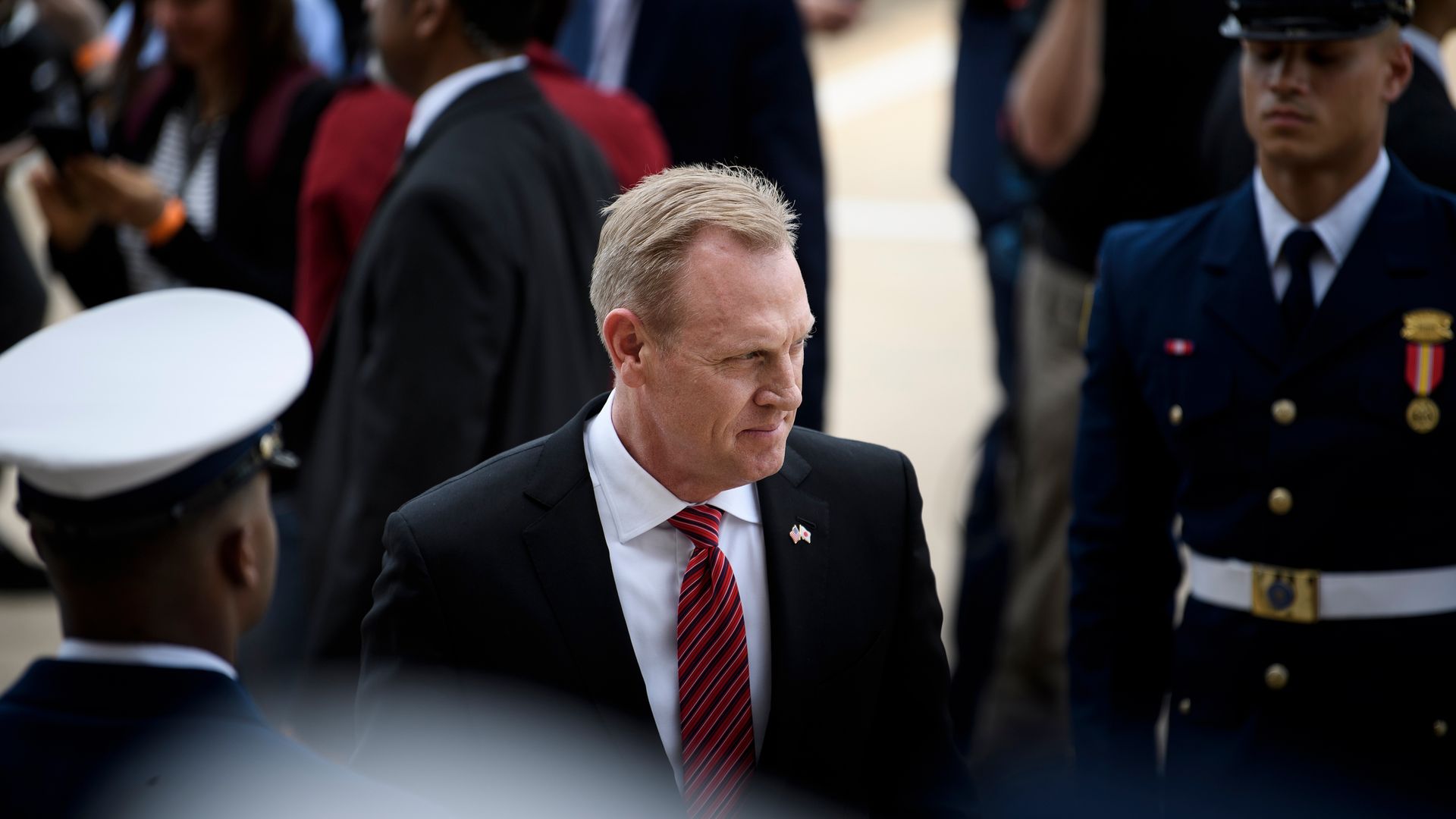 North Korea fired missiles, a U.S. warship deployed to the Middle East and unrest continues in Venezuela, but two days after President Trump announced he would appoint him as Defense secretary, Patrick Shanahan spent his Saturday in McAllen, Texas, underscoring his focus on solving the crisis at the border.
1 key quote: "We're not going to leave until the border is secure," Shanahan told Customs and Border Protection (CBP) personnel during his visit.
Driving the news: The Department of Homeland Security submitted a new request for the military's help in providing housing for migrants at the border. Shanahan is leaning toward agreeing to the additional help, a Defense official told Axios. Meanwhile, border patrol stations in the Rio Grande Valley are dealing with more than double the number of migrants their facilities were designed for, a CBP spokesperson told reporters.
The scene: After landing in McAllen, Shanahan, along with top DHS officials, visited the Border Patrol McAllen Station for an update from border officials. Outside, about a dozen migrant women and children who had turned themselves in or been arrested by border patrol stood outside of a large, khaki Army tent being used as shelter due to overcrowding at the station.
They are waiting to be processed by immigration officials who will determine whether they can be quickly deported or — more likely — sent to an immigrant detention center, a Health and Human Services child migrant shelter or released into the U.S. until their immigration court date. The CBP spokesperson told reporters they've been trying to finish this process within 48 hours.
The tent and migrants are surrounded by a chain link fence. A row of portajohns, a table with snacks and orange water coolers have been set up inside the enclosure. One migrant man sat on the concrete, leaning back in a corner of the metal fencing away from the others. A woman stood at a water cooler making a bottle of baby formula. Children stared.
There are other tents just like it on the other side of the station, holding hundreds of migrants waiting to be processed, the CBP spokesperson said.
Troops on the border: Shanahan told reporters that defense officials are working on a long-term plan to help DHS end the crisis. "I can't keep playing this wack-a-mole," he said.
On Friday, the acting Pentagon chief signed off on transferring $1.5 billion to build a border wall, bringing DOD's total wall contributions to $2.5 billion. As much as $3.6 billion more could still be coming from the department's military construction budget. DOD is still looking at which construction projects the funds would come from, Defense officials told reporters.
Already, about 4,500 troops are helping CBP with transportation, barrier construction, surveillance and other tasks.
The big picture: For two months in a row, border patrol has arrested or turned away more than 100,000 migrants attempting to cross the southern border, according to CBP data. There are near record numbers of migrant children in government custody again, the San Francisco Chronicle recently reported.
Immigration officials say that detention centers are so crowded, they have begun releasing migrant families into the U.S. because there is nowhere to put them. What's more, Border Patrol continues to suffer from a recruiting crisis, according to DHS officials.
When asked what the solution was to border patrol's personnel shortage, DHS acting Secretary Kevin McAleenan told Axios, "Right now, it's DOD [the Department of Defense]."
Go deeper