Shaving giants sweep up the disrupters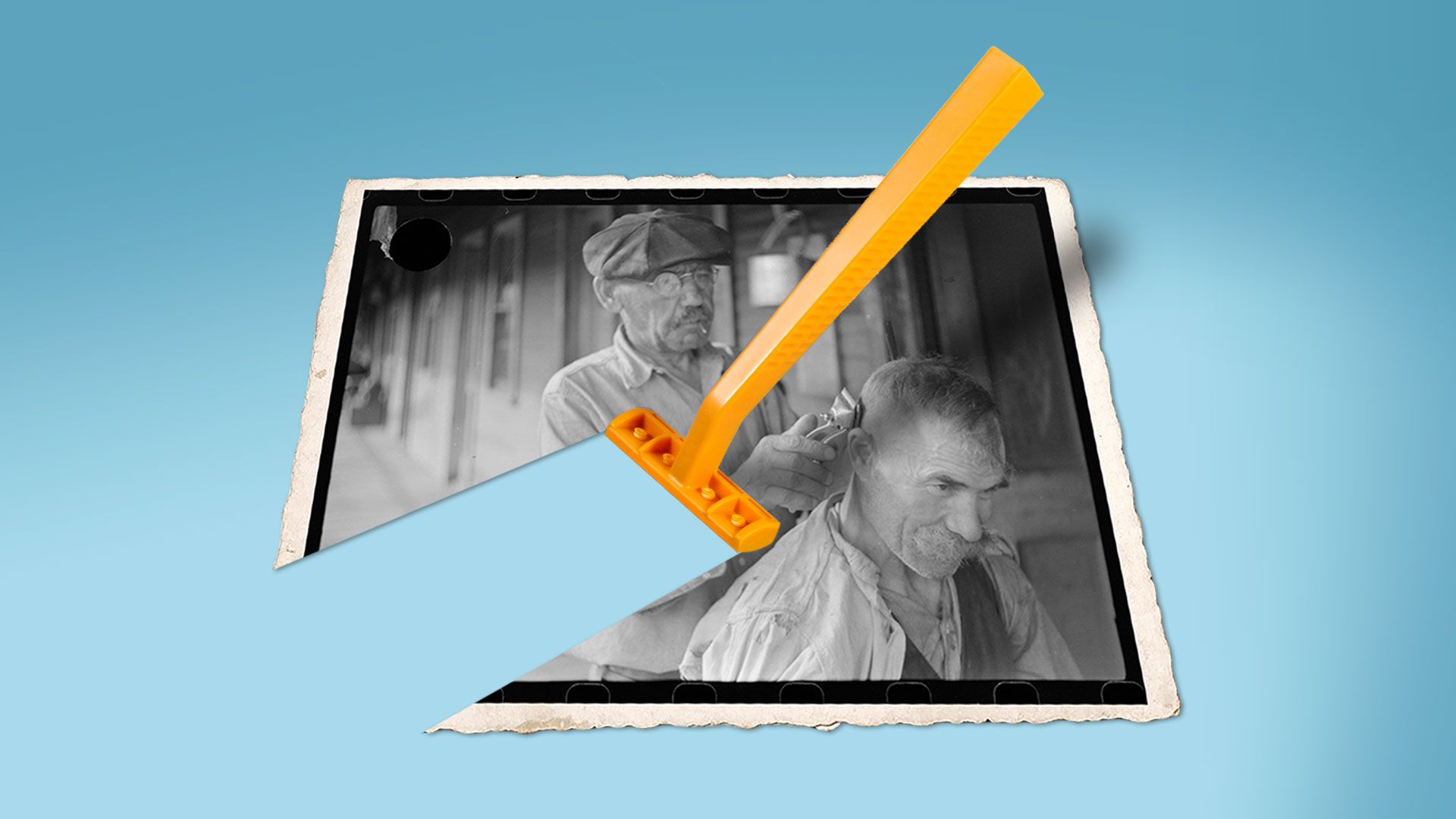 With a pair of improbable billion-dollar acquisitions, huge conglomerates have snapped up both of the cheap shaving startups that shook up the men's grooming business.
The big picture: The deals — for Dollar Shave Club, Harry's and yet a third startup called Bevel — reflect a trend in which new companies pop up and upend large industries, but don't last long.
"What's happening in the grooming category is a microcosm of bigger industry shifts," says Robin Sherk, an analyst at CB Insights.
Giants like Amazon, Unilever and Walmart, though they are not necessarily stifling innovation, are swiftly buying out plucky companies that start to threaten them.
In the past two years, Walmart has scooped up two disruptive clothing companies: Bonobos, a maker of inexpensive yet cool clothes for men, and Eloquii, a popular online plus-size brand.
Amazon has used this playbook for decades, acquiring companies like Diapers.com and Zappos after they began to chip away at its market share.
Apple buys a company every few weeks, according to CEO Tim Cook, and has acquired 20 to 25 firms in just the last 6 months.
When it comes to shaving, the global industry is tens of millennia-old, going back to the cave days, and is now worth more than $20 billion a year. But there are just 5 major global razor manufacturers, including the startups, says David Pakman, a venture capitalist at Venrock Partners and an early Dollar Shave investor.
"It's very, very hard to enter the razor business," he says. "If you try, you will be sued for 3 to 5 years with a battery of patents. All the razor guys have tons of patents."
Yet Harry's and Dollar Shave instinctively sensed they were much more vulnerable than they looked.
Before the new companies came along, Schick and Gillette controlled around 90% of the U.S. market. Each charged around $20 for a three-week supply of popular brands like Mach III and Quattro, amounting to about a dollar a shave. And each had steadfast loyalty from its customers.
My dad has been using Gillette razors for 25 years. "I'll buy whatever T-shirt. I don't care. But my blades are like Netflix. It's the same cost every month, and I buy the same one every month."
Steve LeVine, my editor, has been using Gillette's Mach III for years, too. He even hunted them down when he was reporting from Pakistan.
Men were hooked on the same product month after month, overpaying but what was the alternative if your aim was a naked face?
Then came the upstarts: Dollar Shave, which offers an entire month's worth of blades for $1, quickly grabbed 8.5% of the market. That might not sound like much, but within the $3 billion U.S. men's grooming industry, it's over $250 million a year.
The rise of Dollar Shave and Harry's shrunk top dog Gillette's share from 70% of the market to 50%, CNBC reports.
Now they've been gobbled up.
Just this week, Edgewell, the parent company of Schick, spent $1.37 billion on Harry's, which was launched in 2013 by two men not named Harry (Jeff Raider and Andy Katz-Mayfield). They sell a set of four blades, shaving cream and a case for $15. "This is the number 2 manufacturer buying the number 5 manufacturer," Pakman says.
Unilever took Dollar Shave, the other men's shaving startup, for $1 billion in 2016.
And in December 2018, Procter & Gamble bought Walker & Company, the firm behind Bevel and FORM Beauty, a pair of personal care brands aimed at customers of color. The sum was undisclosed.
The upside of these acquisitions for industry titans is obvious.
In a single transaction, these deals transform upstarts from worthy competitors to weapons in the giants' battle with other giants. The big companies begin to profit from the disruption.
New blood can jumpstart companies that have slowed down. "The large companies are buying the small companies because they need growth," says Chedly Louis, a senior analyst with Moody's. "Performance for Edgewell has been weak, while Harry's has been growing by leaps and bounds."
Most of the startups that are getting eaten up are direct-to-consumer brands that sell online and have detailed data on their customers, Sherk says. Those insights make the big companies even sharper, she says.
But, but, but: There are advantages for the disrupters, too.
So far, most of big players have not significantly changed the smaller firms' business models, according to Louis and Pakman, who was involved in the talks between Dollar Shave and Unilever. They are keeping the old management and letting the new companies run themselves.
Though Harry's is not siloed after its deal, Axios' Dan Primack notes. Their management team is now in charge of all of Edgewell's U.S. business.
With the resources of a conglomerate, they can grow faster, launch new products and get into new countries. "Money talks," says Sherk. "If you want to keep scaling, this will help you do that."
Prices at Dollar Shave have remained the same. A Harry's spokesperson tells Axios that its prices won't change either. And since the Unilever acquisition, Dollar Shave Club has broadened beyond the razor, a company spokesperson said.
Go deeper