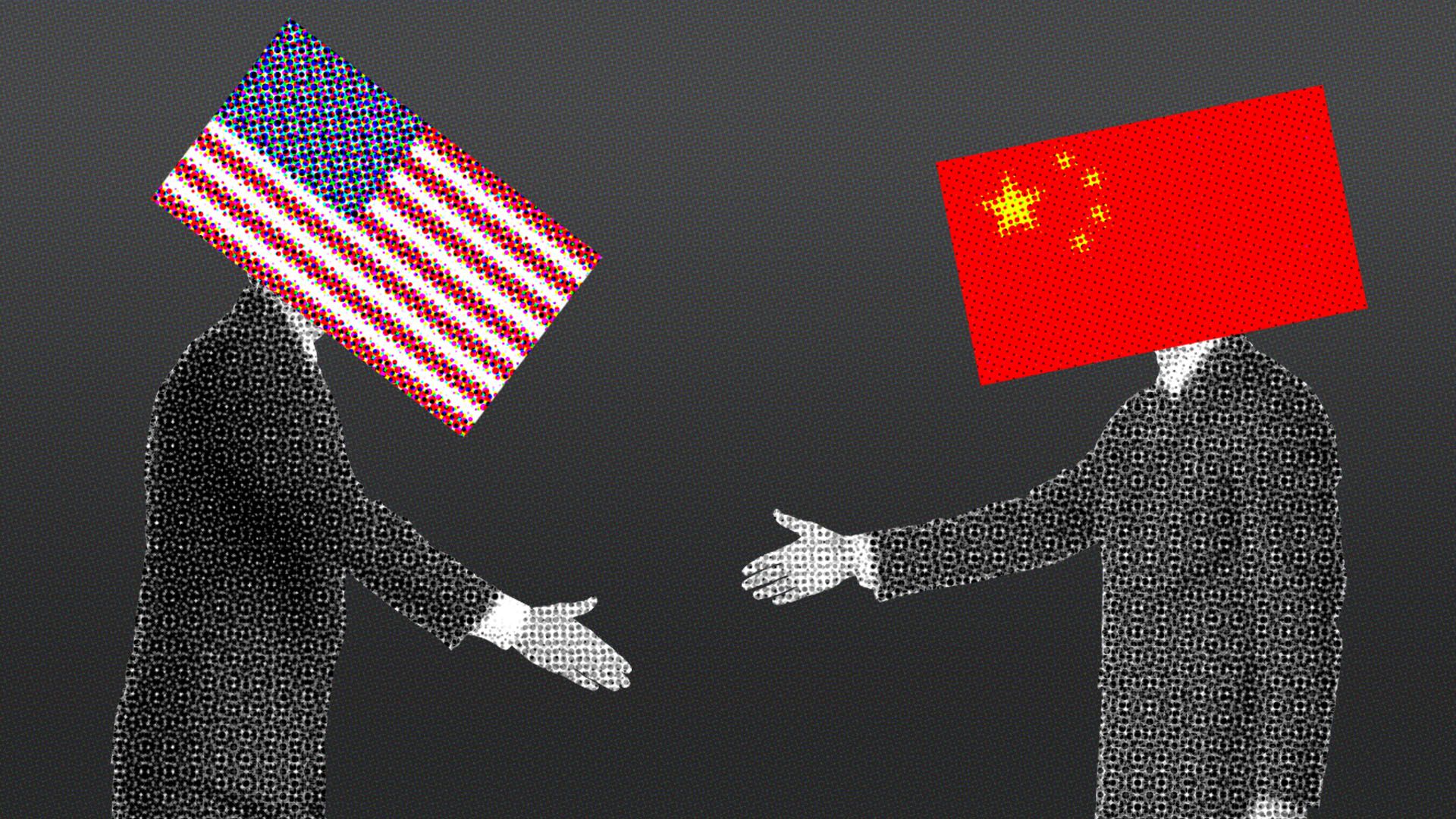 Unless there's a breakthrough in the trade talks before midnight tonight, U.S. tariffs on $200 billion in Chinese imports are about to rise from 10% to 25% — an escalation of the trade war that could hurt major importers and trigger even more painful retaliation by China.
Why it matters: A larger trade war would be sure to hurt China, economists say — but it's also likely to backfire on the U.S. and global economy in a way that President Trump hasn't acknowledged.
"The first order of magnitude is that everybody's going to be worse off," said Federico Kaune, head of emerging markets fixed income at UBS Global Asset Management. "There is no way around it. Protectionism… is bad for everybody. It's a welfare deteriorating proposition."
Business groups are sounding the alarms: "We are hopeful that there can be a meaningful deal reached with China soon, but we worry a failure in negotiations will result in shooting ourselves in the foot by imposing big new taxes on Americans," said David French of the National Retail Federation.
Here's what Axios editors and reporters will be watching if this drags on.
The consumer impact: The big and obvious concern is how (or if) this will trickle down to the consumer, Axios' Courtenay Brown writes. 
The previously taxed items that will see 25% tariffs will directly impact some consumer goods — baseball/softball gloves and handbags, for example.
But the impact would be even greater if Trump followed through on the other threat he tweeted: to put tariffs on basically everything else we import from China, which would hit products that have largely remained untouched, like clothing and footwear. 
The Trump administration has mostly stayed away from putting tariffs directly on items you buy from say Walmart shelves. Right now, what's facing 25% tariffs are largely intermediary products — i.e. the things that are used to make the final products. (There's a good breakdown of those sectors here.)
On the U.S. side, the big question will be whether Trump continues to give carveouts for products like the iPhone, as he did when he first began announcing tariffs last year, Axios' Dion Rabouin writes.
On the Chinese side, we saw their plan as well: They'll target U.S. industries with political importance. Ahead of the midterms it was Harley Davidson motorcycles, whiskey, cranberries, soybeans and pork, which hit — among other places — the home states of Senate Majority Leader Mitch McConnell and then-House Speaker Paul Ryan.
Expect tariffs this round to be just as targeted, and for the Chinese government to start taking aim at U.S. businesses that operate in China with home bases in important swing states.
The auto industry: The outcome of the trade talks will no doubt influence Trump's decision on whether to slap new 25% tariffs on all imported vehicles and auto parts, which would be in addition to the tariff hikes scheduled for Friday, Axios' Joann Muller reports.
New tariffs would hurt auto suppliers, car dealers and U.S. factories that depend on global supply chains.
The average price of a vehicle would go up $2,750 ($3,700 for imported cars and $1,900 for domestically built cars), according to the non-profit Center for Automotive Research in Ann Arbor, Mich.
The oil and gas industry: Oil and gas are remain indirectly caught up in the trade spat with China because the energy-hungry country is ratcheting down its imports of American oil and liquefied natural gas (LNG), a key part of Trump's energy agenda, Axios' Amy Harder reports.
Specifically, financing deals for LNG exports between the two nations could be undermined, per Jason Bordoff, founding director of the Center on Global Energy Policy at Columbia University. 
The tech industry: If China wants to play hardball, it could quickly create plenty of chaos in tech. But the industry is betting that China wouldn't want to harm its own tech-fueled prosperity, Axios' Scott Rosenberg reports.
The hardware side of U.S. tech is joined at the hip to China, which is where the lion's share of our devices are manufactured today (and where much of the output of the U.S. chip industry is sold).
The tariff battle's biggest impact to date has been to compel many companies to rethink their supply-chain strategies and begin drawing up alternative options should the war grow hotter.
Keep in mind: The economy is so complex and interdependent that the second-, third-, and fourth-order effects are effectively unforeseeable, Axios' Felix Salmon writes.
The first-order effects of President Trump's tariff hikes will be felt by any U.S. companies importing goods from China, since they're going to have to pay the tariffs.
Second-order effects would include things like U.S. companies passing increased costs on to U.S. consumers, as well as retaliatory tariffs from China on U.S. goods.
Third-order effects might include U.S. companies relocating operations to Vietnam and other Asian countries if they think these tariffs are going to be here to stay. But at this point we're in the realm of speculation. 
Go deeper: The winners and losers (mostly losers) in a U.S.-China trade war
Go deeper