Nepal has a front-row seat to the great power competition in Asia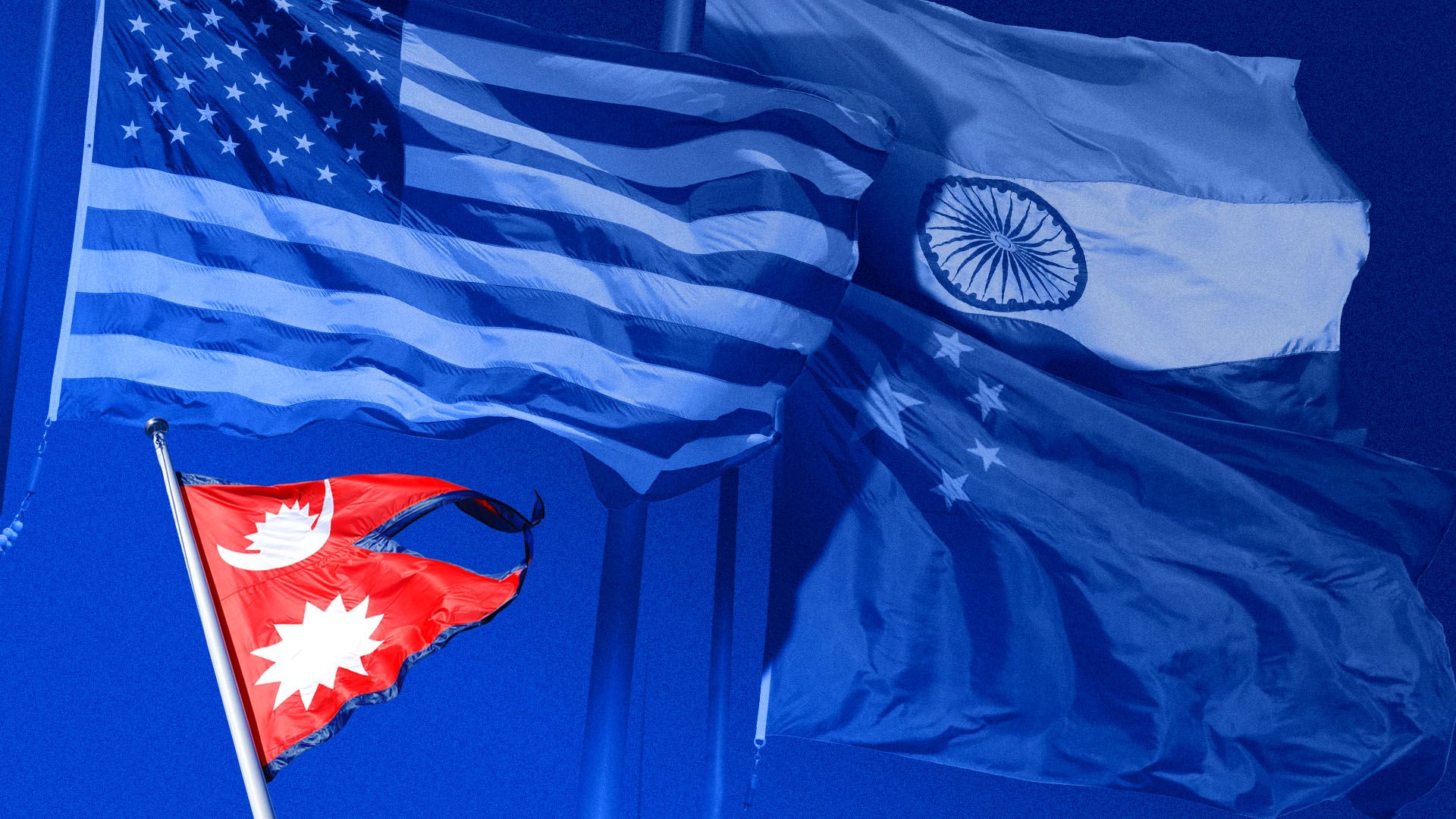 The Trump administration says Nepal is "central" to its strategy in the Indo-Pacific, but the small South Asian country is already home to a battle for influence between its giant neighbors: China and India.
Why it matters: Nepal is a signatory to Beijing's Belt and Road initiative, and the government sees a railway deal with China as a "game changer" for the country, Foreign Minister Pradeep Gyawali tells Axios. The U.S. is also flexing its muscles, though, while India is desperate to keep Nepal in its sphere of influence. Gyawali says investment from the big powers is welcome, but Nepal won't take sides in their great power contest.
India remains Nepal's largest trading partner and maintains close cultural and economic ties.
However, relations deteriorated rapidly following an unofficial border blockade in the aftermath of a devastating earthquake in Nepal in 2015.
Nepal has a longstanding military relationship with India, and has conducted joint exercises with Delhi, the U.S. and U.K. In 2017, however, Nepal conducted its first joint exercises with China.
China offers Nepal an attractive alternative to Indian domination. It's Nepal's largest source of foreign direct investment and has rapidly spread its tentacles in South Asia. China is now the largest trading partner of Bangladesh, Maldives and Pakistan.
A protocol signed at the recent Belt and Road summit in Beijing, which Nepal's president attended, allows Nepal to access 7 Chinese ports, ending dependence on India for third-country trade.
Even more significant is a railway project which would connect China to Kathmandu, and eventually to Nepal's border with India. The multi-billion dollar project would pass through some of the world's most difficult mountainous topography.
China's Belt and Road investments could boost Nepal's trade by 35% to 45%, according to one estimate.
The U.S. also granted Nepal $500 million for infrastructure development, in 2017.
Meanwhile, U.S. diplomats have cautioned Nepal that Chinese investment could lead to unsustainable debts — sparking a public rebuke from Beijing.
The attention from the U.S. provides an opportunity for Kathmandu to look beyond Delhi and Beijing. However, it also puts the impoverished Himalayan nation in the awkward situation of having to strike a balance with rival powers.
The big picture: "Nepal has geographical limitations. It can't antagonize India and it can't abandon China," says Sridhar Khatri, former executive director of the South Asia Center for Policy Studies.
"When you have two strong and growing economic powers as neighbors, even leakages can benefit. Soon, India-China annual trade will hit the $100 billion target. There is a massive opportunity for Nepal."
But, but, but: Khatri says the India-China rivalry, and the greater U.S. attention, has made for "a complicated quadrangle relationship" for a country which lacks a "clear foreign policy" and where policies can be "whimsical and personality driven."
What to watch: The benefits of the planned infrastructure projects are far off, and many Nepalis are skeptical they'll ever match what's being promised. Meanwhile, there's some bemusement that great powers seem to be putting so much emphasis on Nepal.
U.S. Secretary of State Mike Pompeo's statement declaring Nepal "central" to U.S. strategy also noted that he and Gyawali had discussed "global issues, including North Korea." Some Nepalis wondered what a small country 2,500 miles from Pyongyang could be expected to do.
Go deeper