Google touts AI and search advances at I/O conference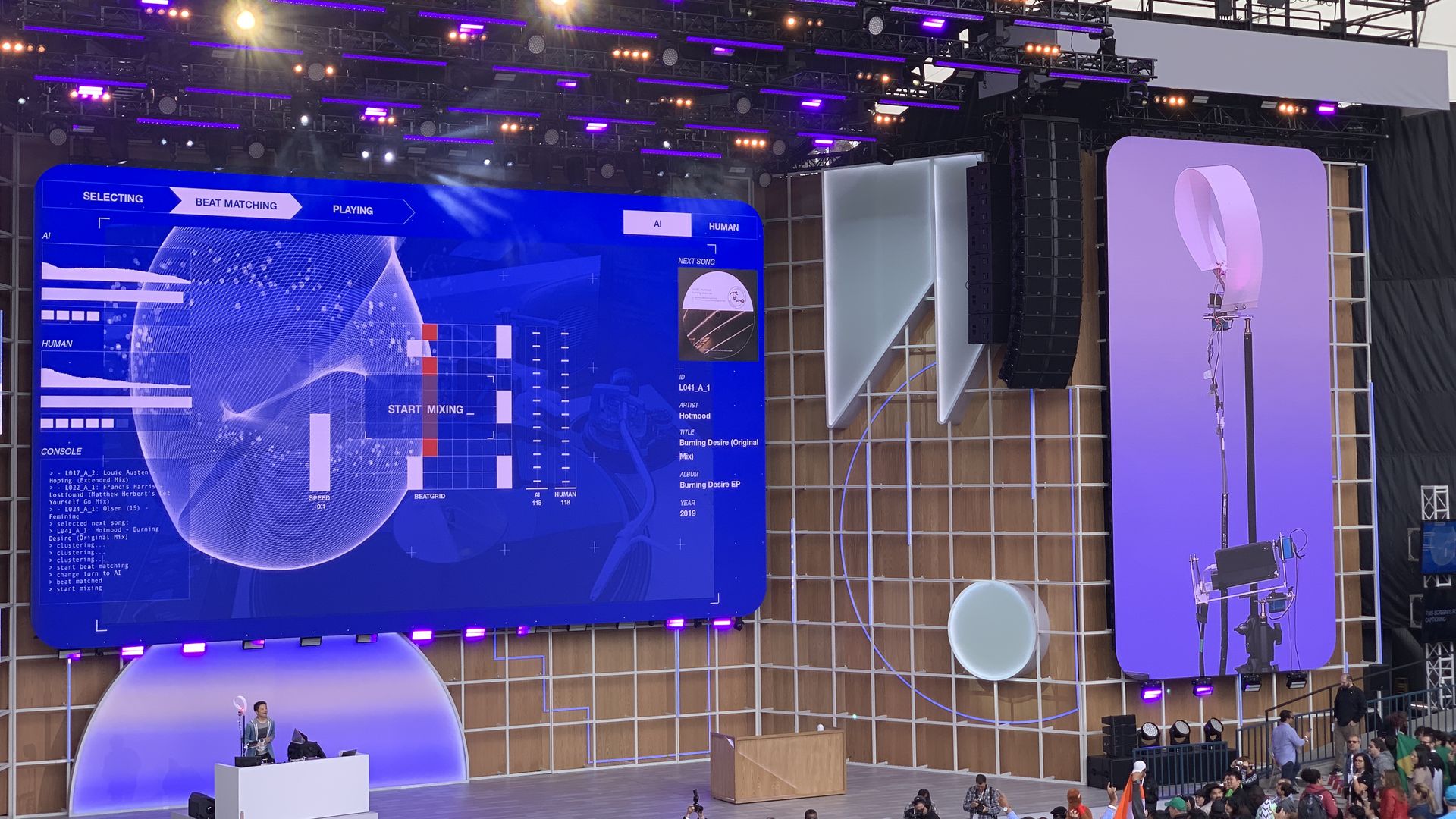 Google CEO Sundar Pichai kicked off the company's I/O developer conference by touting new search features and a renewed focus on privacy. Google also used today's conference to unveil a mix of new features for its Assistant, a lower-cost version of its Pixel phone and more details on Android Q, the next version of its mobile operating system.
Why it matters: It's the heart of spring developer conference season, as each of the major tech platforms details its roadmap for the year. Google's event comes a week after Facebook's F8, the same week as Microsoft's Build and a couple weeks before Apple's Worldwide Developer Conference.
Here's what the company announced in Pichai's keynote:
Google Assistant
Google is speeding up Google Assistant on smartphones, by bringing more of the AI processing to the smartphone. The on-device features the company demonstrated focused mainly on tasks for controlling the phone, such as turning on the flashlight or taking a selfie, though some also drew on information stored in e-mail, calendar or photos and sending that information to other people. The features are coming first to new Pixel phones later this year.
Assistant will let you make assignable reminders so you can tell your partner to pick up the kids or remind your daughter to take out the trash. (Update: This feature was originally set to be announced today, but is now scheduled to launch later this year. It's not yet clear why it was delayed, or exactly how it will handle who can send reminders to whom.)
You'll be able to stop a timer or alarm by saying "stop" without having to say "Hey Google" first, starting today.
Google is adding a car mode to Assistant and also said Assistant is coming to its Waze navigation app in the next few weeks.
Developers will have new ways to create voice-based games.
Hardware
Google announced a new Assistant-powered home hub under the Nest brand.

The $229 Nest Hub Max will include a larger 10-inch display and have a camera.
It's worth noting that Google specifically didn't include a camera on the first Google Home Hub "so that it was comfortable to use in the private spaces of your home like your bedroom."
Nest Home Max will be available this summer.
It's also rebranding the Google Home Hub as Nest Hub and lowering the price to $129 from $149,

The widely-leaked Pixel 3a and 3a XL are available today, with prices starting at $399. The phones are designed to offer many of the features of high-end devices at about half the cost of typical flagship phones.

It will come in black, white and a light "purple-ish" hue.
Pixel 3a also has the Pixel 3's popular "Night Sight" feature for low-light photography as well as portrait mode with a single lens.
Google says its adaptive battery features allow some users to get up to 30 hours of use on a charge and up to 7 hours of use from a 15-minute charge.
The phones will get an upgrade to Android Q this summer.
In addition to Verizon, Pixel phones will now be available directly from Sprint and T-Mobile.
AI
Google is evolving Duplex, the AI bot that calls restaurants to make reservations, to also handle some tasks on the web. Initially, Duplex will help fill out online forms to book a rental car or buy movie tickets. It can use trip conformations from your e-mail to autofill the dates of the car bookings.
Pichai said the company is working on new methods to identify and root out bias in AI models, so people can know what basis a machine learning classifier is using to make its determinations. "There's a lot more to do but we are committed to building AI in a way that's fair and works for everyone," Pichai said.
The company demonstrated how AI can help detect early-stage lung cancer, by looking at early scans of people who later developed lung cancer. It can now do better than trained radiologists, Google said.
Google highlighted its "AI for Social Good" efforts including progress on flood prediction in India, where the company can now send alerts to potentially affected farmers. Google.org is also providing $25 million in funding 20 nonprofits to incorporate AI into their work.
Search
New search features include the indexing of podcasts so people can search within podcasts and listen directly from the search page.
Google is also bringing augmented results so searches for certain terms will bring up an interactive 3D model.
The smartphone camera is also being used to power searches, to help with low- literacy populations, bring recipes to life and calculate tips on a restaurant bill.
Some of the new features will begin arriving later this month.
Android
There are now 2.5 billion Android devices.
The next version, Android Q, will focus on security, privacy and digital wellbeing, along with new technology features.
Among the changes is support for foldable devices, which Google says will be coming from several device makers. (Samsung, as you may have heard, is having some trouble with the Galaxy Fold.)
A new "focus mode" that lets users turn off apps that they find distracting, such as e-mail. That's coming to Android P and Android Q this fall.
Google says more than 50 Android Q features relate to privacy and security, including making it easier to change settings for location and other sensitive information. Users will also get finer controls over when apps can use location information, similar to an option available on the iPhone. Google will also make it easier to automatically get security updates without needing to reboot the phone.
It's still not clear what type of dessert Android Q will be named for. (Past versions have included Cupcake, Donut, Eclair, Froyo, Gingerbread, Honeycomb, Ice Cream Sandwich, Jelly Bean, Kit Kat, Lollipop, Marshmallow, Nougat, Oreo and Pie.)
Privacy
Google is adding a private "incognito" mode to Google Maps, where activity and search won't be linked to your account. Incognito mode is also coming to search this year. (It's already in Chrome and YouTube.)
Google plans to add a one-touch method to get to account settings in its key apps to make it faster and easier to change privacy options.
For more on Google's privacy moves, check out this story.
Go deeper