Suspects in deadly Colorado school shooting face murder charges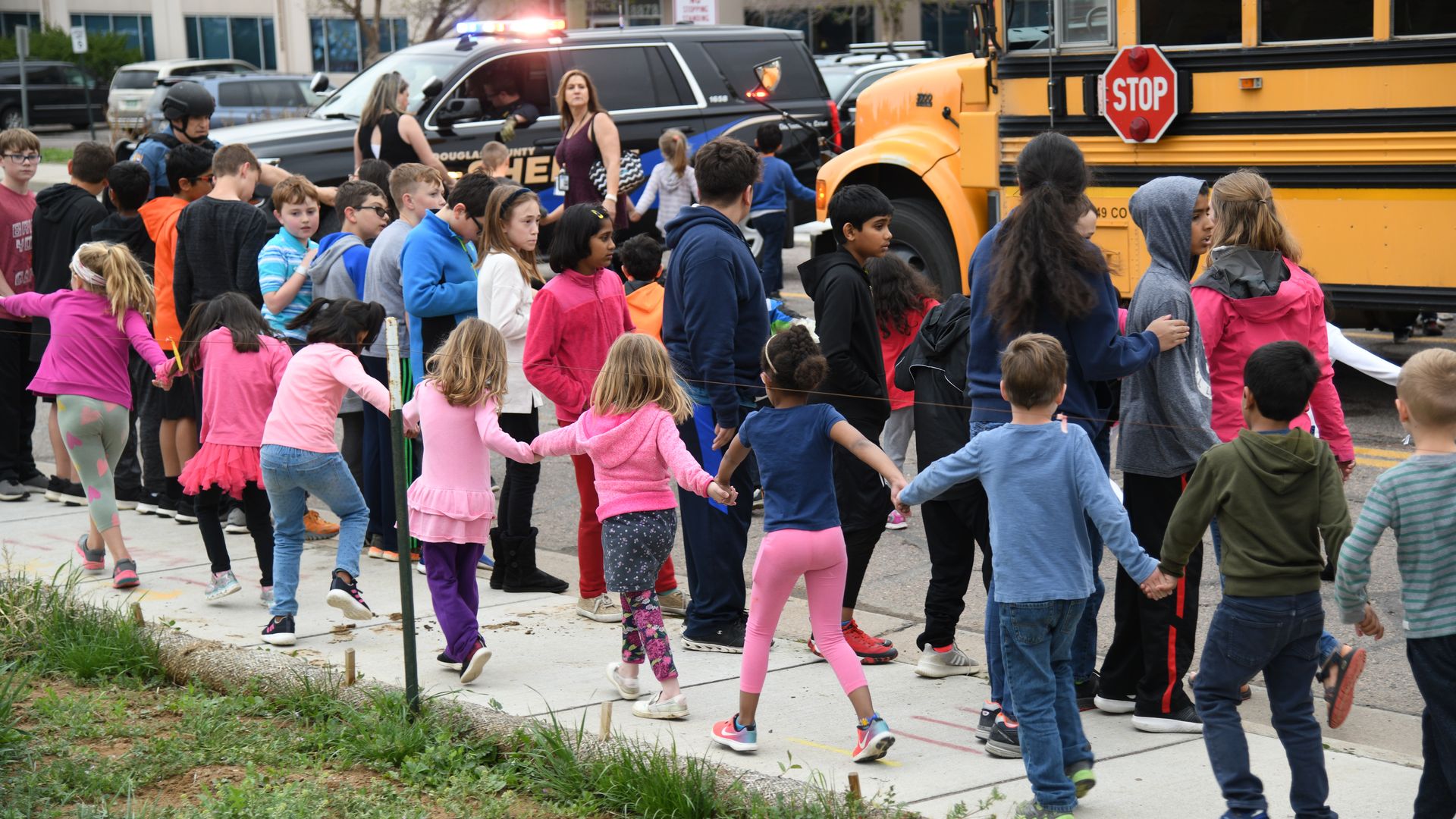 Prosecutors on Wednesday said the 2 suspects involved in the May 7 school shooting at STEM School Highlands Ranch that left 1 student dead and 8 wounded, were formally charged with more than a dozen counts of murder and attempted murder as well as theft and arson, reports the AP.
Details: All injured students have been released from Denver area hospitals. Wednesday's hearing was just hours before a memorial service for Kendrick Castillo — the 18-year-old student who was killed.
The latest: On Wednesday, May 15, Judge Theresa Slade refused a request from the defense to allow the 18-year-old suspect to be unshackled for the hearing and ruled that information related to the case — including arrest affidavits — will not be made public.
The 18-year-old suspect's next court date is set for June 7.
What we know: Authorities responded to a middle school administrator's phone call just before 2 pm MST on Tuesday, May 7. Douglas County Sheriff Tony Spurlock said at a press conference the 2 suspects were believed to be students of the school. They were armed with at least 2 handguns, which they could not have purchased on their own due to their ages, he said.
Authorities said at a news conference 3 students who leapt from their desks to tackle the gunman saved lives, the AP reports. Among them was Castillo. His friend Brendan Bialy said he called out to Castillo after wrestling the gun away, but he was unresponsive. "Kendrick went out as a hero," Bialy said.
Spurlock said the 2 suspects engaged students at 2 separate locations.
The FBI is leading the crime scene investigation.
Thus far, no motive has been determined.
A Denver Post journalist on the scene shared video of a car being towed away from a suspect's house. "A pentagram was spray painted on hood, with the numbers 666," the reporter, Kieran Nicholson said in his tweet.
Highland Ranch schools went into lockdown for several hours, according to the Douglas County School District.
White House adviser Ivanka Trump canceled a visit to the nearby Colorado city of Littleton because the administration "did not want to divert resources or attention" from the shooting, according to the Denver Post. She tweeted her reaction to the 4th school shooting in Colorado since the Columbine massacre, as did many 2020 presidential candidates and her father, President Trump.
A letter from December 2018 has surfaced from an anonymous parent to the director of the STEM School, flagging "concerns about student violence due to a high-pressure environment," and harkening back to the Columbine massacre of 1999, Reuters reports. In the letter, the parent told Douglas County School Board of Education Director Wendy Vogel that "many students are suicidal and violent in school. Several students have reported sexual assault and nothing is being done."
Go deeper