Updated May 7, 2019 -

World
Bolton: U.S. sending Navy strike group to Iran to send "clear message"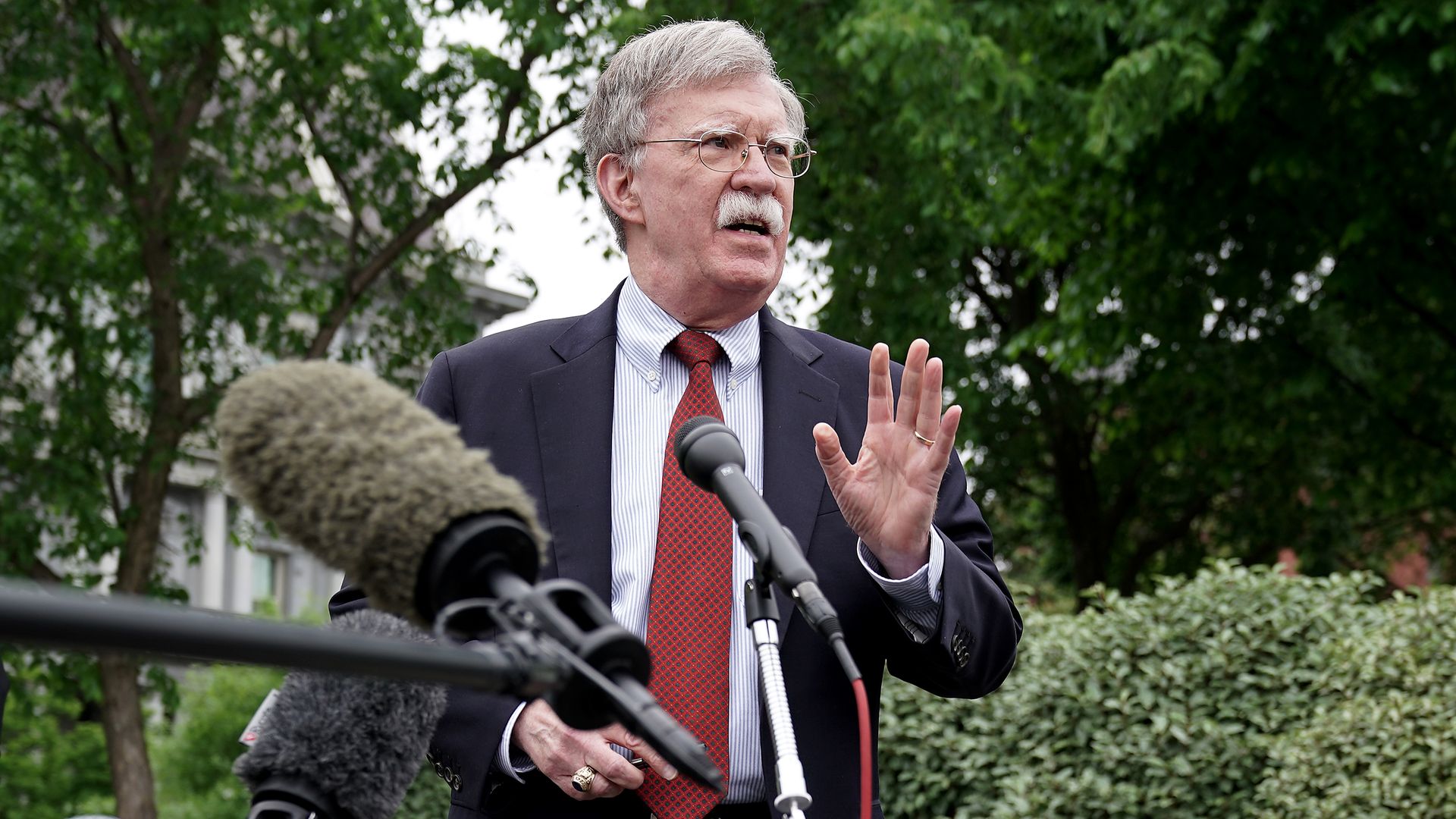 Iran on Monday dismissed U.S. national security adviser John Bolton's announcement that the U.S. is deploying the USS Abraham Lincoln Carrier Strike Group and a bomber task force to send it "a clear and unmistakable message."
"In response to a number of troubling and escalatory indications and warnings, the United States is deploying the USS Abraham Lincoln Carrier Strike Group and a bomber task force to the U.S. Central Command region to send a clear and unmistakable message to the Iranian regime that any attack on United States interests or on those of our allies will be met with unrelenting force."
— John Bolton statement
Why it matters: A defense official, speaking on condition of anonymity, told AP the strike group was deployed after "clear indications" that Iran, along with its proxy forces, was preparing to possibly attack U.S. forces in the region. The move is an escalation of action against Iran. The Trump administration has been working to starve the Iranian regime of cash and chill the country's growth, per Axios' Jonathan Swan.
What they're saying: Secretary of State Mike Pompeo told reporters aboard a flight to Europe that the Trump administration had been working on the matter "for a little while," according to NBC News.
"It is absolutely the case that we have seen escalatory actions from the Iranians, and it is equally the case that we will hold the Iranians accountable for attacks on American interests. If these actions take place — if they do by some third-party proxy, a militia group, Hezbollah — we will hold the Iranian leadership directly accountable for that."
The big picture: Bolton stressed in his statement the United States wasn't seeking war with Iran. "[B]ut we are fully prepared to respond to any attack, whether by proxy, the Islamic Revolutionary Guard Corps, or regular Iranian forces," he said.
The other side: Keyvan Khosravi, spokesman for Iran's supreme national security council, on Monday called Bolton's statement "a clumsy use of an out-of-date event for psychological warfare," according to Iran's Tasnim news agency. Khosravi claimed Iranian forces observed the carrier entering the Mediterranean Sea 21 days ago.
Between the lines: Khosravi appears to be referring to a U.S. Navy announcement last month that said the strike group had left Naval Station Norfolk in Virginia for a regularly scheduled deployment — which appears to be separate from the latest announcement.
What's next? Iran plans to announce measures in response to President Trump's decision to withdraw the U.S. from Tehran's nuclear deal, one year on, Tasnim said. Trump is set to announce new sanctions against the country, per Axios' Jonathan Swan.
Go deeper:
Scoop: Israel passed White House intelligence on possible Iran plot
Trump's next moves to tank the Iranian economy
Go deeper