Ride-hailing drivers plan massive strike days ahead of Uber's IPO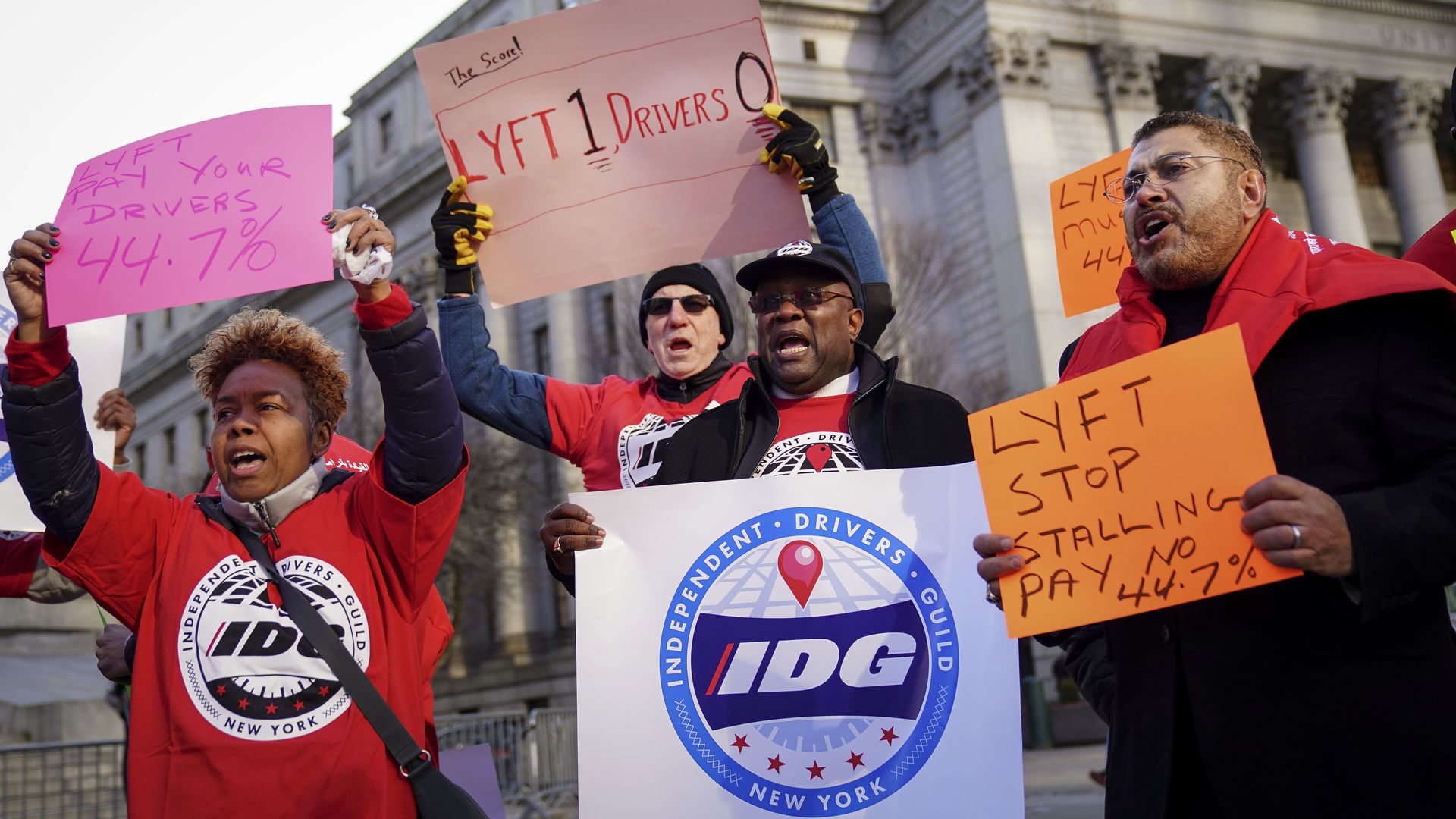 At Uber and Lyft, sky-high Wall Street debuts are set against deep driver dissatisfaction — and the latter is threatening the former.
Driving the news: On Wednesday, ride-hailing drivers in several U.S. cities plan to strike to protest low wages, among other things. The significance: It's 2 days before Uber goes public, and its investors get to cash in on one of the biggest IPOs in history.
In New York, the plan is for all 80,000 of the city's Uber and Lyft drivers to stop work from 7 a.m. to 9 a.m. — the morning rush hour.
Uber drivers in Boston, LA, Chicago, Philadelphia and D.C. are planning to strike for a full 24 hours on Wednesday.
Why it matters: Among the drivers' biggest complaints is that Uber and Lyft take too big of a whack out of their fare — 20%–25%. They want that reduced to 10%.
It's a common complaint by merchants against the big platforms. Apple and Amazon, too, take up to 30% of a merchant's retail price right off the top, and critics compare them to the medieval-era German "robber knights" who charged people enormous tolls to cross their roads.
As Uber and Lyft balloon, one potential hurdle to survival is that the gig jobs they are creating are not well-paying and stable. Until they have autonomous cars, they need a steady supply of drivers.
In a tight labor market with just 3.6% unemployment, the ride-hailing companies may soon burn through the whole pool of workers willing to do these jobs, writes WSJ's Christopher Mims.
An Uber spokesperson said: "Drivers are at the heart of our service ─ we can't succeed without them ─ and thousands of people come into work at Uber every day focused on how to make their experience better, on and off the road."
A Lyft spokesperson said: "Lyft drivers' hourly earnings have increased over the last two years, and they have earned more than $10B on the Lyft platform. Over 75% drive less than 10 hours a week to supplement their existing jobs. On average, Lyft drivers earn over $20 per hour."
Go deeper