Microsoft and Google's dueling developer conferences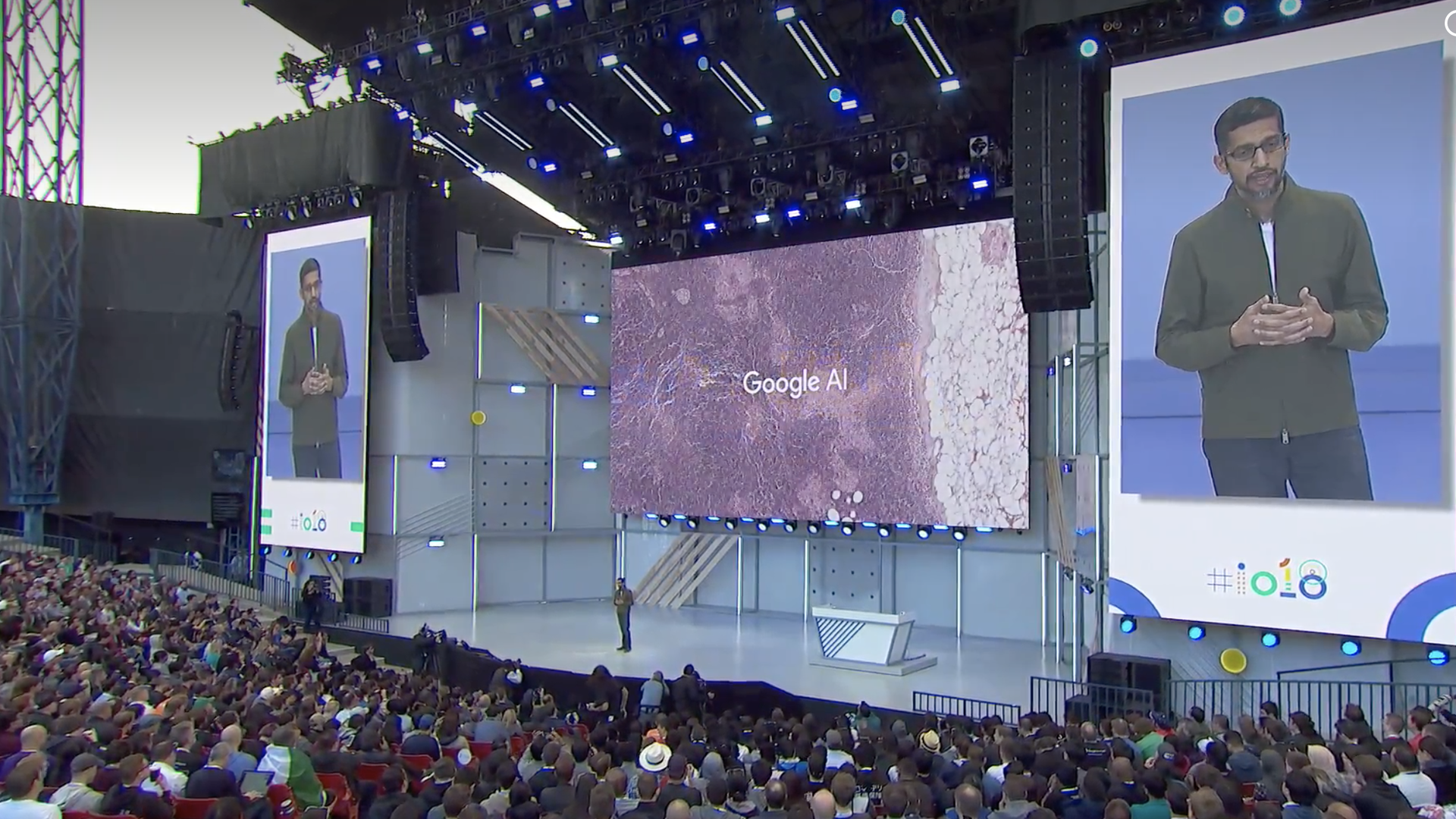 At dueling conferences this week, Microsoft and Google will vie for developers' attention, with Microsoft emphasizing new offerings for its growing Azure cloud and Google pressing forward with new features for Android and its voice-based Assistant.
Why it matters: These developer conferences serve multiple roles, allowing companies to position themselves strategically, generate developer enthusiasm, introduce new products, and grab media attention.
Driving the news: The spring developer conference season kicked off with Facebook's F8 last week and will continue through Apple's Worldwide Developer Conference in the first week of June.
What to expect: Microsoft's Build, which starts today in Seattle, is likely to focus as much on the Azure cloud as it does on desktop Windows, given that's where Microsoft's growth has been coming from and where it faces the steepest competition from Amazon's AWS and Google Cloud. CEO Satya Nadella gives the opening keynote and is expected to focus on four areas.
On the Azure front, both AI and mixed reality are going to be key topics.
As for Windows, a major change is the coming shift in the Edge browser, which is changing rendering engines to adopt the Chromium core also used by Google's Chrome.
Nadella is also expected to detail new opportunities for developers to build on top of Microsoft's Dynamics and Power lines of business software as well as new ways game developers can build using Microsoft's cloud. Google unveiled its Stadia gaming cloud earlier this year. With Xbox and Windows, as well as its cloud, Microsoft is expected to battle hard in this space.
Meanwhile, Google I/O starts a day later in Mountain View, California, and will cover a lot of ground, though Android and Google Assistant are likely to be big areas of focus.
Google Assistant: In many ways, the digital assistant is the evolution of the search bar, meaning that it is crucial to Google to get this right, or risk seeing some of its core business shift to Amazon or others.
Android: In addition to offering more details on the next version, Google is taking Android to new places, including a broader focus on the automotive dashboard. Privacy controls are also expected to get a lot of attention.
Hardware: Google devices are also likely to be in the spotlight, with the most certain release being the widely-leaked Pixel 3a, a lower-cost version of last year's flagship model. New products from the Nest brand could also be coming, per VentureBeat.
What's different: Up until the last couple of years, the focus was largely on introducing new features and making developer's lives easier. Those are still big themes, but so are respecting user privacy, minimizing social harm and monitoring screen time.
What's the same: The focus of the events remains on developers. At these conferences, they get previews of tech that often doesn't show up on consumer's devices until later in the year.
Google, for example, is expected to offer more details on Android Q, while Apple is likely to detail the next versions of the Mac and iPhone operating systems.
While developers get early code, the final software and even the complete feature list typically doesn't show up until the fall.
What to watch: All the big companies will talk about putting developers and users in control, but each of these giants got where they are in large part by creating, building and owning their own platforms.
That hasn't changed. Google controls Android, Apple has a tight grip on the iPhone and iPad, and Microsoft maintains its hold on Windows.
Go deeper