Trump ratchets up U.S.-China trade war with new tariff threat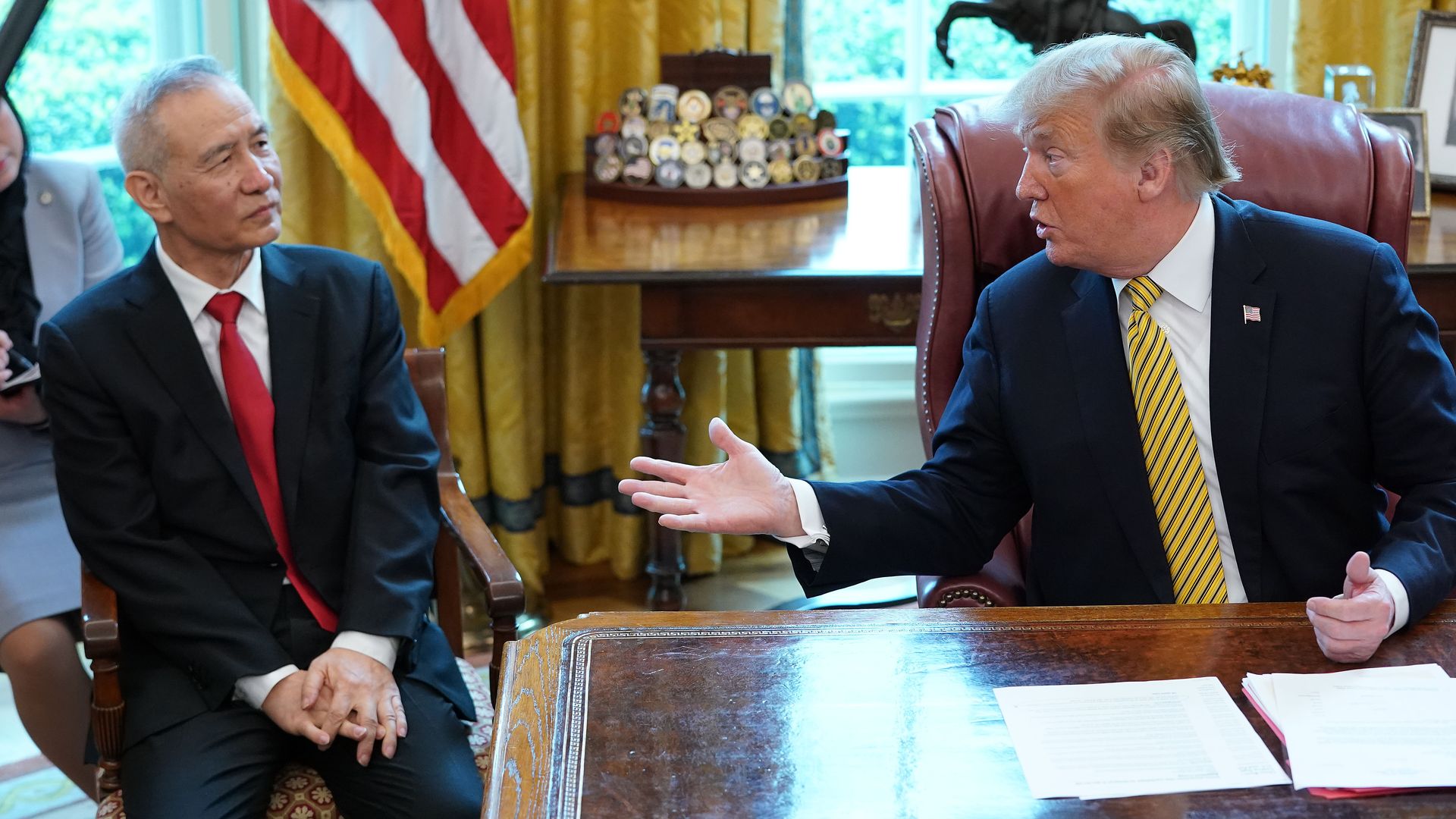 The Trump administration's long-running trade talks with China have hit a new obstacle. The president sent two tweets today that should rattle both stock markets and President Xi Jinping.
"For 10 months, China has been paying Tariffs to the USA of 25% on 50 Billion Dollars of High Tech, and 10% on 200 Billion Dollars of other goods. These payments are partially responsible for our great economic results. The 10% will go up to 25% on Friday. 325 Billions Dollars of additional goods sent to us by China remain untaxed, but will be shortly, at a rate of 25%. The Tariffs paid to the USA have had little impact on product cost, mostly borne by China. The Trade Deal with China continues, but too slowly, as they attempt to renegotiate. No!"
Behind the scenes: A source familiar with the situation told me that the Chinese had been backing off of agreements the U.S. negotiating team believed they had already made. Trump's view, the source said, is that he's negotiating from a position of clear economic strength, especially with the latest strong U.S. jobs numbers.
"You guys want to mess around with us? Be my guest," the source said, characterizing the president's thinking.
Between the lines: My colleague Bill Bishop, who edits the "Axios China" newsletter, emailed me his reading of the tea leaves:
"My guess is that he thinks threatening this just before [Chinese Vice Premier] Liu He and his delegation arrive in D.C. will pressure the side to resolve whatever the last remaining issues are."
"The challenge for the president is that threatened bump in tariffs will hit U.S. consumers, and some of his base, and if they are implemented, the Chinese may add their own."
"The Chinese are also feeling more confident about the state of their economy ... and so think they are less vulnerable to tariffs than they were last fall. People who talk to them have been telling them not to miscalculate and overplay their hand, but it appears they may be." 
China's response: A taunting agitprop tweet from the editor-in-chief of China's state-owned Global Times: "President Trump threatens China while he seemingly doesn't understand how tariffs work. Not sure whether US public doesn't understand either. China has long ago prepared for the worst. We won't buy this trick. Moreover, he didn't even scare North Korea."
Go deeper