How Cyclone Fani could threaten climbers on Mt. Everest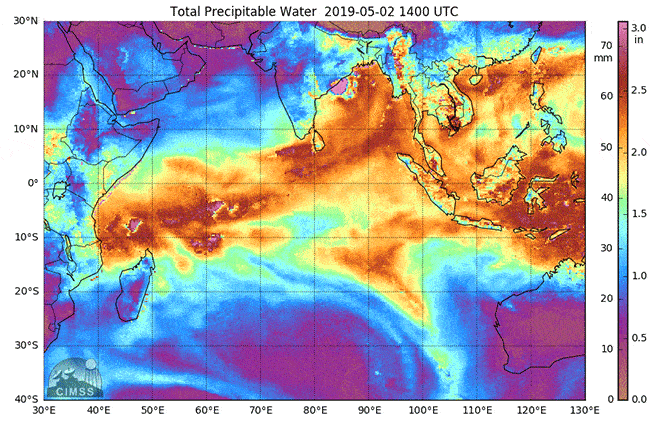 Cyclone Fani barreled ashore in India as a Category 4 storm early Friday, bringing extreme winds and storm surge flooding to the city of Puri and points to the north and east, but a threat looms for a more far-flung location: the Himalayas.
The big picture: This is climbing season on Mt. Everest and other peaks nearby, as dozens of elite — and some not-so-elite — climbers attempt to summit the tallest mountains in the world. Although Fani is tracking toward the northeast, along India's coast toward Kolkata and Bangladesh, the storm is also pushing a surge of moisture-laden air from near the equator toward the Himalayas. This could result in heavy snows that may endanger climbers.
The context: Tropical cyclones have led to disaster in the Himalayas before. In 2014, Tropical Cyclone Hudhud, which also made landfall in eastern India but took a different, more inland track, helped spawn a blizzard in northern India and Nepal.
The storm caught climbers on the Annapurna circuit, a popular hiking route separate from the Everest trek, off guard, and killed more than two dozen in the country's worst climbing disaster.
How it works: By pointing a firehose of moisture at the world's tallest peaks, cyclones like Fani can help spawn seemingly incongruous weather disasters, in the form of blizzards that dump feet of snow in a short period of time.
This happens because the flow of moisture from the south collides with the east-to-west facing mountain range, forcing the air to rise, cool and condense into clouds and precipitation.
This process is known as orographic lift, and it's amplified to a great extent by the mountain range's extraordinary height — with multiple peaks exceeding 20,000 feet above sea level.
The snow from Hudhud measured upwards of six feet.
According to the New York Times, Nepal has banned helicopters from flying in high mountain areas through the weekend and issued a warning to mountaineers on the mountain regarding the deteriorating weather.
But, but, but: Far more people are in harm's way closer to the storm center, of course, with the sprawling, low-lying city of Kolkata lying just to the east of the weakening storm's path.
The main dangers there will be gusty winds, heavy rains and a storm surge that could compound the city's drainage problems. Storm surge flooding could also occur in neighboring Bangladesh, one of the countries most at risk from climate change-related sea level rise with millions residing near sea level.
Northeastern India has seen some of the deadliest cyclones in the world. The worst-ever in the state of Odisha was an unnamed cyclone that struck in 1999, killing an estimated 10,000 people.
So far, there have only been reports of a handful of deaths from Fani, which indicates that the Indian government's extensive preparations for the intense storm likely saved lives.
Go deeper:
Go deeper