Potentially catastrophic Cyclone Fani nears Indian coast as a Category 4 storm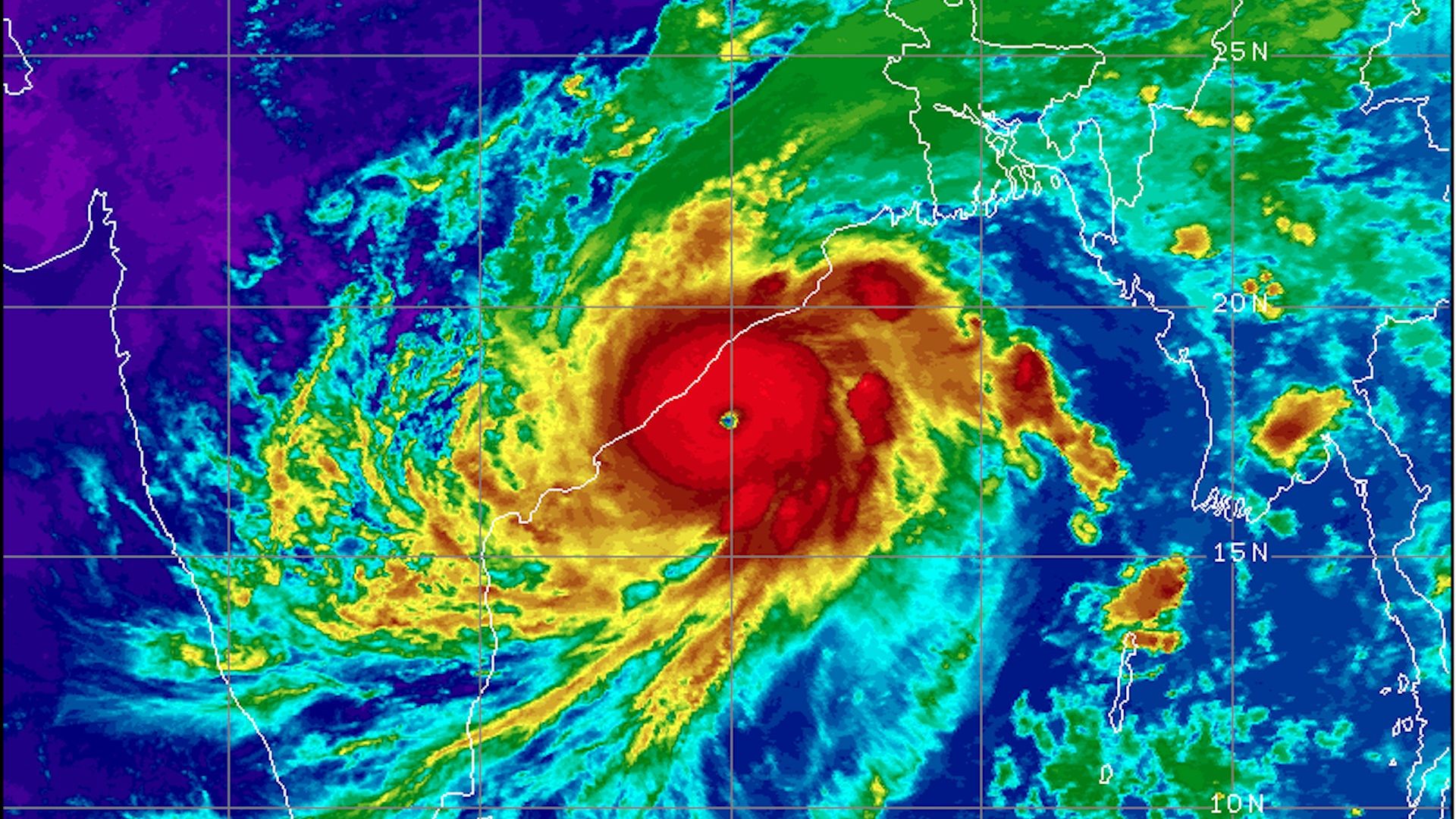 Cyclone Fani intensified into a monstrous, high-end Category 4 storm in the western Bay of Bengal on Thursday as it wobbled closer to the Indian coastline. It is forecast to cross the Odisha coast as a Category 3 cyclone between Gopalpur and Chandbali, near Puri, on Friday, according to the India Meteorological Department (IMD).
The big picture: Based on reporting from the Joint Typhoon Warning Center, Cyclone Fani had maximum sustained winds of 155 mph, along with higher gusts as of Thursday morning eastern time, placing it just below Category 5 status. However, the storm's winds then began to weaken slightly as it interacted with the coastline and an area of slightly cooler ocean waters.
Even with a weakening trend, it's likely to bring devastating winds and an extreme storm surge to coastal areas, with surge-related flooding extending well to the north of where the center crosses the coast. Historically, storm surge flooding and inland flooding are the biggest storm killers in this region.
According to the IMD, a storm surge in excess of 4.5 feet is likely to occur in some locations east of the storm's center, with higher amounts possible depending on the time of high tide. (Some of the storm surge guidance may have been generated before the storm rapidly intensified early Thursday, as a higher surge is possible.)
Details: Cyclone Fani is already bringing heavy rains, storm surge flooding and high winds to the eastern coast of Andhra Pradesh and Odisha, and its effects will eventually be felt all the way into Kolkata and parts of low-lying Bangladesh by the weekend as the storm accelerates to the northeast after landfall.
The storm is now the strongest cyclone this early in the calendar year in the North Indian Ocean since the Bangladesh Cyclone in 1991, according to Philip Klotzbach of Colorado State University.
According to meteorologist Bob Henson of Weather Underground, Cyclone Fani is the 6th-most intense cyclone on record in the Bay of Bengal.
According to UNICEF, about 100 million are in the storm's path.
Threat level: The Bay of Bengal is notorious for allowing storms like this one to pile huge amounts of water into highly populated areas. Past cyclones on par with Cyclone Fani's intensity have produced nightmarish storm surges of up to 20 feet in height, which traveled about 20 miles inland.
The context: India has been struck by half a dozen Bay of Bengal tropical cyclones of Category 1 intensity or greater during the past 20 years.
Some of the most intense and deadliest tropical cyclones (a category that also includes hurricanes) on Earth have occurred in this region.
One of these, Cyclone Phailin, struck Odisha as a Category 4 storm in 2013, killing 45 and causing more than half a billion dollars in damage.
Other recent storms have killed more people, and in the past, India has seen storms that killed nearly 10,000, including as recently as 1999.
Go deeper