Amazon breaks into the Middle East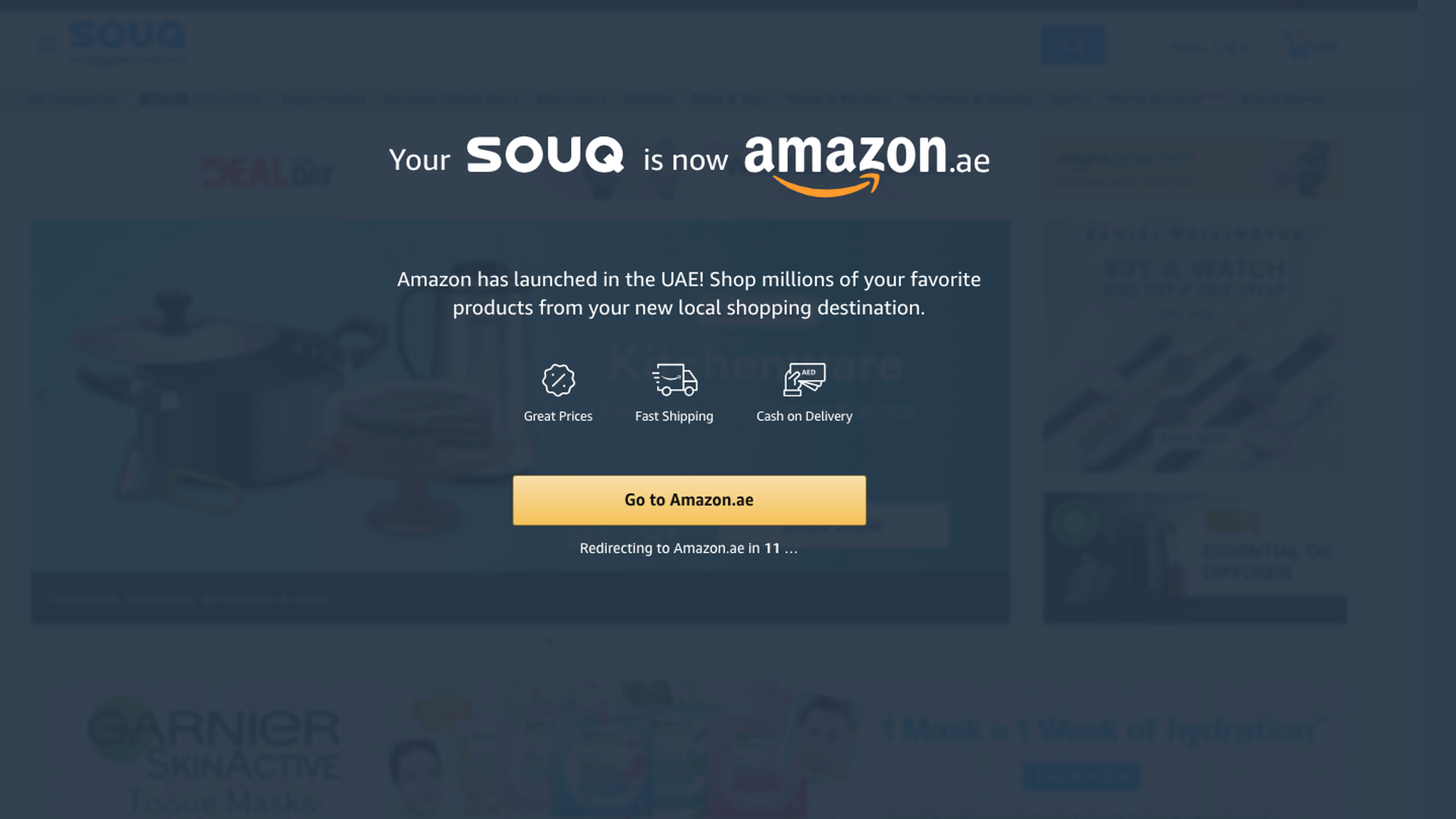 Just days after exiting China, Amazon has spotted an open lane in another populous part of the world: the Middle East.
Why it matters: Analysts and Amazon executives don't often cite the Middle East as a region the behemoth hopes to crack, focusing instead on India, Brazil and China. But Arab countries are filled with millions of potential new Prime members — and there's little local competition to contend with.
The big picture: Amazon fumbled in China because it underinvested and fell to homegrown rivals Alibaba and JD.com. And while the company's North America business has boomed, international sales have been comparatively weak, growing just 9% between the first quarters of 2018 and 2019.
The Middle East has the potential to help Amazon boost that growth, experts say.
What's happening: Two years ago, Amazon bought Souq.com, the Arab world's largest e-commerce platform. Yesterday, it rebranded Souq.com as Amazon.ae. The company also announced that it is setting up shop in Israel.
In the Middle East, "there is a very dense population, which makes it much easier to create a high-performing Prime offering," says James Thomson, a former Amazon executive who now consults for small sellers.
"Many Israeli retailers have e-commerce options on their websites but they are all dwarfs next to Amazon," notes Barak Ravid, an Axios contributor based in Israel.
The bottom line: Amazon is now in more than 60 countries. It already has 1.2 billion users, which makes it the biggest online marketplace in the world.
But, but, but: Alibaba is on its tail, with 1.1 billion users, per Retail Dive. The Chinese giant, which has amassed its massive user base in just 15 countries as of last September, could quickly surpass Amazon as it expands.
Go deeper