Luminar taps AV-friendly Florida for lidar manufacturing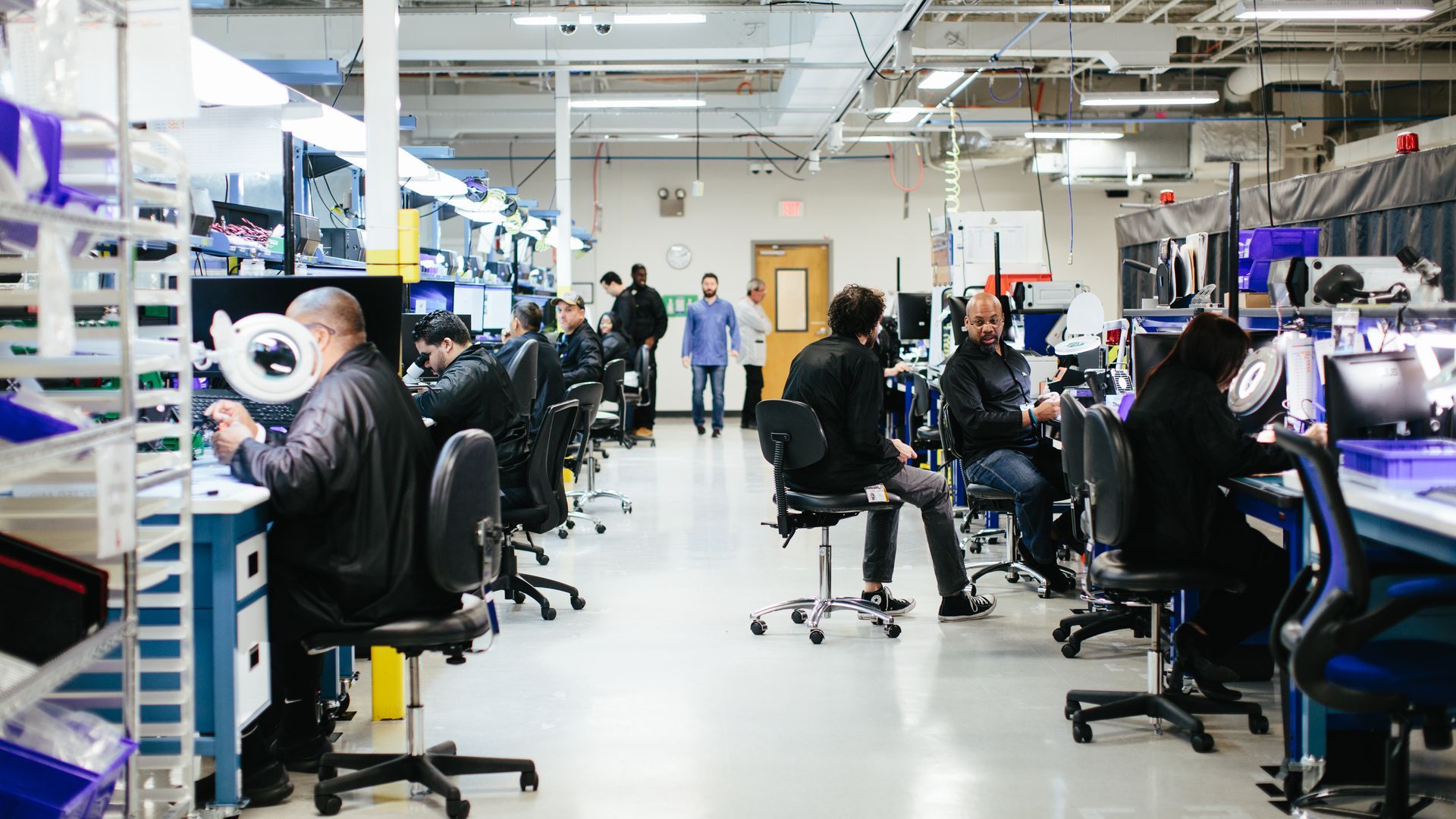 ORLANDO, Fla. — Luminar, the lidar company trying to build the "eyes" for autonomous vehicles, plans to turn its central Florida headquarters into a hub for advanced manufacturing and process engineering as it moves toward mass-production by the "early 2020s," says Luminar co-founder and CTO Jason Eichenholz.
Why it matters: There's plenty of competition in this area, with biggest rival Velodyne announcing a mass-production deal with Nikon last week. Still, Eichenholz thinks Luminar will have an edge in enabling systems like driverless trucks, robotaxis and driver-out-of-the-loop systems, partly because of its location.
Background: I visited Luminar while joining AOL founder-turned-investor Steve Case on his firm's "Rise of the Rest" tour highlighting startups in cities outside of traditional tech hubs that are often overlooked by venture capitalists.
Florida is the 3rd largest state, but only 1.3% of VC funding last year went to companies here.
Eichenholz runs the Orlando facility, where two-thirds of the company's 350 employees are based. His co-founder, Austin Russell, is based in San Francisco.
The big picture: Florida has some of the country's most progressive rules governing AV testing.
But Eichenholz attributes his success in Florida to the laser and sensor expertise in the area, with engineering talent from nearby military bases and defense giants Lockheed Martin and Northrop Grumman.
He also recruits directly from the University of Central Florida's engineering program, where he got his PhD 25 years ago.
Plus, Disney World attracts more visitors every year than any other U.S. destination, making it a unique place to test vehicles like tourist shuttles, and also to begin exposing people to AVs to increase their comfort with them.
Between the lines: Silicon Valley moves at lightning speed, while Detroit is more cautious and skeptical of Big Tech firms. Eichenholz said Luminar is a neutral intermediary — a benefit of its location outside either hub.
Go deeper: Self-driving car sensor startups may soon detect the end of the road
Editors note: An earlier version of this story incorrectly said Luminar's Orlando headquarters would be the site of mass production. The company's Orlando facility will the be the site of design, advanced manufacturing and process engineering, while mass production will take place elsewhere.
Go deeper