Cyclone Fani takes aim at India, could hit as a fierce Category 4 storm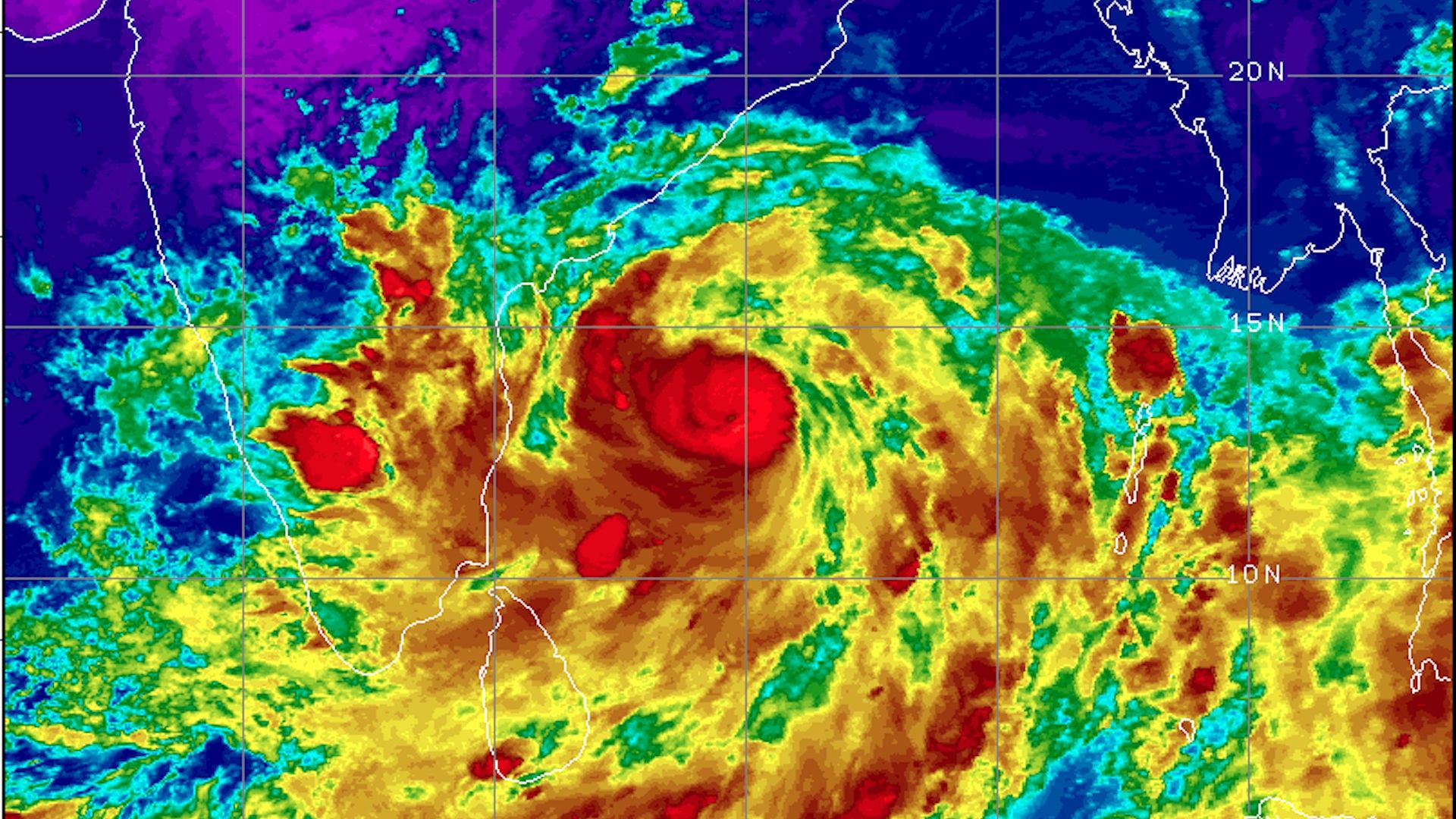 Tropical Cyclone Fani is intensifying over the western Bay of Bengal, and it is forecast to hit somewhere between the Indian states of coastal Odisha and West Bengal as a potentially devastating Category 4 or greater storm as this weekend approaches.
Why it matters: Coastal India as well as neighboring Bangladesh are extraordinarily vulnerable to the range of hazards such storms bring, including high winds, storm surge flooding and inland flooding from heavy rainfall.
Some of the world's most intense and deadliest tropical cyclones — a term that includes hurricanes and typhoons — have occurred in the Bay of Bengal.
It's not yet clear exactly where Fani will come ashore, as it will be tracking parallel to the eastern coast of India, making any wobbles in the storm's eye highly consequential for its track.
Details: Fani is moving across warm waters that are about 1°C above average for this time of year. Relatively low atmospheric wind shear also favors strengthening, and a period of rapid intensification is possible.
The India Meteorological Department is forecasting the storm will come ashore between Gopalpur and Chandbali, to the south of Puri, on May 3, before continuing to curve to the northeast toward Kolkota.
Given the storm's forecast track, there is the risk of significant storm surge flooding well to the east of the storm's center — potentially all the way to Kolkata, a city of about 14 million that sits at the head of the Bay of Bengal.
In fact, some forecast scenarios put Kolkata at risk of a landfalling storm, which could prove disastrous for that city and highly populated, low-lying Bangladesh.
What they're saying: Meteorologist Bob Henson wrote for Weather Underground: "Some of the most catastrophic cyclones in world history have struck this region, where a northward-moving storm surge can be concentrated by the bay into a compact delta where tens of millions of people live."
Context: India has been struck by a half-dozen Bay of Bengal tropical cyclones of Category 1 intensity or greater during the past 20 years.
One of these, Cyclone Phailin, struck Odisha as a Category 4 storm in 2013, killing 45 and causing more than a half a billion dollars in damage.
Other recent storms have killed more people, and in the past, India has seen storms that killed nearly 10,000, including as recently as 1999.
What's next: Forecasters will be watching Fani warily during the next few days to see if it rapidly intensifies and if the track shifts eastward at all, which could place more people in the area of greatest risk.
Go deeper: How climate change affects our weather
Go deeper