Beto O'Rourke guns for climate candidate mantle with $5 trillion proposal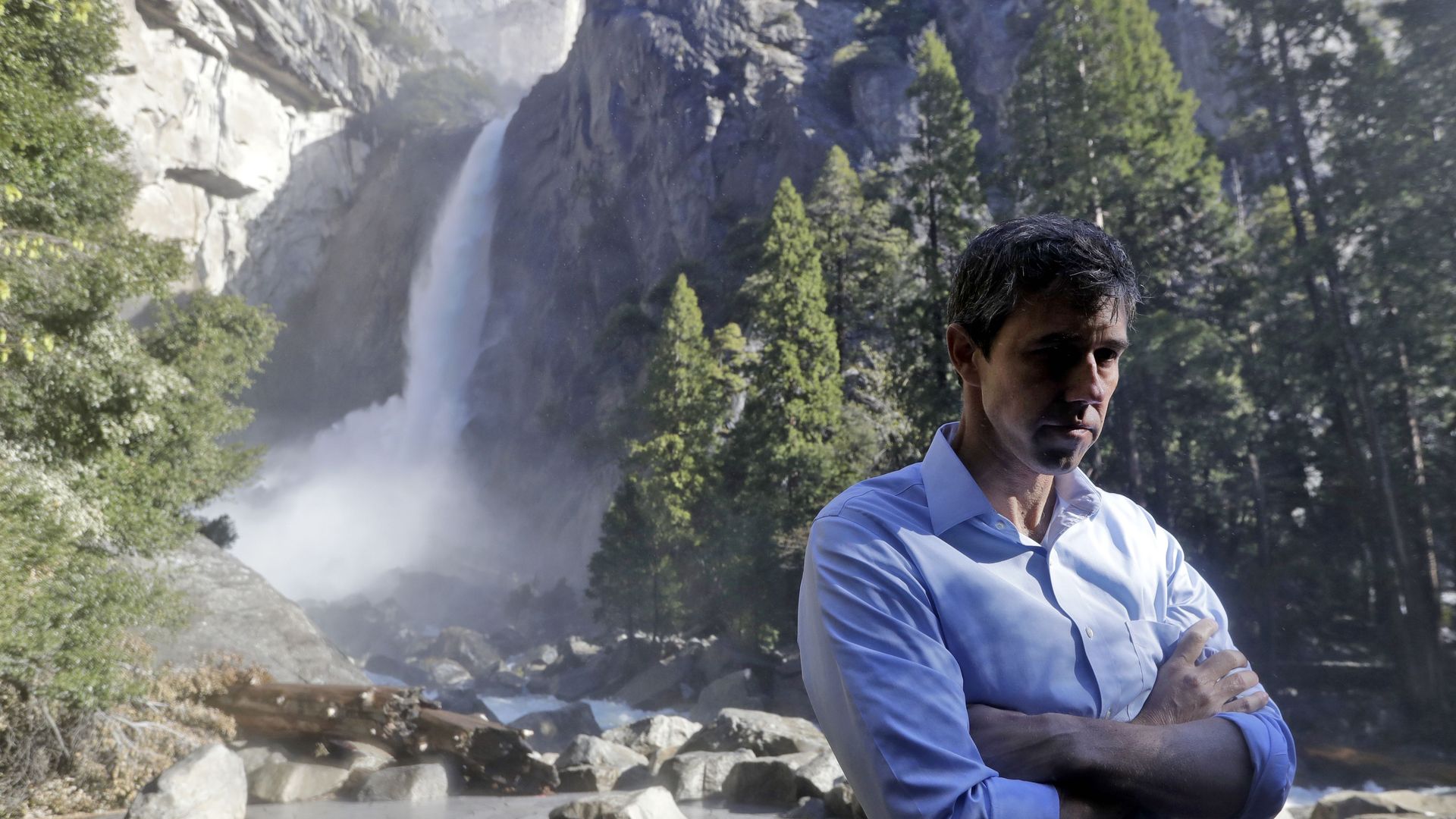 Beto O'Rourke's first substantive policy plan is here, a $5 trillion proposal that aims for net-zero carbon emissions in the U.S. by 2050.
Why it matters: If plans are priorities, the hope and change candidate of 2020 has climate at the top of his list (He'll also need to ward off Pete Buttigieg). "It's also a sign that he wants to compete directly for the climate candidate mantle with Sen. Bernie Sanders as well as Washington Gov. Jay Inslee, who has made climate the centerpiece of his long-shot run," Axios' Ben Geman writes.
Driving the news: O'Rourke timed the announcement to his first visit to Yosemite National Park, which he called a "religious experience," per the AP.
"Driving in, there are no words that could express what I was seeing or the way that I was feeling. ... And then to learn about some of the challenges that Yosemite faces ... the composition of what we are seeing around us is changing literally before our eyes."
The pillars of Beto's plan:
Taking actions with executive power, including a commitment to stay in the Paris Agreement; toughen rules on power plants, auto mileage standards and methane emissions from oil-and-gas development.
He'd ask Congress for "$1.5 trillion in direct federal funding, while seeking to incentivize an additional $3.5 trillion from states, private capital and other sources over 10 years to improve aging infrastructure nationwide and to take 'significant actions to defend communities...'" (NYT)
Funded by increasing taxes on corporations and the rich, along with ending incentives for fossil fuel companies.
Includes tax incentives that are "limited-duration" and "performance-focused" to speed up deployment of climate-friendly tech.
What they're saying: Reception from environmental groups has been mixed, with the Sunrise Movement — one of the driving forces behind the Green New Deal — issuing a notably strong statement arguing that O'Rourke has walked back a previous pledge.
Sunrise: "We're glad to see Beto release a climate plan as his first policy and commit to making it a day one priority for his administration. He gets a lot right in his plan. Unfortunately, Beto gets the science wrong and walks back his commitments from earlier this month in Iowa to move to net-zero emissions by 2030. Beto claims to support the Green New Deal, but his plan is out of line with the timeline it lays out and the scale of action that scientists say is necessary to take here in the United States to give our generation a livable future."
League of Conservation Voters: "We commend O'Rourke for putting forward an ambitious and detailed climate plan that would start on day one of his presidency and continue throughout every day of it. His plan commits to prioritizing both executive and legislative action to immediately cut pollution, achieve net zero emissions by 2050, invest at an unprecedented scale in communities bearing the brunt of harmful pollution and those in economic transition, create good, family-sustaining jobs and more."
350.org: "Overall, there's a lot we like here, but Beto is not the leader of the climate pack. His climate platform signals that he has been paying attention to our movement that has been pushing for a Green New Deal. That said, there's still a lot of room for improvement."
Go deeper:
Go deeper