Washington and Indiana mourn death of former Sen. Richard Lugar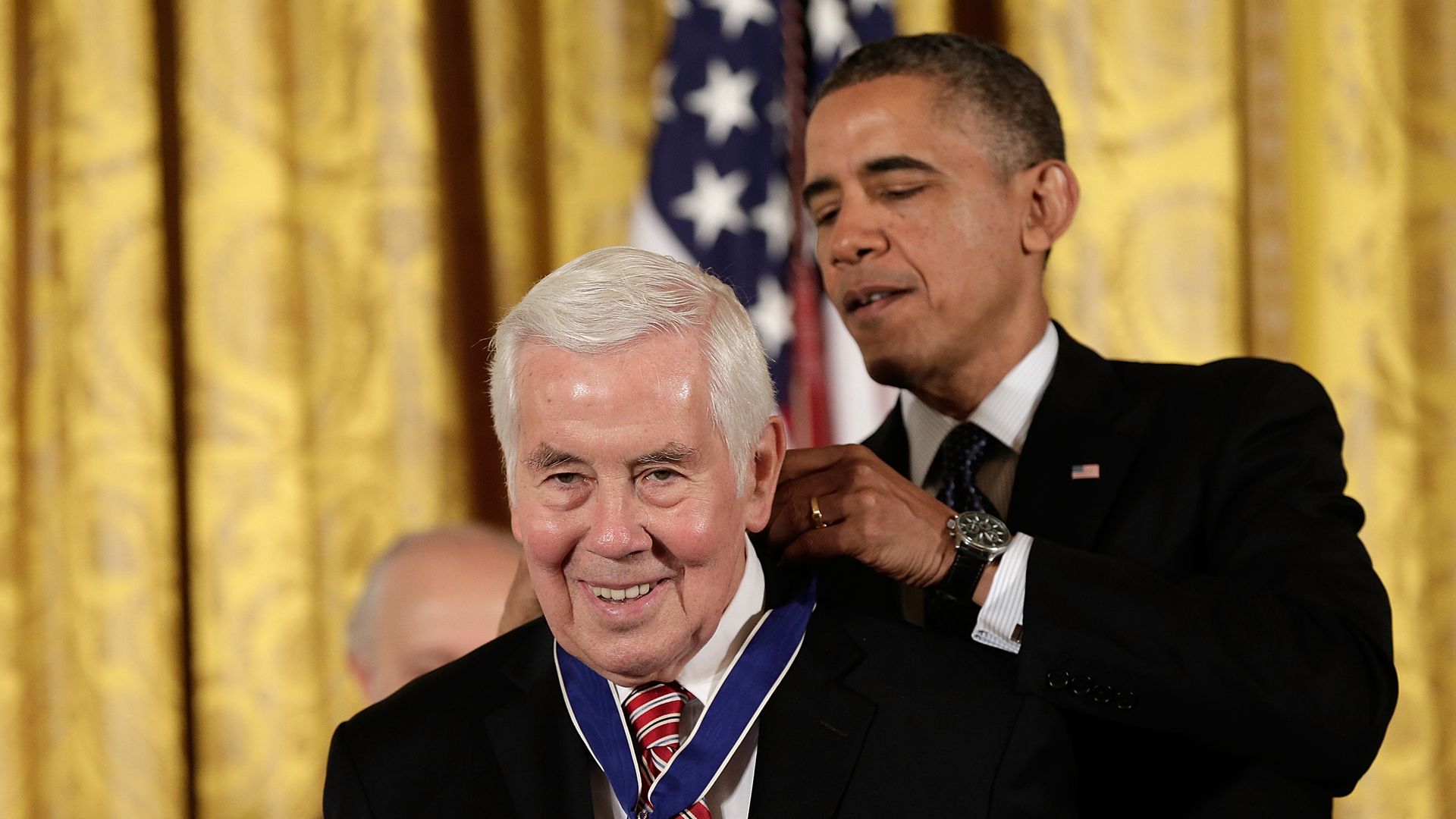 Former Sen. Richard Lugar (R-Ind.), a foreign policy expert who served in the Senate for 36 years and helped lead the dismantling of thousands of nuclear warheads and missiles from former Soviet states, passed away at the age of 87 on Sunday.
What they're saying: "I first worked with Dick when I was a freshman Senator, in an effort to expand his landmark 1991 nuclear nonproliferation framework," said former President Barack Obama. "Dick always stuck to the facts. He understood the intricacies of America's power and the way words uttered in Washington echo around the globe. But perhaps most importantly, he exhibited the truth that common courtesy can speak across cultures.
"In Dick, I saw someone who wasn't a Republican or Democrat first, but a problem-solver—an example of the impact a public servant can make by eschewing partisan divisiveness to instead focus on common ground."
Vice President Mike Pence: "Senator Lugar's contributions to the life of our nation are countless. Richard Lugar was a leader not only in the Senate but also on the world stage, where he worked tirelessly to bring pressure to end apartheid in South Africa and enforce treaties that destroyed Soviet weapons of mass destruction. As the longest serving member of Congress from Indiana, and a Presidential Medal of Freedom recipient, he leaves behind a legacy of public service that will inspire Hoosiers for generations."
South Bend Mayor Pete Buttigieg (D-Ind.): "America has lost a true statesman in Dick Lugar. A great mayor, senator, and mentor, he made the world safer, stood up for better foreign policy, and knew how to work across the aisle. He was never too important to make time for a young Hoosier public servant of either party. And I have never seen a Senator's office so filled with books."
Gov. Eric Holcomb (R-Ind.): "The world weeps alongside Indiana after just learning we lost one of our best, ever. As an always faithful servant to the highest ideals in every walk of his incredible life, Richard Lugar ran the family farm, charted a new innovative course for Indiana's capital city, and devoted a record six terms as a U.S. Senator to making the world a more prosperous and peaceful place. He was an officer and gentleman, father and faith leader, a Mayor and Senator, a diplomat and legendary role model to millions."
Sen. Mike Braun (R-Ind.): "Senator Richard Lugar is a towering figure in Hoosier history and one of the greatest statesmen ever to serve in the U.S. Senate. As our longest serving Senator, he worked tirelessly with leaders across the globe to better the state and the country he loved. Maureen and I are praying for the Lugar family in this difficult time."
Former Sen. Joe Donnelly (D-Ind.): "Indiana and America have lost an American hero today in Richard Lugar. He dedicated his life to serving our country. I am personally crushed by this loss as he was a hero and mentor to me, and I always tried to live up to his example in the United States Senate."
Indianapolis Mayor Joe Hogsett (D-Ind.): "Senator Lugar's career is rightfully characterized by his time in the United States Senate and his outstanding leadership on matters of foreign security and international diplomacy. But he began his public life as a member of the Indianapolis Board of School Commissioners, before becoming a visionary mayor who embraced the transformative potential of local government. He understood that progress could only occur when good ideas and good people came together -- from all sides of the political landscape. And he demonstrated a commitment to country over party, community over self, that is almost unparalleled in today's polarized world."
Go deeper