Disney's "Avengers: Endgame" smashes box office records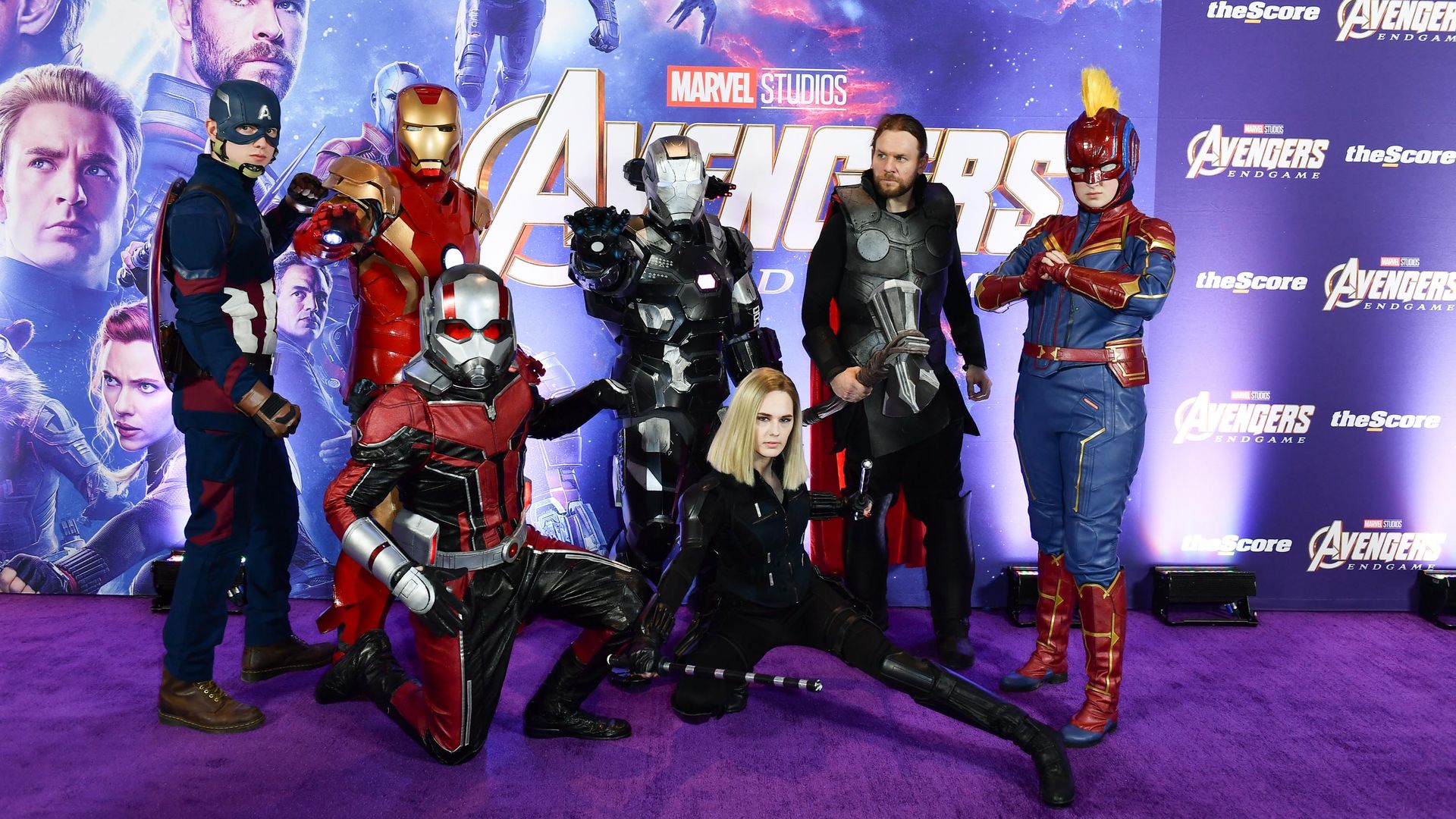 Disney continues to take theaters by storm. The company's 3-hour-long presentation of Marvel's "Avengers: Endgame" has obliterated box office records, bringing in a whopping $350 million in North America and $1.2 billion worldwide during its opening weekend.
Why it matters: No other movie has ever made this much money at the box office during its weekend opener. The 2nd-highest opening weekend for any film globally was Disney's 2018 presentation of Marvel's "Avengers: Infinity War," which brought in roughly half as much money at $640.5 million.
The Big Picture: The movie's success speaks to the critical role that theaters still play in cinema, despite the fact that more people are watching films through streaming services like Netflix, Amazon and soon-to-be Disney+.
"This weekend is the culmination of a decade of investments by theater owners in technology, comfort and convenience and a decade-long bet by Disney on the power of the moviegoing experience. This record-shattering weekend didn't just happen in movie theaters; it happened because of movie theaters."
— Patrick Corcoran, vice president and chief communications officer at the National Association of Theater Owners
Yes, but: It also speaks to the power of the popular franchises that Disney has carefully cultivated over the past few years. Five of the top 10 highest-grossing box office weekend openers belong to Disney-owned franchises, like Marvel and Star Wars. Disney has had the top-grossing global studio performance since 2016.
Be smart: As Axios' Felix Salmon notes, experts predict that "Endgame's" record haul will bring it near "cash breakeven" by Sunday, which is unprecedented for a super hero movie. This means that Disney will earn back the amount it needs to compensate debts for the film that have been laid out on a contractual basis. Only a handful of movies have achieved this milestone before.
Early data predicted that the movie would be a box office smash, receiving both critical claim and positive audience reviews.
The movie received a "96" out of 100 on the movie review site Rotten Tomatoes, and early viewer surveys suggested that audiences were delighted with the film.
According to Comscore's PostTrak audience survey, out Thursday after previews aired in some markets, audiences gave "Endgame" a full 5 out of 5 stars with a massive 90 total positive score.
Between the lines: The film has awakened an otherwise sleepy start to the box office this year. Domestic box office revenue for the first 3 months of the year was at its lowest level in 6 years, according to Comscore numbers.
The bottom line: "Nearly every box-office record was broken by this juggernaut of a film from Thursday previews to single-day grosses and everything in between," says Comscore senior media analyst Paul Dergarabedian.
Go deeper