2020 Dems could end up with another white guy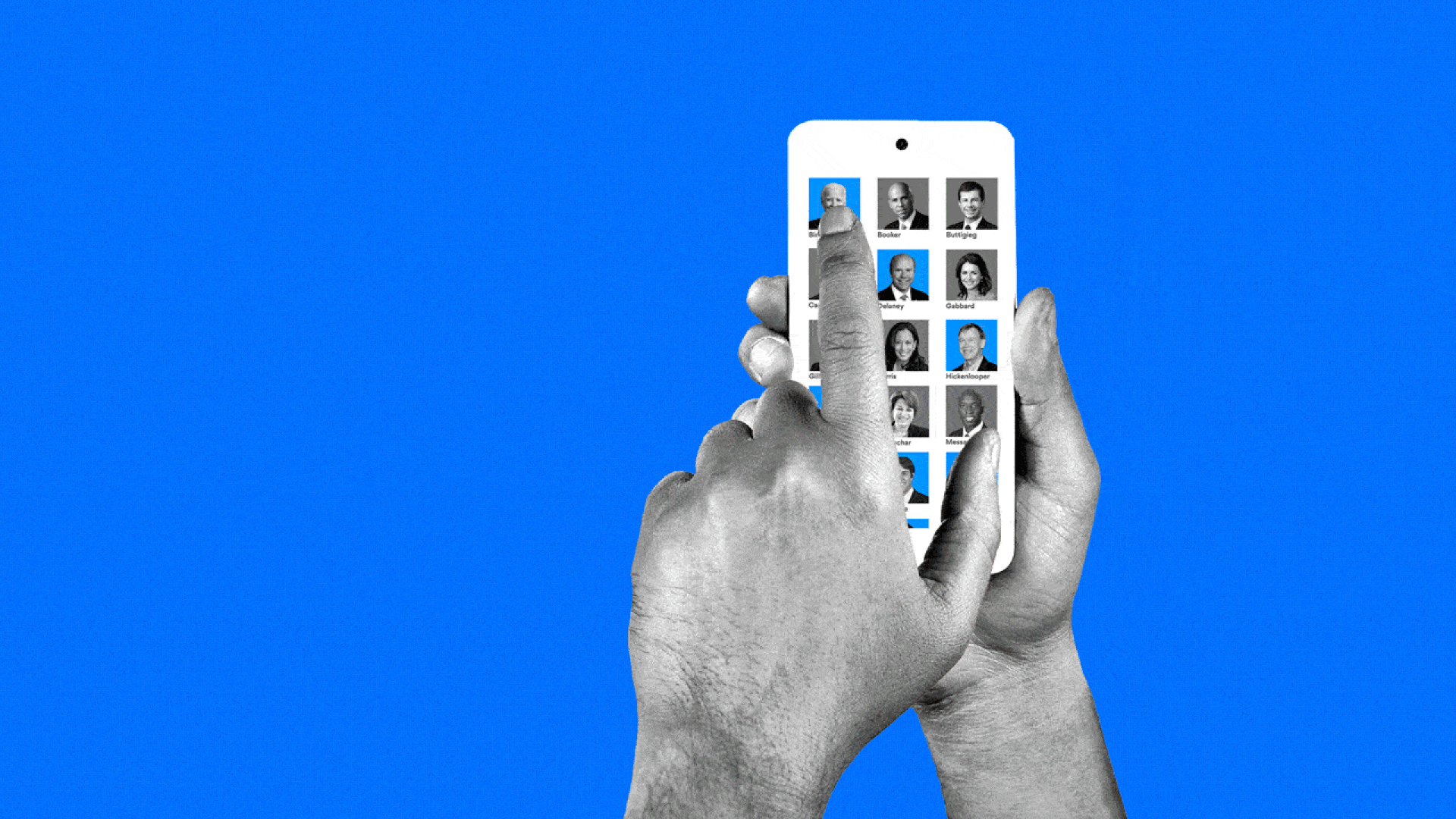 White male candidates continue to lead the 2020 presidential polls, despite this being the most diverse Democratic primary field in history.
Why it matters: The party and the country are having real conversations about race and gender in politics. Yet those factors aren't necessarily decisive for Democratic voters — so after all this, they could still end up with a white guy as their nominee.
Even when they have their choice of 6 people of color, 6 women and one gay man running for president, their ultimate goal is to defeat President Trump.
By the numbers: Joe Biden and Bernie Sanders have consistently held the top two spots in every national 2020 poll so far. Beto O'Rourke and Pete Buttigieg have occupied the third and fourth spots at different times.
FiveThirtyEight's Nate Silver does rank Kamala Harris as a top-tier candidate, but only along with Biden, Sanders and Buttigieg. He considers O'Rourke a second-tier candidate.
The reality is that most Democratic voters aren't concerned about a person's gender or race when it comes to deciding on a nominee.
A Monmouth University poll found that 87% of Democratic voters say the candidate's race doesn't matter, and 77% said the same of a candidate's gender.
Driving the news: This week in Houston, I attended the She the People presidential forum, which was hosted by women of color and specifically for candidates to address issues facing communities of color.
What they're saying: "The excitement for the white men is frustrating," said Diana Hwang, founder of the Asian-American Women's Political Initiative.
"I do think that in some ways the nation is slow to catch up with us, but we're seeing that excitement for women of color locally," she said, noting the success of candidates like newly elected Rep. Ayanna Pressley of Massachusetts.
"Honestly it's kind of sad because [white men] know our struggles and what we're going through, but they're still empowered and they still have the privilege to have a vote over our bodies and lives," said Maia Young, a member of the Texas reproductive rights group Deeds not Words.
And with Biden officially in the race, that just adds to some of the frustration for women of color. "I know that we have been cultured to feel that only the white man can save us, I just don't feel like Biden is our answer," one attendee told the AP.
Democratic presidential candidate Julián Castro told Axios that what's important is how broad a candidate's appeal is, regardless of their background — and that voters should consider candidates based on, in part, "how inclusive they are and have been throughout their career."
"I don't think it's going to take a white man to beat Donald Trump. It's going to take somebody who can appeal to a cross-section of this country," Castro said. "I also disagree with people who would write off somebody just because they're a white man."
It's not that Democratic voters consider white men to be unqualified to be president, or that people of color only vote for candidates of color. But the conversation has shifted to place an emphasis on inclusivity — from economic policies to the candidates' campaign teams.
Between the lines: The overwhelming response from attendees at the She the People conference was that it's just too early and they're hopeful the tide will turn. As Castro — who's been polling around 1% — reminded me, there are still 42 weeks until the Iowa caucuses.
"It's just a waiting game," said Samuella Bassey, another Deeds not Words member. "We weren't really prepared for the 2016 election. Now it's just hoping, a lot of praying, and waiting" for a candidate of color to break through.
The bottom line: There's plenty of time for things to change — but don't be shocked if the most diverse primary in history ends in the most ironic way possible.
Go deeper