Pence hits back after speculation that FBI tried to infiltrate his team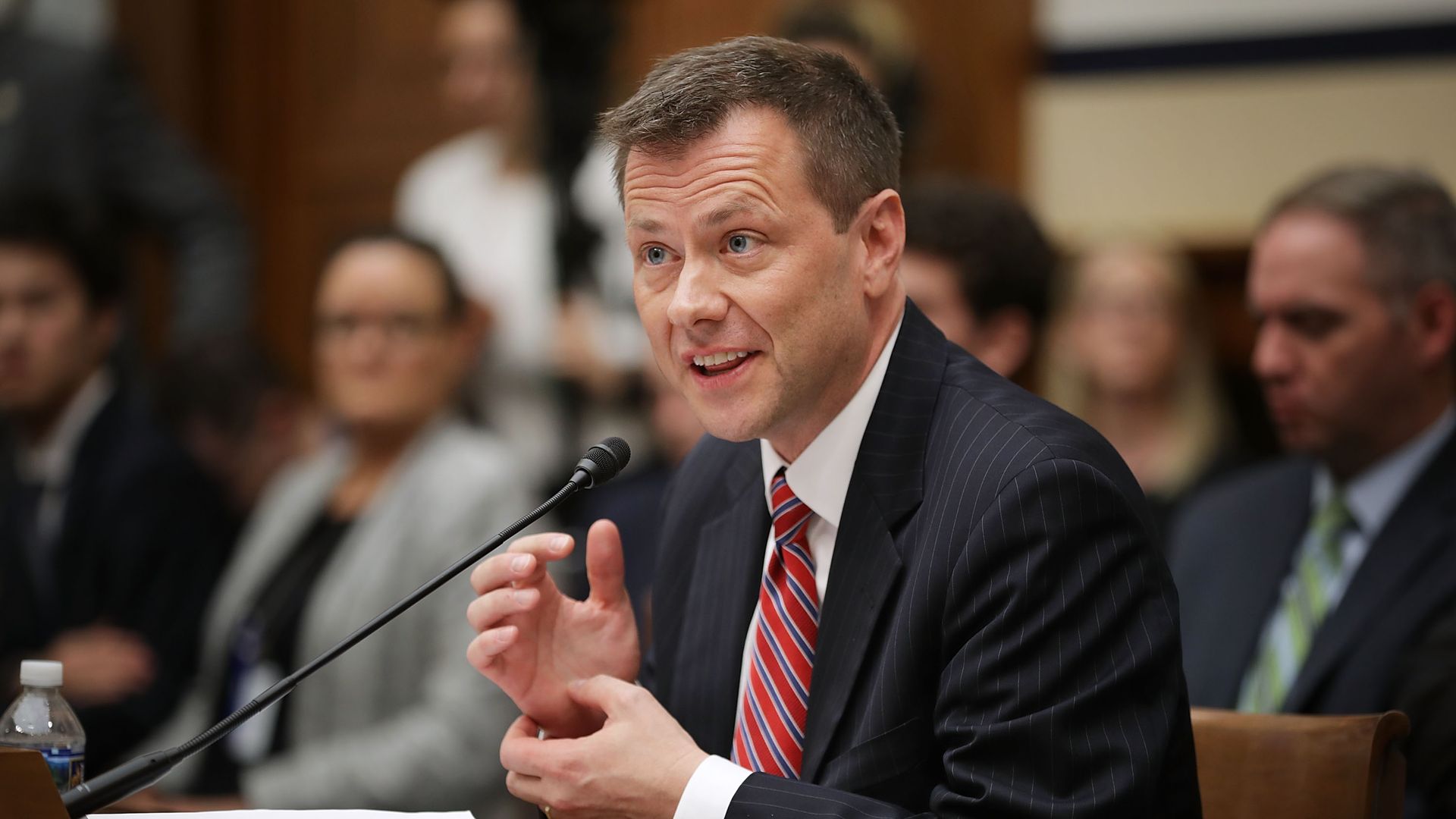 Vice President Mike Pence's former chief of staff, Josh Pitcock, has responded for the first time to speculation in conservative media outlets that FBI agents wanted to use him to infiltrate President-elect Trump's transition team in 2016.
Driving the news: In a statement to Axios, Pitcock said he had "no contact" with either former FBI Special Agent Peter Strzok or former FBI attorney Lisa Page — the officials at the center of the speculation — and "took zero actions on their behalf."
Pitcock also said there was "no infiltration through me or my wife," an FBI agent and another focus of the speculation. "Any assertions or speculation to the contrary is unfounded, uninformed and 100% false." (Read his full statement here.)
But Pence is taking the issue seriously, and is demanding further investigation into the possibility of attempted infiltration into the Trump administration and its 2016 transition team — which started with a letter from top Republican senators raising questions about a text message exchange between the two former FBI officials.
"I was deeply offended to learn that two disgraced FBI agents considered infiltrating our transition team by sending a counter intelligence agent to one of my very first intelligence briefings only 9 days after the election," Pence said in a statement to Axios. "This is an outrage and only underscores why we need to get to the bottom of how this investigation started in the first place."
"The American people have a right to what happened and if these two agents broke the law and ignored long-standing DOJ policies, they must be held accountable."
Why it matters: The text messages quoted in the letter from Republican Sens. Chuck Grassley and Ron Johnson have become the latest firestorm on the right over how the Russia investigation started, with Sean Hannity asking President Trump about it on his show.
Trump has asked Republicans to investigate why the FBI was allegedly conducting surveillance on the president's transition team in the first place, and Attorney General William Barr has said he plans to launch an investigation.
Between the lines: It's unclear from the text messages what the FBI officials' motive was — and there's no direct evidence that the two former FBI officials were talking about Pitcock or his wife. As the Washington Post points out, that's a connection made by an independent reporter and frequent Hannity guest who he cited on his show.
Strzok didn't respond to a request for comment.
The backstory: Grassley and Johnson sent the letter to Barr Thursday with a tip to aid his review of the investigation into the 2016 Trump campaign.
They cited an exchange between Strzok and Page shortly after the election, in which "the two discussed staffing for a November 2016 FBI briefing for presidential transition team staff."
At one points Strzok refers to a "CI guy," counterintelligence: "He can assess if thete [sic] are any news [sic] Qs, or different demeanor. If Katie's husband is there, he can see if there are people we can develop for potential relationships," the message reads.
Grassley and Johnson then wrote that "The nature of these communications, and the precise purpose of any attempts to 'develop relationships' with Trump or Pence transition team staff are not immediately clear."
But conservative media reports suggested that "Katie" may have been a reference to Katherine Seaman, the wife of Pitcock who had been working with Strzok on the FBI's counter-intelligence investigation of Hillary Clinton's email server.
In response to Hannity's question Thursday, Trump said the messages are "very disconcerting," and that "[Strzok and Page] are trying to infiltrate the administration really it's a coup, it's spying, it's everything you can imagine."
Go deeper