Cyclone Kenneth devastates Mozambique just 6 weeks after Idai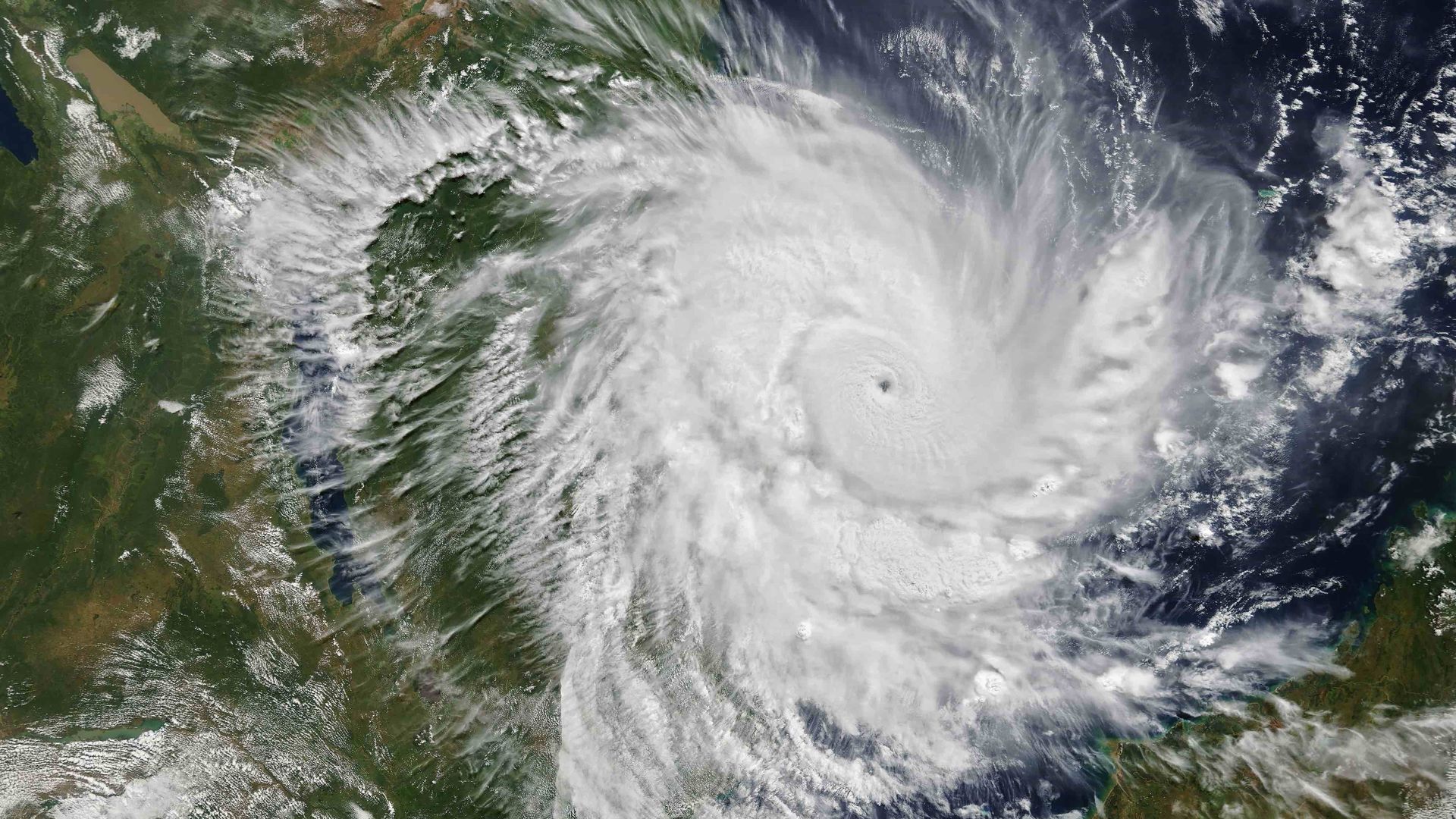 The toll from Cyclone Kenneth is beginning to emerge across northern Mozambique, one day after the Category 4 storm struck as an unprecedented event for this region, and one of the strongest cyclones to hit Africa since modern record-keeping began.
Why it matters: Mozambique is already reeling after a deadly hit from Cyclone Idai on March 14. That storm destroyed much of the city of Beira, and flooded such a vast area that it was described as having created a new "inland ocean." The international community still hasn't fully stepped up to respond to that crisis, and the UN is warning that Kenneth may necessitate "a major new humanitarian operation."
Details: Kenneth struck a more sparsely-populated region than Idai, coming ashore far enough north of the city of Pemba that damage in the city of 200,000 is not as extensive as feared, according to reports from the Red Cross. Mozambique's government is reporting several deaths and extensive wind damage in smaller towns, however, according to NBC News.
The storm is dumping up to 40 inches of rain in rural areas as it slows its forward speed to a crawl. Floodwaters could cut off small communities in Cabo Delgado Province, where the storm came ashore.
"While attention is often given to wind speed, we know from experience that it is rainfall — and subsequent flooding and landslides — that can be even more dangerous from a humanitarian perspective. This was certainly the case for Cyclone Idai," said Antonio Carabante, relief delegate with the International Federation of Red Cross and Red Crescent Societies, in a statement.
"The terrain in many affected communities are precarious — many of these areas are prone to flooding and landslides in normal rainfall, and this is far from a normal situation."
The big picture: Mozambique has now been hit by two of its five-strongest tropical cyclones on record in less than two months, an unprecedented occurrence and one that is leading to a humanitarian crisis in this developing country.
Both Idai and Kenneth were aided by unusually mild sea surface temperatures off the coast of eastern Africa as well as conditions in the atmosphere that favored the formation and maintenance of such storms.
Kenneth underwent a rapid intensification process, jumping in intensity from a Category 1 to Category 4 storm in just 24 hours before it roared ashore.
Climate change studies show this trend may be tied to human-caused global warming, which is increasing ocean temperatures and adding moisture to the atmosphere — two key ingredients for tropical cyclones to develop.
Go deeper:
Go deeper