Amazon's flex pales against Chinese counterparts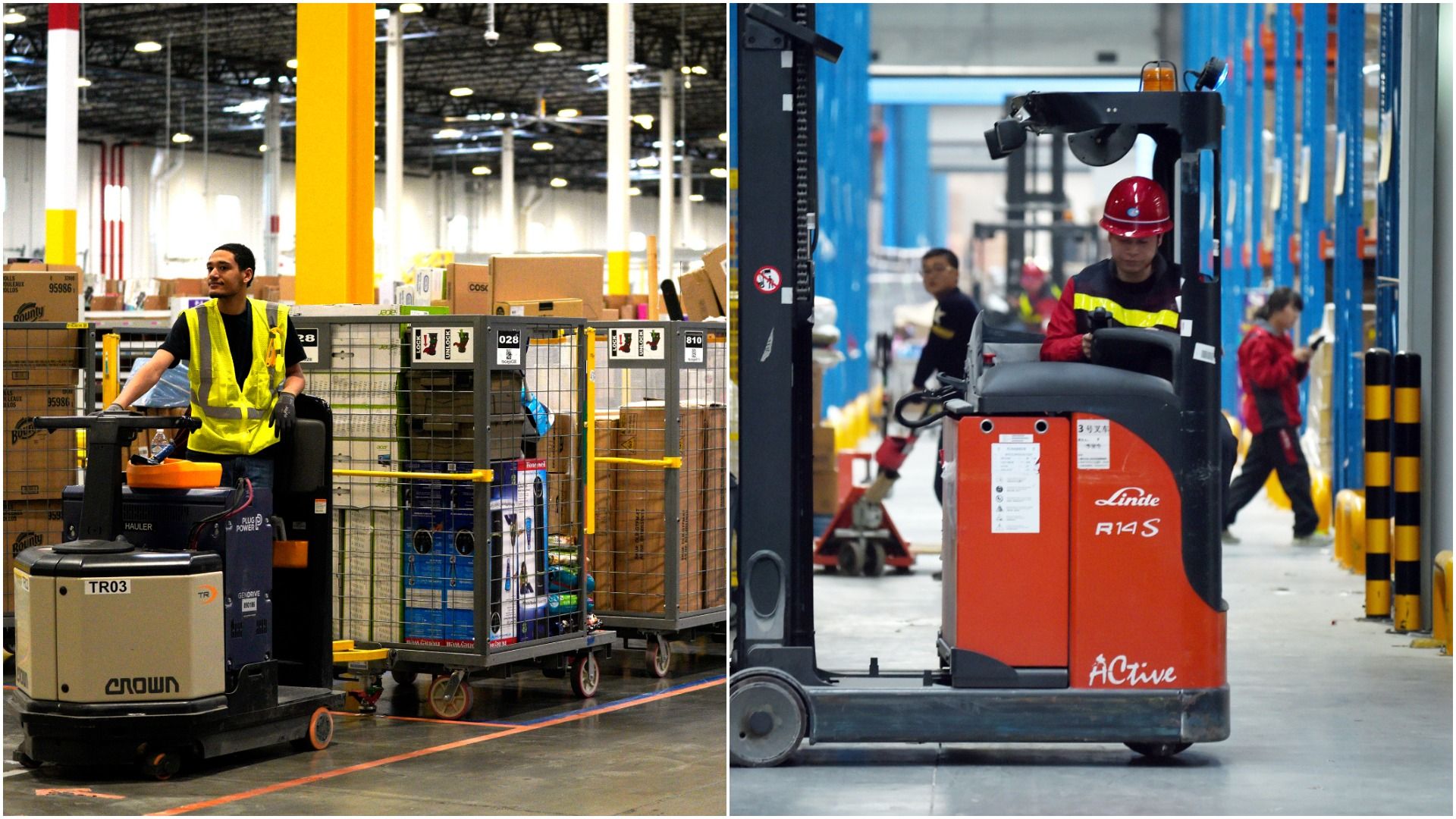 Amazon's move to slash free delivery times in half for Prime members — from 2 days to 1 — will squeeze American retailers, who are already scrambling to match it. But the e-commerce behemoth is still miles behind its Chinese rivals.
Why it matters: As we reported from China last summer, JD.com is already delivering 90% of its packages within 24 hours. Even 85% of packages shipped from abroad get to customers' doorsteps in a day. Last year, Alibaba said it will offer same-day delivery to all of China. Amazon is just catching up.
The backdrop: Part of why JD.com has been able to offer fast shipping is its logistics network — unlike anyone else in China, it controls the whole delivery process from warehouse to front door, across the country, relying on no other companies. Amazon continues to lean on UPS and USPS, in addition to its own vans and trucks.
What's next: Look for Amazon to significantly build out its own fleet, says Griffin Carlborg, an analyst with Gartner L2.
The big picture: In the U.S., "no one can match Amazon right now," Carlborg says.
It has money to spend: The company said it will lay out an immediate $800 million on added trucks, warehouses and employees — and it expects to keep spending more.
It has millions more products: While Walmart and Target, Amazon's top U.S. competitors, also offer fast shipping, their inventory eligible for quick delivery comes nowhere close to Amazon's 100 million available products, says Carlborg.
And Amazon's ambitions are bigger than what the Chinese companies have announced so far.
CFO Brian Olsavsky told analysts on Thursday that Amazon expects to take 1-day shipping to all of its international markets, including Brazil, China and India. For now, China's speeding shipping is primarily a domestic offering.
Worth noting: JD.com is aiming to offer same-day shipping for 85% of products in Indonesia, its next-biggest market. Flipkart, Amazon's chief rival in India, has same-day delivery in 10 cities.
Go deeper