Former Googler outlines how Big Tech can stop "downgrading humanity"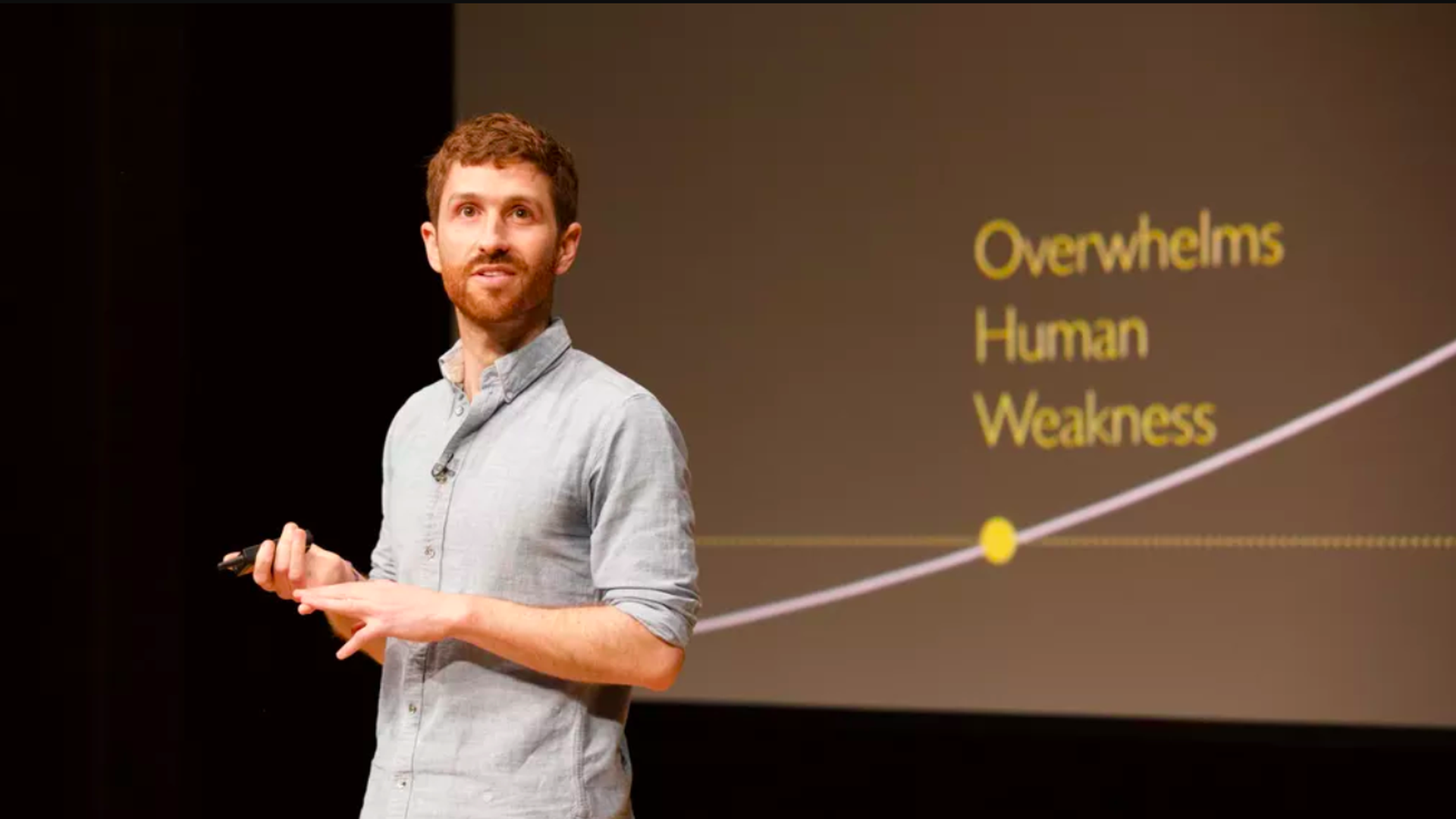 Tristan Harris, the former Googler who helped popularize the notion of "time well spent" laid out the shift he says the tech industry needs to make in order to stop, as he puts it, "downgrading humanity."
The impact: As Harris described his vision at a jazz hall in San Francisco, many in the 300-person crowd were academics, nonprofit leaders and longtime technology critics. There was also a smattering of folks from major tech companies including Apple, Google and Twitter.
Between the lines: That's good, because the humane tech movement will need people inside the industry giants to demand their companies make a shift, a fact that Harris readily acknowledges.
"If everybody is doing this at different times, the one that does it first will just get killed by the guys who don't have those ethics and they'll just get screwed," Harris told me after Tuesday's event.
In a nutshell: Harris made the case that today's technology downgrades humanity by creating a vast artificial social system powered by "overwhelming" AI and an "extractive" attention economy.
While AI systems may not be able to match humans at their best, he said, machine learning has gotten very good at exploiting our weaknesses.
Why it matters: Harris and the broader humane tech movement want to see the tech industry fundamentally realign its priorities, shifting to meeting human needs rather than profiting from human attention.
That may sound simple, but it's a huge ask in an industry where attention is rewarded and paid for with advertising dollars. Google, Facebook and Twitter all make money the more time people spend engaged with their content.
Harris also says there's a key role for government — change could occur far faster if the law required Google and Facebook to reckon and pay for harms their products inflict.
What they're saying: Roger McNamee, an adviser to the center and a frequent critic of Facebook, said he thinks the notions Harris espoused will find some willing ears in Silicon Valley.
"My guess is there will people within Apple who react very constructively and there may be people inside other companies who react constructively."
"But demonstrably it's really hard for Google, Facebook, Microsoft and Amazon to react to the totality of it because their current business model is pretty well baked into the problem he described."
— Roger McNamee tells Axios
Yes, but: Harris' approach drew criticism from even some of those pushing for greater ethics in tech.
Our thought bubble: Even if you agree with Harris about both the problem and what the industry should do, it's hard to imagine these companies forsaking a business model that has made them huge and rich.
Meanwhile, a Monday event at Stanford with historian and author Yuval Noah Harari and renowned AI scientist Fei-Fei Li shows some of the tension from trying to marry ethics and engineering.
Go deeper