Sinclair plots national expansion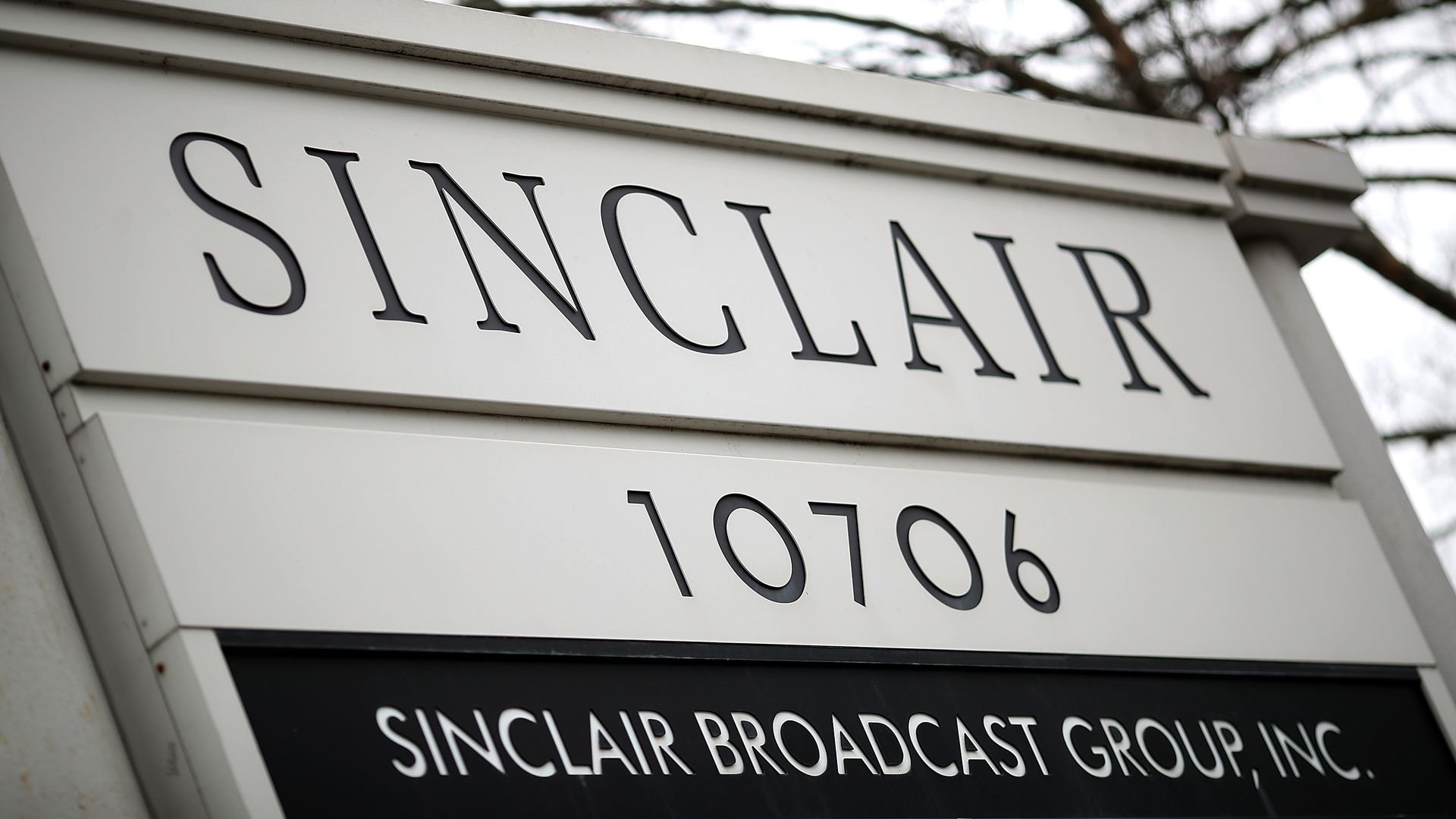 Sinclair Broadcast Group, the massive local conservative broadcaster that's been criticized for pushing Pro-Trump talking points, has been hiring a slew of ex-mainstream news anchors as it pushes into national news coverage. It's also reportedly in the running to buy up a handful of Fox's regional sports networks.
Why it matters: Sinclair's hiring spree suggests that it's looking to position itself as a national news competitor to Fox News ahead of the 2020 election, and as an overall competitor to big broadcasters with its foray into sports coverage.
Flashback: This wasn't always the plan. The company's efforts to push into national news and regional sports comes after an embarrassing defeat in its attempt to expand its local news empire.
Tribune broke off a major deal with Sinclair after the company was accused of lying to the FCC about deal terms and being less than transparent with Tribune's Board.
Sinclair's failed bid meant that it couldn't acquire Tribune's national cable network, WGN.
Yes, but: Sinclair is not going to let its failed merger with Tribune hold it back from expanding into a national news and sports powerhouse.
Sinclair's latest push into national news includes hiring several big-name newscasters, presumably to populate its local news channels with syndicated program, as well as to provide content for its new ad-free streaming network, STIRR.
On the sports side, Sinclair has emerged as the front-runner to buy a package of regional sports networks being sold by Walt Disney Company following a bid of around $10 billion, per Fox Business Network. The deal, if approved, would give Sinclair access to live sports telecasts.
The big picture: Sinclair's STIRR will boost its efforts to expand beyond local news. That streaming service will add sports, entertainment and lifestyle content, giving Sinclair an opportunity to tap into the budgets of national advertisers.
Be smart: Regulatory analysts, while bearish on Sinclair's efforts to expand into local news, are much more optimistic that the DOJ will approve the regional sports networks transaction. (Sinclair wouldn't need FCC approval, as these are cable stations.)
"I think this deal should be OK with regulators. Sinclair is a hot button company but they're not expanding their news operations, which is what really fired up Democrats in the Tribune deal."
— Paul Gallant, an analyst with Cowen Washington Research Group
Go deeper