Trump administration plows ahead on controversial drug proposal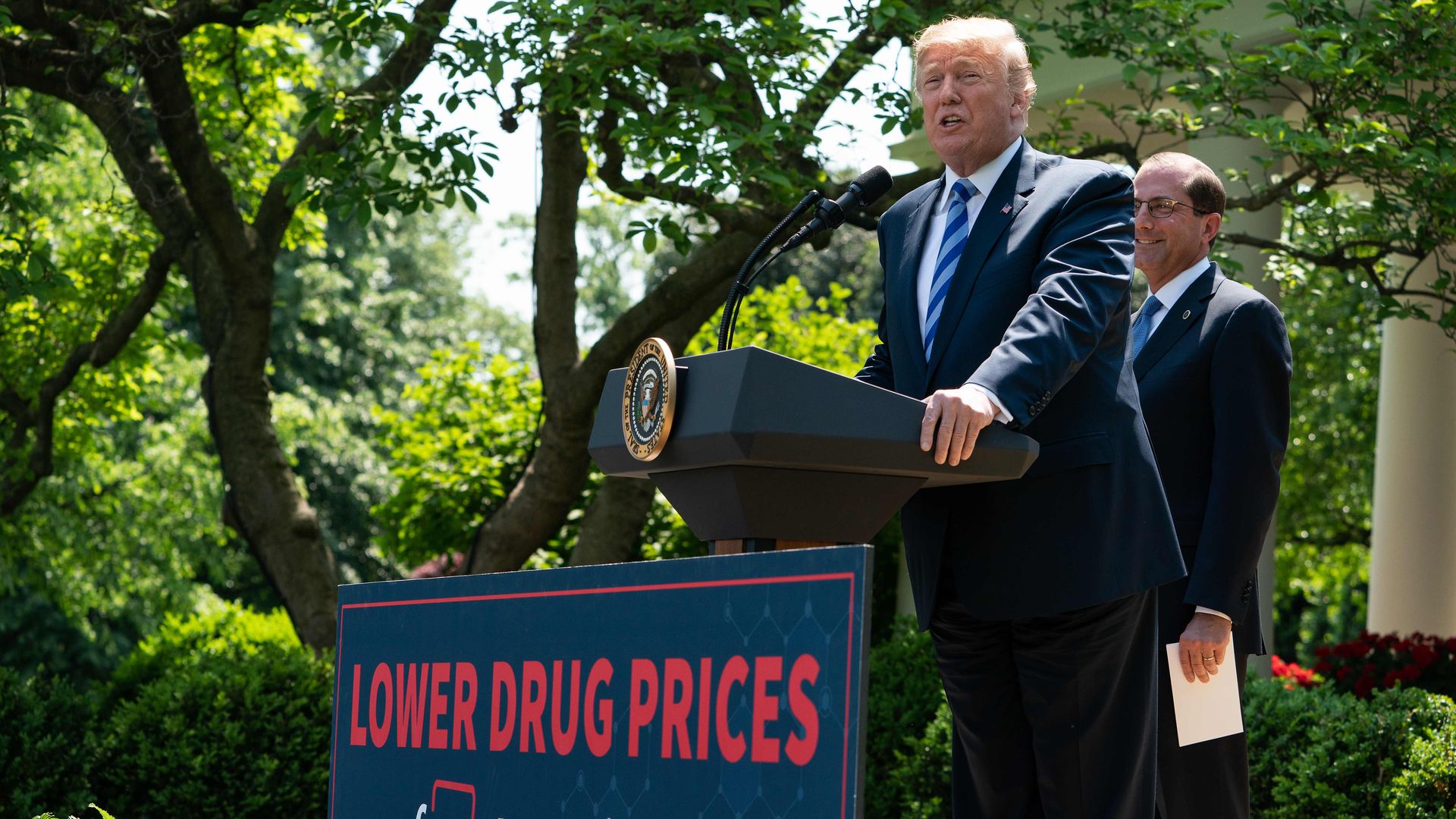 The Trump administration has no intention of backing off of its controversial proposal to change the way Medicare pays for some prescription drugs, and lawmakers are starting to respond with their own modified versions.
Why it matters: The pharmaceutical industry is adamantly opposed to the proposal, which ties some drug payments to what other countries pay for the same drugs. While this is likely to drive down Medicare's drug costs, it also could be radically disruptive.
The big picture: The administration last year proposed tying Medicare Part B reimbursement rates to what certain other countries pay — including prices set using government controls.
The pharmaceutical industry has launched an all-out effort to defeat the proposal, saying it threatens access to innovative treatment.
What they're saying: A senior administration official said it isn't backing down, although it's open to other substantive alternatives.
Both Health and Human Services Secretary Alex Azar and the White House "have told stakeholders and the Hill, 'If you give us a substantive alternative to [the proposal], that is more durable, sustainable than a regulation, we will take that to the president,'" the official said. "Absent an alternative, it's going to get finalized."
"I think it'd be better for the entire system if we had a bipartisan drug solution that was more sustainable over time than a fight over a regulation," the official added.
Meanwhile, the White House has been having discussions with Speaker Nancy Pelosi's office on what a drug deal could look like on the Hill. The official laid out three areas where there's the most room for a deal.
The first is a restructuring of Medicare's prescription drug benefit, which some experts worry encourages high drug costs.
The second is "structural reforms" to how Medicare pays for drugs administered by doctors, which is the area targeted by the administration's controversial proposal.
The third is things like cracking down on anticompetitive behavior by branded drug companies trying to keep generics off of the market — or "for lack of a better term, low-hanging fruit, which used to be third-rails, don't touch," the official said.
What we're watching: There's a slew of drug pricing bills being introduced by members of both parties. But there may be particular pressure to do something on Part B, given the administration's threat to implement their proposal if nothing better is presented.
House Freedom Caucus Chairman Mark Meadows said he's part of a bipartisan group trying to modify the proposal, specifically by tying Part B rates to those in countries that use market-based measures to determine their drug prices versus government price controls.
"At the end of the day, setting prices according to foreign countries is something that is very hard for a number of members of Congress to swallow, but it's certainly something that the president has stated is a priority, so were working with the administration on how to best implement that plan," Meadows said.
Go deeper