Washington's major push to lower drug prices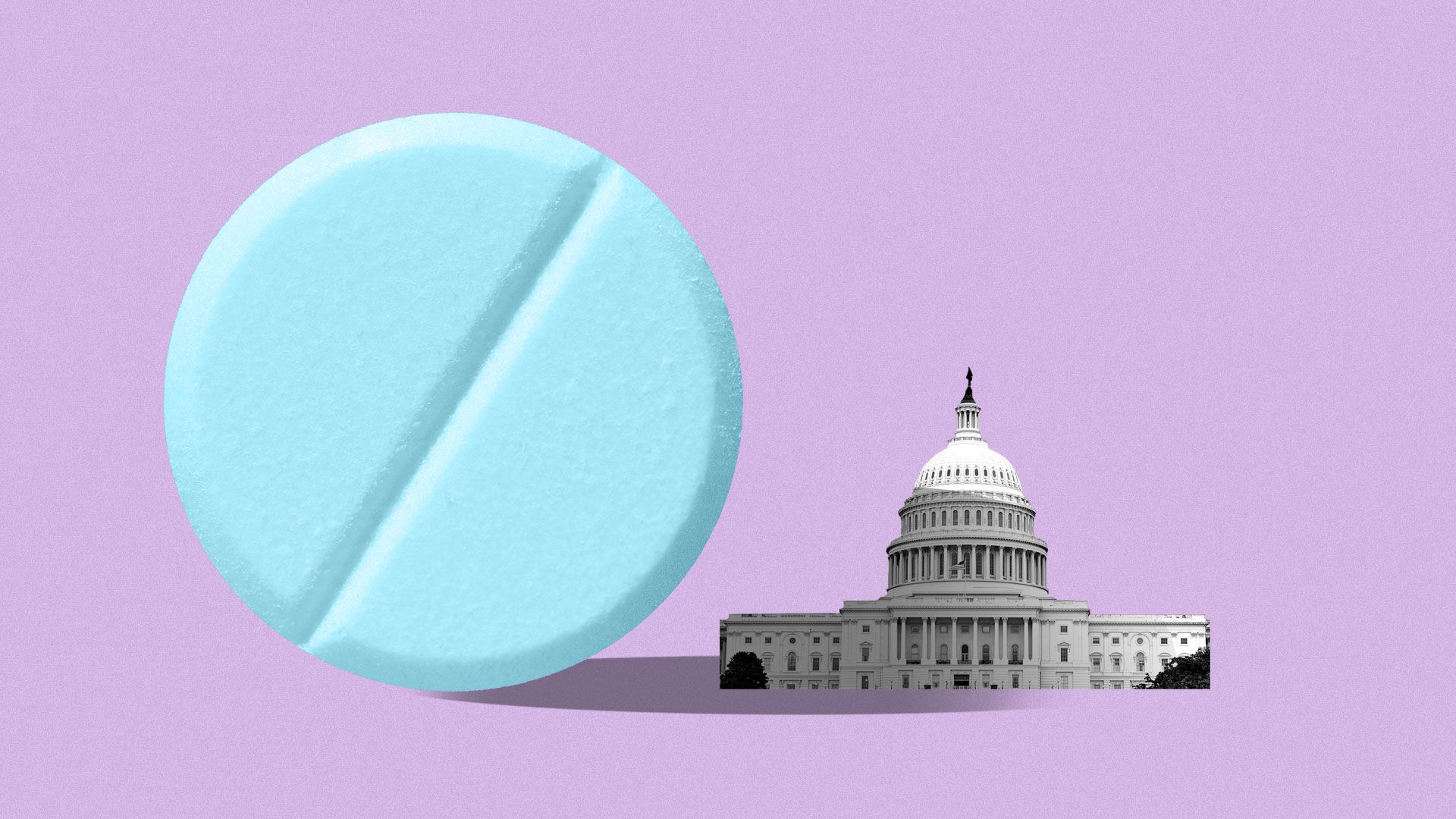 The White House and top lawmakers from both parties think a bill to lower drug prices has a better chance of becoming law before the 2020 election than any other controversial legislation.
Between the lines: Republican politics on drug prices have changed rapidly. The White House has told Democrats it has no red lines on the substance of drug pricing — a position that should leave pharma quaking.
What they're saying: "I think if we get a bipartisan deal on anything, it's going to be this," a senior administration official told Axios, characterizing the thinking at the top level of the White House.
The official said that in the White House's conversations with House Speaker Nancy Pelosi's office, "the only red line that we have communicated" is that a drug pricing deal shouldn't be combined with any changes to the Affordable Care Act.
When asked specifically about red lines drawn around direct Medicare price negotiations — a top priority for Democrats — the official reiterated that "we're not drawing any red lines on anything in the drug space right now."
"We're having conversations with the White House, but they are not negotiations," said Henry Connelly, a Pelosi spokesperson. "We're looking at every option to maximize the leverage needed to drive down prescription drug prices."
Yes, but: The official added that "if people want to pursue something out of religious zeal ... we're not interested in that. If there's a practical solution that will give patients and taxpayers a break, we're open to it."
Top lawmakers and lobbyists have told Axios over the last several months that real momentum has been building behind the issue.
"It's created interesting alliances and probably is the number one topic for legislatively addressing an issue for the remainder of this year," House Freedom Caucus Chairman Mark Meadows said.
"In this unusual three-sided political world, dealing with prescription drug prices seems to have the best chances of a legislative accomplishment," said House Budget Committee Chairman John Yarmuth, adding that he was referring to the Democratic House, the Republican Senate and the "unaffiliated White House."
The other side: The drug industry warns that government intervention on prices will result in less innovation, and President Trump has shown an interest in new treatments.
"When he has conversations around new treatments for things — the new genetic treatments, the sickle cell treatments, all these new therapies that are coming online — he gets very excited about them," the administration official said. "He's very sympathetic to that, and he wants to make sure that ... this biopharmaceutical ecosystem continues."
What we're watching: Bipartisan bills have already started progressing through the House, establishing a floor for what Congress could accomplish even without the weight of a White House-Pelosi deal.
The Senate is likely to see significant movement before the August recess.
"It's all got to get wrapped up by December, because nothing's going to happen next year because of the election," the administration official said. "I think you'll start to see, hopefully, terminal velocity in the summertime."
Not everyone is confident Congress will be able to pull this off.
"Anything that gets done would need to be passed before the August recess, which itself is growing more unlikely as time passes and fights over the ACA and other issues erode whatever bipartisan collaboration that might have existed," a former Trump administration official told Axios.
Details: Republicans have recently put forward a slate of new bills, some of which could have been written by liberal Democrats.
Sen. Rick Scott introduced a bill that would ban drug companies from charging Americans a higher list price than they charge consumers in Canada, France, the U.K., Japan or Germany.
Sen. Mike Braun, who also introduced legislation, told Axios: "I'm just disgusted that we're at this point in time where we're apologizing for a broke industry and they're not waking up and doing something about it on their own."
Sen. John Cornyn plans to introduce a bill that would allow the Federal Trade Commission to bring antitrust suits against drugmakers who use the patent system to discourage competition.
Meadows said he's part of a bipartisan group that's discussing changes to the administration's international pricing proposal, which ties Medicare reimbursement rates to what other countries pay for the same drug.
Go deeper