How 2020 Democrats have responded to the Mueller report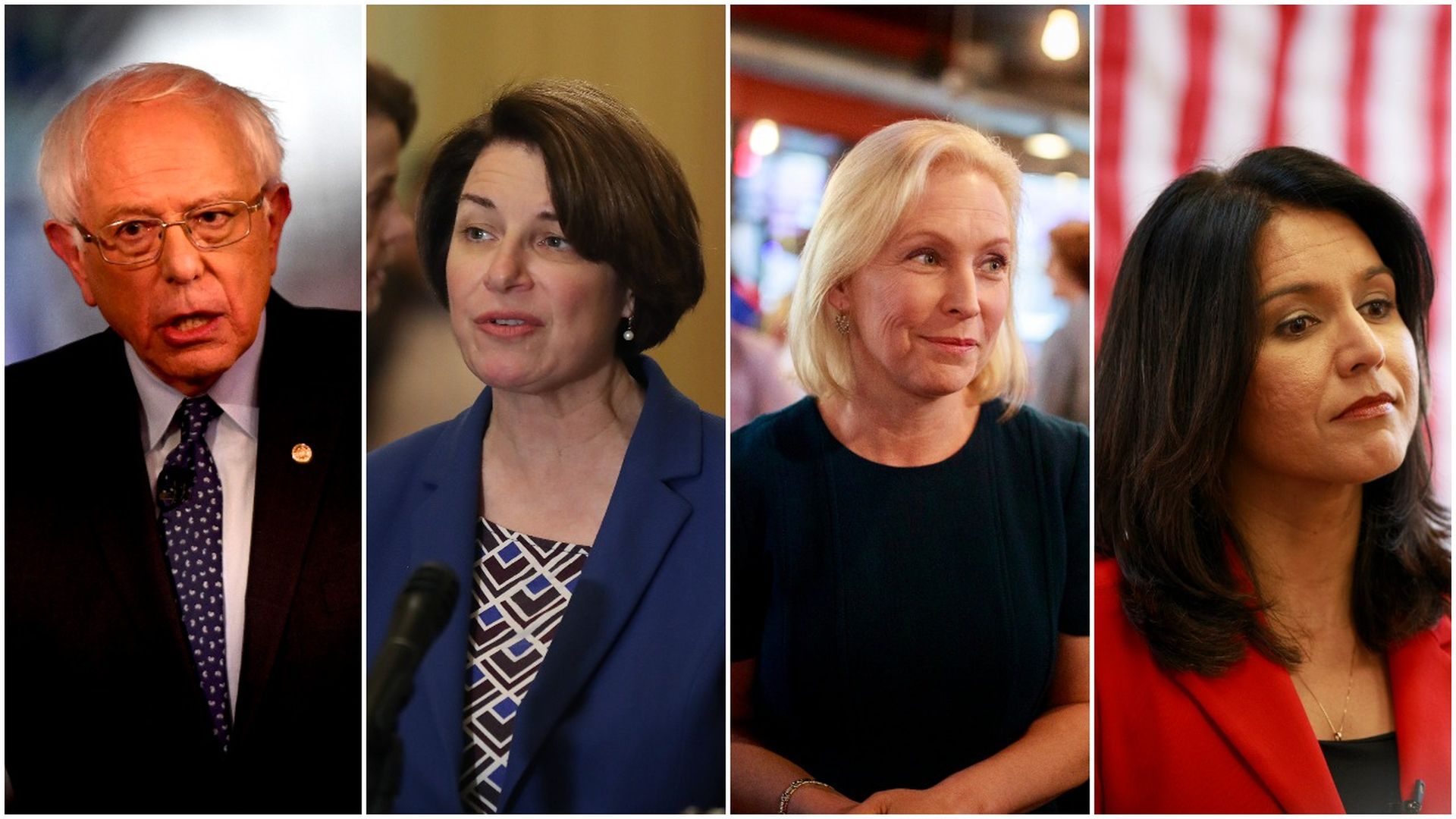 Three days after the release of the Mueller report, almost every 2020 Democratic candidate has responded to its explosive contents.
Driving the news: Sen. Elizabeth Warren became the first candidate to call for the impeachment of President Trump, differentiating herself from the rest of the primary field. On Friday, she slammed Trump for welcoming a "hostile" foreign government and obstructing the subsequent investigation.
What they're saying:
Sen. Elizabeth Warren (D-Mass.): "To ignore a President's repeated efforts to obstruct an investigation into his own disloyal behavior would inflict great and lasting damage on this country, and it would suggest that both the current and future Presidents would be free to abuse their power in similar ways. The severity of this misconduct demands that elected officials in both parties set aside political considerations and do their constitutional duty. That means the House should initiate impeachment proceedings against the President of the United States."
Sen. Bernie Sanders (I-Vt.): "It is clear that Donald Trump wanted nothing more than to shut down the Mueller investigation. While we have more detail from today's report than before, Congress must continue its investigation into Trump's conduct and any foreign attempts to influence our election."
Sen. Kamala Harris (D-Calif.): "I believe there's room for that [impeachment] conversation. But right now, what I want is that I want Mueller to come before Congress to testify. I want to be able to see the full, unredacted report, and specifically, also, the underlying evidence."
Gov. Jay Inslee (D-Wash.): Inslee tweeted a photo of a redacted document that reads: "The only way to really save our country? Defeat Donald Trump."
Former HUD Secretary Julián Castro: "Earlier today, I told Anderson Cooper that I think it would be perfectly reasonable for Congress to open up impeachment hearings against President Trump. Robert Mueller clearly left that option in the hands of Congress.
Sen. Kirsten Gillibrand (D-N.Y.): "...Barr works for the people, not the president. They deserve to know Mueller's full findings because nobody—especially not the president—is immune from accountability."
Former Rep. John Delaney (D-Del.): "If the President didn't obstruct justice, it wasn't for lack of trying. People loyal to him repeatedly refused to follow his orders to violate the law. Most of those people are now gone. We all should be gravely concerned."
Rep. Tim Ryan (D-Ohio): "Today, AG Barr demonstrated that he has decided to be the personal attorney for Trump rather than fulfilling his role as attorney for the American people. Mueller should be called to testify before Congress. No more summaries, no more redactions. We need complete transparency."
Marianne Williamson: "Using the role of AG for purposes of political messaging is a degradation of the office; William Barr has shown himself to be just another political lackey who serves to do the President's bidding above all else. The president said he wanted a Roy Cohn and apparently he found it."
Rep. Eric Swalwell (D-Calif.): Swalwell said on Friday that impeachment is "a conversation we have to have as far as holding this president accountable," but when MSNBC asked if that means he supports impeachment, he said: "I'm for bringing Bob Mueller in and see what the evidence is."
Sen. Amy Klobuchar (D-Minn.): "[The House] cannot make the decision until we have the entire report. Four hundred and twenty members of the House voted that that report should be public, and that hasn't happened"
Former Colorado Gov. John Hickenlooper: "AG Barr should work to protect the interests of the people, not the President. It's clear from this morning's press conference where his allegiances lie..."
Rep. Tulsi Gabbard (D-Hawaii): "...The most dangerous coverup is that US voting machines are vulnerable to hackers. If we lose faith in election results, democracy crumbles. The Justice Dept should be focused on instituting paper ballot backups, per my Securing America's Elections Act."
Mayor Pete Buttigieg: "The Mueller report is a disturbing if not completely surprising collection of evidence that shows a president putting his own interests ahead of the country's. Today again demonstrates why we need to change the channel in 2020."
Buttigieg told NBC News on Friday he believes there is "evidence that this president deserves to be impeached," but said that it's up to Congress to decide.
Former Texas Rep. Beto O'Rourke: "This democracy was under direct attack from a foreign power. There must be accountability and justice. No person is above the law regardless of how high their position of power is. We've got to defend this democracy from any further interference going forward."
Sen. Cory Booker (D-N.J.): "I do not think it's time to move toward impeachment...I want to go through the processes. I want to see the unredacted report. I want Robert Mueller to come and testify before Congress. And I want to see the underlying evidence."
Former tech executive Andrew Yang: "I am glad that the Mueller Report has been made public. It's important to the American people. My focus is on beating Donald Trump at the ballot box and solving the problems that got him elected in the first place."
Our thought bubble, via Axios' Alexi McCammond: Voters across the country largely don't care about Mueller when making their 2020 decision. Any time spent talking about Mueller's report or the Russia investigation is time not spent discussing the other issues that matter to Americans — health care, climate change, the economy and immigration, to name a few.
Some of the sitting senators have to comment on it because that's part of their current job. But for any 2020 Democrat making Mueller comments, it's mostly a way to call out the president for what they consider bad behavior and draw yet another contrast between themselves and Trump.
Go deeper:
Go deeper