The other Don: McGahn is one of the Mueller report's biggest stars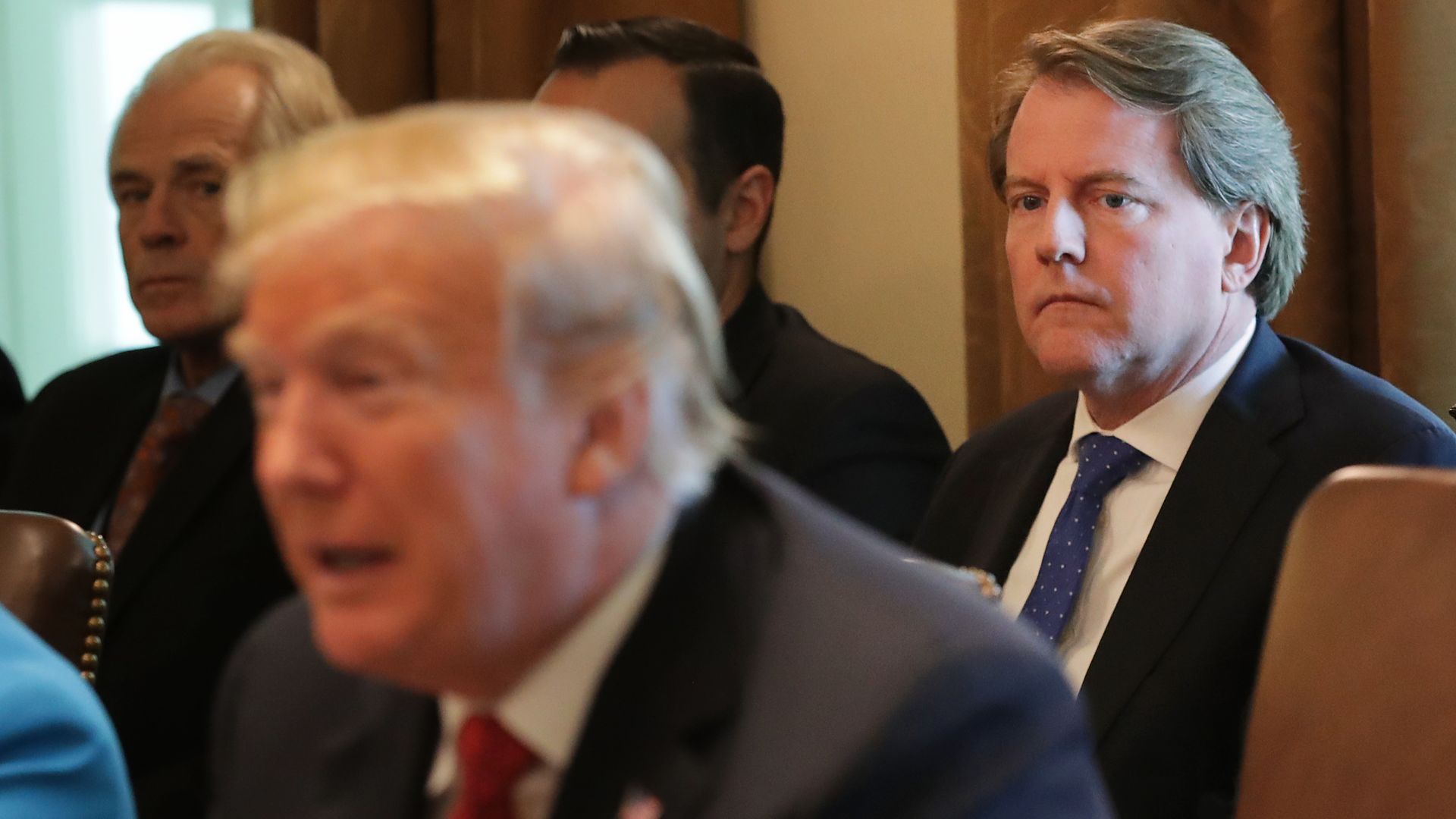 Late in Don McGahn's tenure as White House counsel, President Trump became so suspicious that he wondered aloud whether McGahn was wearing a wire, a source familiar with the president's private conversations told Axios.
Why it matters: We have no evidence that Trump's suspicions have any basis in reality. But they reveal the depth of his paranoia about his former counsel, who sat for many hours with Robert Mueller's team of prosecutors. 
Anger at McGahn after the report came out was shared among a number of Trump allies, both inside the White House and close to the president.
Defenders of the former counsel said he just did what he had to do: Answer questions under oath.
"Don had an unenviable job of trying to school the first outsider president in the legal ways of Washington," a source close to McGahn told me.
The big picture: McGahn, as the N.Y. Times foreshadowed in great detail last summer, plays a starring role in the Mueller report.
Going by the details McGahn provided to the special counsel's team, the president badly wanted to obstruct justice.
And it may have only been because McGahn refused to obey presidential orders that Trump wasn't charged with obstructing justice.
McGahn appears on 66 pages of the 448-page report.
Mueller's cinematic detail (page 298):
"When the President called McGahn a second time to follow up on the order to call the Department of Justice, McGahn recalled that the President was more direct, saying something like, 'Call Rod, tell Rod that Mueller has conflicts and can't be the Special Counsel.' McGahn recalled the President telling him 'Mueller has to go' and 'Call me back when you do it.'"
"McGahn understood the President to be saying that the Special Counsel had to be removed by [Deputy Attorney General Rod] Rosenstein. To end the conversation with the President, McGahn left the President with the impression that McGahn would call Rosenstein."
"McGahn recalled that he had already said no to the President's request and he was worn down, so he just wanted to get off the phone."
"McGahn recalled feeling trapped because he did not plan to follow the President's directive but did not know what he would say the next time the President called."
"McGahn decided he had to resign," the report continues. "He called his personal lawyer and then called his chief of staff, Annie Donaldson, to inform her of his decision. He then drove to the office to pack his belongings and submit his resignation letter."
"Donaldson recalled that McGahn told her the President had called and demanded he contact the Department of Justice and that the President wanted him to do something that McGahn did not want to do. McGahn told Donaldson that the President had called at least twice and in one of the calls asked 'have you done it?'"
"That evening, McGahn called both [chief of staff Reince] Priebus and [Steve] Bannon and told them that he intended to resign."
"Priebus recalled that McGahn said that the President had asked him to 'do crazy [sh#$],' but he thought McGahn did not tell him the specifics of the President's request because McGahn was trying to protect Priebus from what he did not need to know."
"Priebus and Bannon both urged McGahn not to quit, and McGahn ultimately returned to work that Monday and remained in his position."
"He had not told the President directly that he planned to resign, and when they next saw each other the President did not ask McGahn whether he had followed through with calling Rosenstein."
Behind the scenes: Going by the rich scenes recorded in the Mueller report, McGahn apparently took extensive notes of his conversations with the president. 
In one scene that McGahn recounted to the Mueller team, Trump takes issue with McGahn's note-taking: "The President then asked, 'What-about these notes? Why do you take notes? Lawyers don't take notes. I never had a lawyer who took notes.'"
"McGahn responded that he keeps notes because he is a 'real lawyer' and explained that notes create a record and are not a bad thing."
"The President said, 'I've had a lot of great lawyers, like Roy Cohn. He did not take notes.'"
The backstory: Roy Cohn, a Mafia lawyer and political fixer, was a mentor and personal lawyer to Trump during his early career. Trump often privately laments that his current lawyers don't measure up to Cohn.
Go deeper:
Go deeper