What the Mueller report tells us about Trump and Russia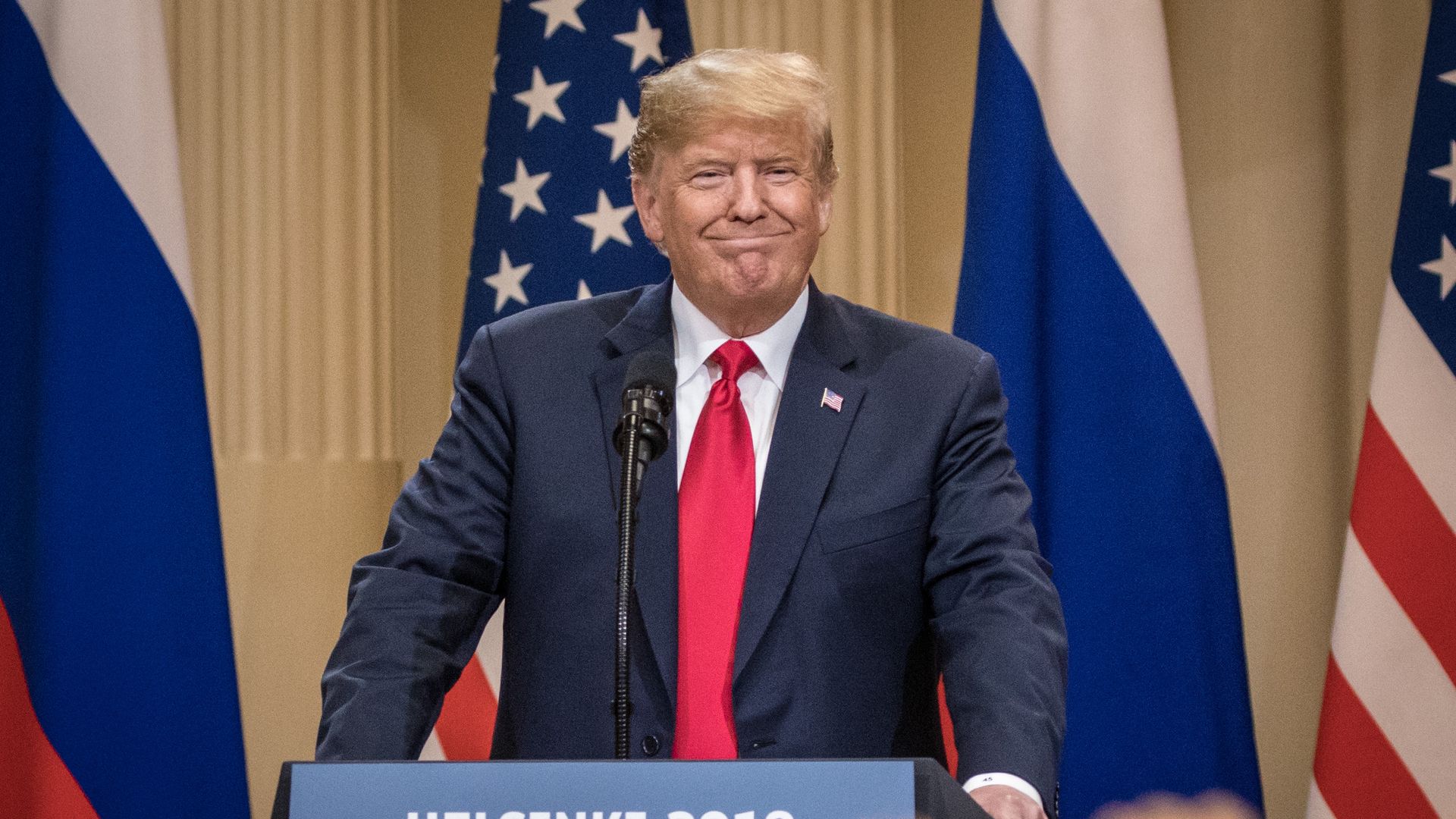 The first part of special counsel Robert Mueller's redacted report addresses Russian interference in the 2016 election and any role the Trump campaign may have played in those efforts.
What to know: Mueller defines election interference as comprising of 2 sets of efforts: The social media disinformation campaign carried out by a Russian troll farm known as the Internet Research Agency, and the hacking and dissemination of Democratic emails by Russian intelligence officers. He narrowly defines "coordination" as an "agreement—tacit or express—between the Trump Campaign and the Russian government on election interference."
This post is breaking news and will be updated.
Summary
"Although the investigation established that the Russian government perceived it would benefit from a Trump presidency and worked to secure that outcome, and that the Campaign expected it would benefit electorally from information stolen and released through Russian efforts, the investigation did not establish that members of the Trump Campaign conspired or coordinated with the Russian government in its election interference activities."
"The presidential campaign of Donald J. Trump showed interest in WikiLeaks's release of documents and welcomed their potential to damage candidate Clinton. Beginning in June 2016, [REDACTED] forecast to senior Campaign officials that WikiLeaks would release information damaging to candidate Clinton."
"The Russian contacts consisted of business connections, offers of assistance to the Campaign, invitations for candidate Trump and Putin to meet in person, invitations for Campaign officials and representatives of the Russian government to meet, and policy positions seeking improved U.S.-Russian relations."
The following campaign members were listed in the Mueller report as having had contacts with Russians: Michael Cohen, George Papadopoulos, Donald Trump Jr., Jared Kushner, Paul Manafort, Carter Page, Erik Prince, Jeff Sessions and Michael Flynn.
Internet Research Agency
"Numerous high-profile U.S. persons, including former Ambassador Michael McFaul, Roger Stone, Sean Hannity, and Michael Flynn Jr. retweeted or responded to tweets posted" to accounts controlled by the Russian Internet Research Agency.
"The investigation identified two forms of connections between the IRA and members of the Trump campaign. (The investigation identified no similar connections between the IRA and the Clinton campaign.)

"First, on multiple occasions, members and surrogates of the Trump campaign promoted — typically by linking, retweeting, or similar methods of reposting — pro-Trump or anti-Clinton content published by the IRA."
"Additionally, in a few instances, IRA employees represented themselves as U.S. persons to communicate with members of the Trump Campaign in an effort to seek assistance and coordination on IRA-organized political rallies inside the U.S."
Russian Hacking and WikiLeaks
According to deputy Trump campaign adviser Rick Gates, "by the late summer of 2016, the Trump Campaign was planning a press strategy, a communications campaign, and messaging based on the possible release of Clinton emails by WikiLeaks."
Roger Stone associate Jerome Corsi attempted to get in contact with WikiLeaks through Ted Malloch. Much of the material in this section is redacted due to Stone's ongoing case, but Corsi stated that he was convinced his efforts caused WikiLeaks to release damaging emails shortly after the infamous "Access Hollywood" tape. Mueller was unable to corroborate Corsi's claims.
On July 27, 2016, "candidate Trump made public statements that included the following: "Russia if you're listening, I hope you're able to find the 30,000 emails that are missing. I think you will probably be rewarded mightily by our press." ... Within approximately five hours of Trump's statement, GRU officers targeted for the first time Clinton's personal office."
After Trump made that public call, he "asked individuals affiliated with his campaign to find the deleted Clinton emails." Michael Flynn recalled that Trump made the request repeatedly, and reached out to longtime Senate staffer Barbara Ledeen and Peter Smith, an investment adviser involved in Republican politics, to attempt to locate and obtain the emails.
Trump Tower Moscow
The Trump Organization and Russia-based Crocus Group, owned by Aras Agalarov, negotiated a letter of intent to build a Trump Tower Moscow in January and February 2014 and were in talks until November 2014.
A second effort to build a Trump Tower Moscow began in late summer 2015 and was led by Felix Sater and Michael Cohen. Cohen discussed the project with Ivanka Trump and Donald Trump Jr. during the fall of 2015. Felix Sater and Cohen made numerous attempts to get candidate Trump to travel to Russia.
George Papadopoulos
Trump campaign foreign policy adviser George Papadopoulos "shared information about Russian "dirt" with people outside of the Campaign, and the Office investigated whether he also provided it to a Campaign official. Papadopoulos and the Campaign officials with whom he interacted" — which included Stephen Miller, Corey Lewandowski, and Sam Clovis — told Mueller that they did not recall that Papadopoulos passed them the information."
Throughout 2016, Papadopoulos worked with Maltese professor Joseph Mifsud — the one who told Papadopoulos that the Russians had dirt on Hillary Clinton — and two Russian nationals "to arrange a meeting between the Campaign and the Russian government. That meeting never came to pass."

Papadopoulos forwarded an email from Russian national Ivan Timofeev to Paul Manafort with the subject line: "Request from Russia to meet Mr. Trump." Manafort forwarded the email to another Campaign official, without including Papadopoulos, and stated: "Let[']s discuss. We need someone to communicate that [Trump] is not doing these trips. It should be someone low level in the Campaign so as not to send any signal."
Carter Page
During his time with the Trump campaign, foreign policy adviser Carter Page "advocated pro-Russia foreign policy positions and traveled to Moscow in his personal capacity. Russian intelligence officials had formed relationships with Page in 2008 and 2013 and Russian officials may have been focused on Page in 2016. However, the investigation did not establish that Page coordinated with Russia in its efforts to interfere with the 2016 presidential election."
June 2016 Trump Tower meeting
Michael Cohen recalled that Donald Trump Jr. "may have told candidate Trump about an upcoming meeting" to receive dirt on Hillary Clinton. According to President Trump's written answers to Mueller, he had "no recollection of learning of the meeting at the time," and Mueller found no documentary evidence that shows he did.
During the meeting, Russian government lawyer Natalia Veselnitskaya claimed that "funds derived from illegal activities in Russia were provided to Hillary Clinton and other Democrats," but was unable to provide evidence when pressed.
Veselnitskaya then turned the conversation to Magnitsky Act sanctions that resulted in a ban on adoptions of Russian children. Trump Jr. suggested the issue could be revisited if Trump was elected. Veselnitskaya made 2 efforts to follow up on the meeting, but the Trump transition team "did not engage."
Mueller chose not to prosecute Trump Jr. for violating a ban on contributions and donations by foreign nationals for 2 reasons.

First, Mueller likely could not prove beyond a reasonable doubt that Trump Jr. and the others "acted 'willfully,' i.e. with general knowledge of the illegality of their conduct."
And second, that Mueller likely could not prove beyond a reasonable doubt that the "value of promised information exceeded the threshold for a criminal violation."
Change to RNC platform on Ukraine
Mueller did not establish that Trump campaign national security adviser J.D. Gordon's "efforts to dilute a portion of the Republican Party platform on providing assistance to Ukraine were undertaken at the behest of President Trump or Russia." It also did not establish that Jeff Sessions' meeting with Russian Ambassador Kislyak "included any more than a passing mention of the presidential campaign."
Paul Manafort
Trump campaign chairman Paul Manafort directed his deputy Rick Gates to share internal campaign polling data with Konstantin Kilimnik, a business partner who the FBI believes has ties to Russian intelligence.
Because Manafort's credibility was damaged when he broke his plea deal and because Mueller was unable to gather evidence on what happened to the polling data after it was sent to Kilimnik, investigators were unable to establish a connection to Russian election interference.
Erik Prince
Much of the report's section about informal Trump campaign adviser Erik Prince's meeting in the Seychelles with UAE adviser George Nader and Kirill Dmitriev, CEO of Russia's sovereign wealth fund, is redacted due to grand jury material.
However, the report does note that Nader suggested to Prince at a meeting in New York that he meet with Dmitreiv to discuss "issues of mutual concern." Prince told him he had to check with Trump transition officials, and spoke the next day with Kellyanne Conway, Wilbur Ross, Steve Mnuchin and Steve Bannon. He told Mueller he could not remember whether the topic of Dmitriev came up, but booked a flight to the Seychelles a few days later.
Prince met with Steve Bannon after the Seychelles and briefed him about his meeting with Dmitriev. Prince told Mueller that he informed Bannon that Dmitriev was interested in improving relations between the U.S. and Russia and gave Bannon his contact information. Bannon told Mueller that he never discussed anything regarding Dmitriev with Prince.
Neither Bannon or Prince were able to produce text messages they sent in the time period surrounding the Seychelles meeting.
Jared Kushner
At a Trump Tower meeting with Russian Ambassador Kislyak and Michael Flynn, Kushner asked Kislyak to identify someone for future discussions about U.S.-Russia relations who could speak for Putin. Kushner asked Kislyak if they could use a secure communications like at the Russian embassy, which Kislyak "quickly rejected."
Michael Flynn
Michael Flynn was the transition team's primary conduit for communications with Russia because of his relationship with Ambassador Kislyak. The report states that "Flynn asked Kislyak not to escalate the situation in response to U.S. sanctions imposed on December 29, 2016, and Kislyak later reported to Flynn that Russia acceded to that request."
Despite evidence of violations under the Foreign Agents Registration Act, Flynn was not charged as a result of his guilty plea for lying about his interactions with Kislyak.
Go deeper