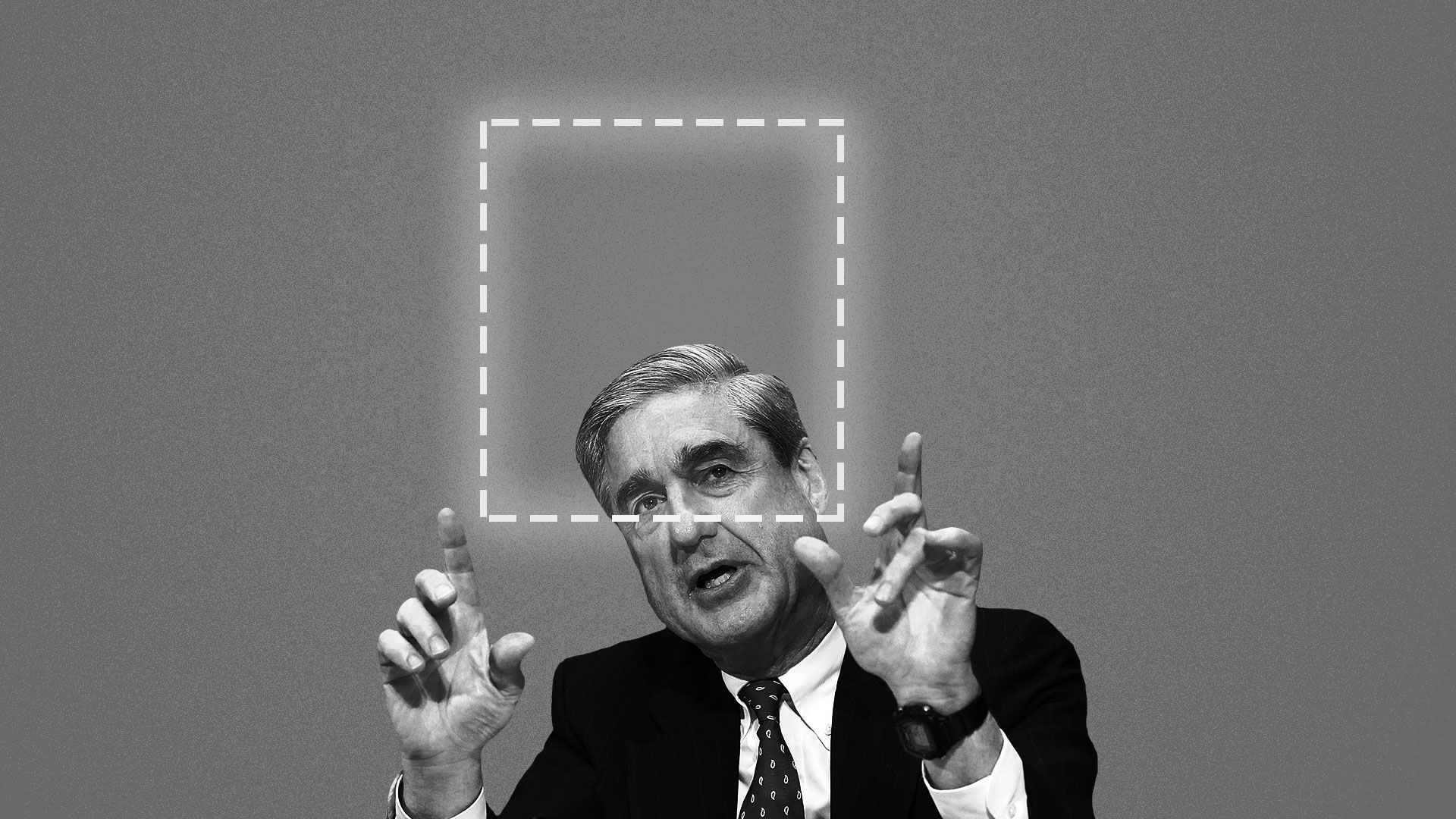 On Thursday morning at around 11 a.m., Attorney General Bill Barr will send to Congress a redacted version of special counsel Robert Mueller's report on Russian interference in the 2016 election.
Why it matters: The public is about to get its most in-depth view yet into an investigation that has cast a cloud over the Trump presidency since May 17, 2017 — the day the special counsel was appointed. Mueller's team has been virtually silent for the past 2 years, leaving the media to obsessively parse through indictments and court filings for a glimpse at what the investigation has uncovered. That all changes tomorrow for the first time.
What we already know
Mueller's "Report on the Investigation into Russian Interference in the 2016 Presidential Election" is divided into 2 parts: One on Russian interference and one on obstruction of justice. Each will explain "the prosecution or declination decisions" Mueller reached during his investigation.
On Russian interference: Barr's summary of Mueller's "principal conclusions" states that the investigation "did not establish that members of the Trump campaign conspired or coordinated with the Russian government in its election interference activities."
Mueller narrowly defines "coordination" as an "agreement—tacit or express—between the Trump Campaign and the Russian government on election interference."
Mueller also defines election interference as comprising of 2 sets of efforts: The social media disinformation campaign carried out by a Russian troll farm known as the Internet Research Agency, and the hacking and dissemination of Democratic emails by Russian intelligence officers.
On obstruction of justice: Barr states that Mueller decided not to make "a traditional prosecution judgment," and instead sets out evidence on both sides of the question. Mueller states that "while this report does not conclude that the President committed a crime, it also does not exonerate him."
Barr and Mueller's team have worked together over the past 3 weeks to redact information that falls into the following categories, which will be color-coded and include explanatory notes:
Material subject to Federal Rule of Criminal Procedure (6e) that cannot be made public (i.e. grand jury material that only a judge can make public).
Material the intelligence community identifies as potentially compromising sensitive sources and methods.
Material that could affect other ongoing matters, including those that the special counsel has referred to other department offices.
Information that would unduly infringe on the personal privacy and reputational interests of peripheral third parties.
10 key questions
Why did Mueller end his investigation without interviewing President Trump?
What did Mueller find out about the infamous June 2016 Trump Tower meeting?
Why did Trump dictate a misleading statement on Air Force One about the nature of the meeting?
What did former White House counsel Don McGahn tell Mueller during his 30 hours of cooperation?
What are the non-publicly reported actions by Trump that Barr refers to that could constitute obstruction of justice?
Did Mueller intend for the obstruction of justice ruling to be decided by Congress?
Did Trump know that in advance about the WikiLeaks email dumps, or that Roger Stone was in contact with WikiLeaks through an intermediary?
Why did former Trump campaign chairman Paul Manafort share polling data with suspected Russian intelligence operative Konstantin Kilimnik?
Why were Michael Cohen's lies about Trump Tower Moscow deemed material to the Mueller investigation?
Why did Mueller decline to prosecute Carter Page, Donald Trump Jr., Jared Kushner, Erik Prince and others once believed to have criminal exposure?
What comes next
The release of the redacted Mueller report — while significant — likely marks the beginning, not the end, of a long saga of investigations. House Democrats will fight to make the full, unredacted Mueller report public, and Barr will likely comply with at least some of their requests.
Even as Mueller's team has slowly disbanded, it's become clear they've farmed out dozens of cases that fell outside the special counsel's narrow scope — that is, whether the Trump campaign conspired with Russia on a specific set of interference efforts. These offshoot investigations in New York, D.C., Virginia and elsewhere could go on for years.
And in the House, Democratic-controlled committees will seek to obtain the underlying evidence from the Mueller report to bolster their own investigations. Many of them will attempt to dig into the president's financial history, a red line that Mueller is not believed to have crossed.
The bottom line: No matter what the Mueller report reveals, the fact remains that in 23 months, the special counsel netted 199 criminal charges, 37 indictments or guilty pleas, and 5 prison sentences. His prosecutions ensnared some of Trump's closest associates.
Go deeper: An excellent Lawfare explainer on how to read the Mueller report
Go deeper